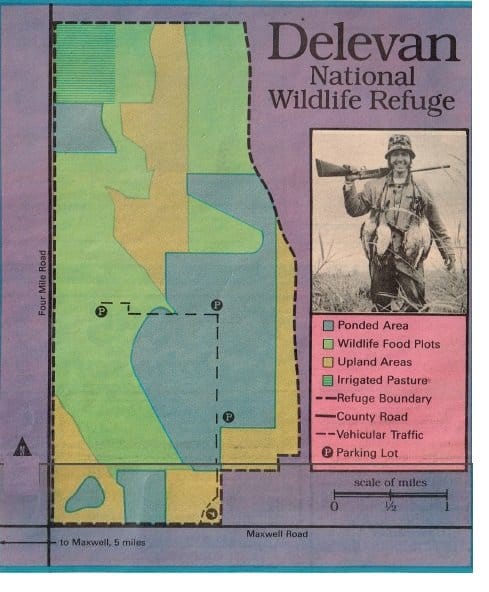 2019 Delevan Refuge Duck Hunting,Maps, Duck Reports, Duck Hunting clubs, how to hunt refuge
California Duck Hunting Delevan Refuge
-2019 Delevan Refuge Reports
– Color Delevan Refuge Maps
– Local Duck Hunting Clubs and Blind lease, sales, and rentals
-Access to 80 Hunting Ranches and Clubs for one monthly fee
-Best Areas and How to Hunt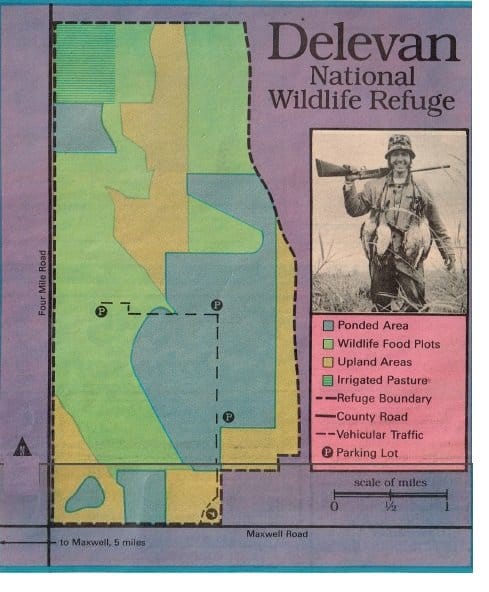 Hunters in the Sacramento Valley and bordering regions have quite a few choices when it comes to duck and goose hunting. But of all the public hunting areas in the Valley, the Delevan National Wildlife Refuge rates first or second, especially for geese, and the hunting reservations are usually fairly well used up for the whole season.
The preserve can host up to 120 hunters for every shooting day, he pointed out, whereas other local hunting grounds, like Sutter , can only accommodate up to 80 hunters. One of the reasons the refuge may be so popular is that it provides different kinds of cover and habitat for a variety of ducks and geese. Refer to our Delevan Refuge Map for more, stay tuned for our duck hunting refuge reports as the season progresses.
Delevan has upland areas at the edges of the ponds, dense tule patches and places with lighter cover. Most of the ponds are shallow, and hip waders are at minimum required. The best technique for hunting Delevan Refuge duck hunting is to carry in your own blind materials and make "same~day" blinds. Delevan refuge is mostly wet, with a lot of planted ponds and maintained marshes, and doesn't really have any dry open fields. Refer to our Delevan Refuge Map for more,stay tuned for our duck hunting refuge reports as the season progresses.
Although the Delevan Duck hunting refuge is almost at sea level, and rarely gets too cold or icy, wind and fog can both be problems. Some limited visibility will increase your chances of fooling geese and ducks with a dozen or so decoys, but thick fog also reduces your own chances of sighting and downing birds. For winter hunting, be sure and call ahead for conditions. Two county roads provide "scouting" opportunities for Duck Hunting aspirants. Refer to our Delevan Refuge Map for more, and stay tuned for our duck hunting refuge reports as the season progresses.
Data compiled from the Fish and Wildlife Sen/ice's forecast of northern bird hatches and Pacific Flyway migration patterns indicate that this year should be a good one for goose hunters. Hatches on Wrangell Island off Siberia were both very good, so we should see a lot of geese this year, also, the nearby California resident populations of Canada geese are doing fine. These geese are resident on the Modoc Plateau, the Tule Lake Basin, and as far down as the Honey Lake Refuge. Though is principally a wintering aiea for migratory waterfowl it does raise some ducks, primarily mallards, pintails and teal."
Delevan refuge draws a majority of light geese, though whitefronts and Canada honkers also show up at different times throughout the season. Our mid-September survey shows a drop of 15 to 20 percent for ducks, but it's really too early to say what that means. Locals think the total fall flight will be about the same as last year.
The duck hunting take here is a mixed one, with almost an even mix in the bag of pintails, greenwing teal, wigeon and shovelers, in Califomia, the No. 1 breeding duck is the mallard, but the resident percentage of the hunter's bag is small, compared to the total.
The opener is always good, and then it generally slacks off some in November and early December, but if the weather's right, it can remain good until the end of the season. Storm conditions in local areas and at points north of the refuge are important factors to be aware of, it's the storm conditions that push the birds around and onto the refuge. There is usually a period that's really good at Christmastime for geese and ducks both, when we start getting a little fog.
You can hunt at Delevan from 1/2 hour before sunrise to sunset on Wednesdays, Saturdays and Sundays, but you'll need to make a reservation before you head out up to 10 days prior to the day you want to hunt, and the successful applicants' names will be drawn 7 days prior to that day. Those whose names are drawn will be mailed their permits. Stay tuned for our duck hunting refuge reports as the season progresses.
California hunting clubs, hunting ranches, public and even private fishing
Access to 80 Hunting Ranches and Clubs for one monthly fee
Hunting private lands in California has several advantages over the public areas. Chief among these are much less hunting pressure, better forage and water supplies and easier vehicle access.
We use a hunting map site that has over 200 private ranches, duck hunting clubs, blind rentals with or without guides
www.ranchhuntfish.com
Click on a county for Hunting Clubs & Private Ranches:
We have many more hunting and fishing maps, here is a screen shot, but if you want more info, click on this link: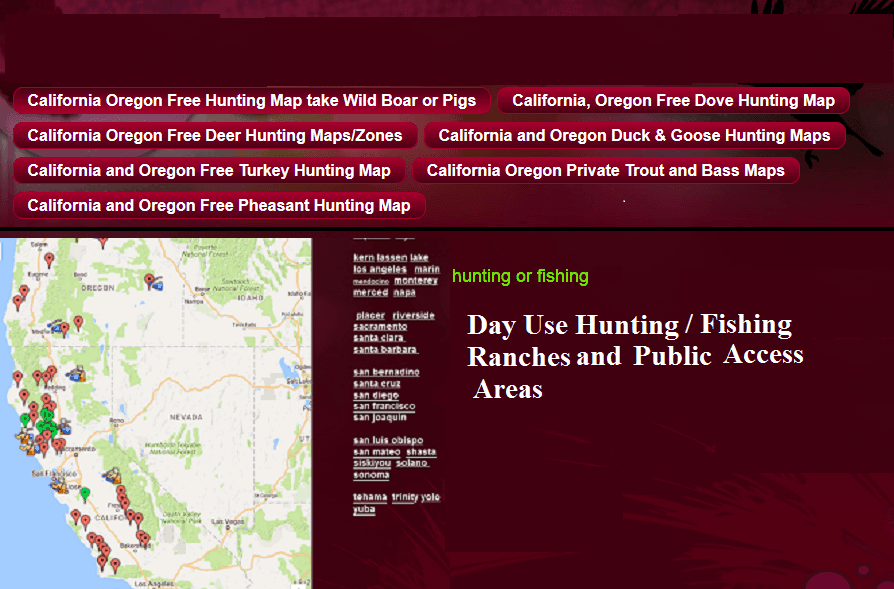 Please click on a County for Fishing and Hunting Clubs, Ranches or the Best Public Land Areas
Please click on a County for Fishing and Hunting Clubs, Ranches or the Best Public Land Areas
Contact Me
for Newsletter
Get on our mailing list for Newsletter and to receive New Fishing and Hunting Maps and Hot Spot News in your areaIf you want FREE info on Hunting access and Fishing on over 200 Private Ranches and Hunting clubs, fill this out ! (We NEVER release your info to anyone not specific to this inquiry!)