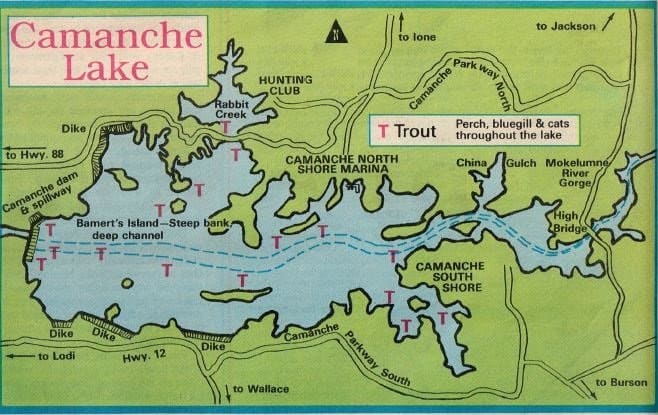 2019 Camanche Lake Fishing Map, Fishing Report, Hunting Clubs, private fishing nearby
2019 Camanche Lake Fishing Map and fishing Report, How to fish Camanche, and info on Hunting Clubs nearby
Fishing Reports
December 28, 2016 – Lake Camanche is about 70% full and full of trout, which are planted each week all the way through April (with as much as 3,500 lbs per batch!). There are 10% trophy trouts (5-12 lbs). Tollers that pull jigs are loading up on crappie and black bass chasers are finding non-stop action for spotted bass.
December 23, 2016 – Lake Camanche is making anglers happy with rainbow trout, crappie and bass. One angler set a new record for five spotted bass at 27.6 pounds. Bass fishing remains solid at depths from 20 to 30 feet while crapper were taking Speedy Shiners at depths from 10 to 70 feet. Both North Shore and South Shore launch ramps are in the water, and the North Shore Marina has the gas docks open. Hungry fisherman can even grab breakfast and lunch at the café. The lake is currently at 69%.
About Camanche Lake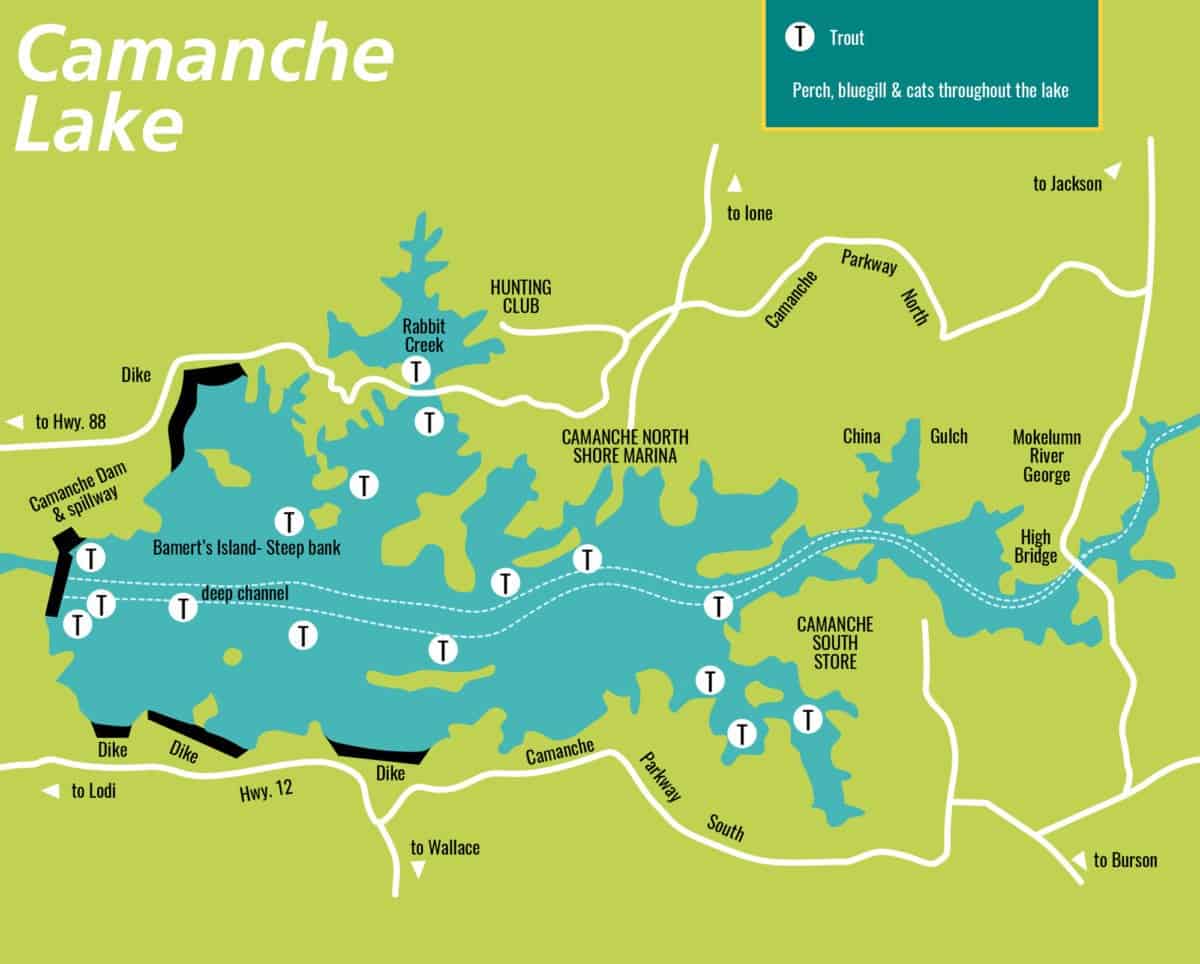 Nestled in the midst of the Mother

 

Lode waters, Lake Camanche gets a lot of pressure

 

this time of year. Fishermen are frequent users, and

 

some old-timers avow that Camanche's catch rate is more

 

consistent than any of the other Mother bode fishing holes.

 

Whether or not that's true, Camanche anglers do catch a lot of

 

fish almost year-round, and its other recreational opportunities make it a favorite spot for everyone in the family.

 
As at Amador and Pardee, a high percentage of the

 

sportsmen who hit the lake are out after bass. The best time of

 

year for this is late spring and early summer.

 

After spawning, the largemouth are

 

 

the magic depth right now is between 12 to 20

 

feet, but as the water gets hot the bass will move

 

deeper, and there'll be a big population in July and August

 

that will go down to 25 to 45 feet.
Generally 10 percent of the whole population will stay in the top 15 feet of water, another 10 percent will go

 

very deep, and the remaining 80 percent will move from

 

shallow to deep water depending on lake temperatures.

 
The best bait, all through the day, even though it may be a

 

dud for two or three hours, are plastic worms and leadhead

 

jigs.

 

Good choices in plastics are red worms with a

 

black bloodline or two or three crawdad-pattern worms.

 

Another favorite at this lake is the Bobby Garland spider jig, the smoke sparkle is a good

 
As late as June anglers are taking home trout

 

too,

 

mainly from 35 to 40 feet of water. Some use

 

downriggers and some use leadcore line that ranges from 10-

 

to 18-pound test.
 In late Spring, drop leadcore line five to eight colors, our source suggested. Most fishermen working with

 

downriggers prefer to use monofilament line.

 

Trout may go even deeper later in the season,

  

fishermen work a myriad of baits and lures but that a few

 

"major" models are usually reliable.

 

"
The red patterns seem to be the best here—either red and

 

silver or red and white,

 

Krocodiles, Nee- dlefish, Triple Teazers and Kastmasters all get the nod.

 

Nightcrawlers either drifted or trolled "are

 

always good.
 

Don't use any more weight than you have to to

 

get to the desired depth.

 

Most of the take trolling is rainbows, though a few German browns call Camanche home.
  

The first salmon went in about 1982, and

 

from the initial stock now can weigh as

 

much as 4 to 6 pounds. "Tons" of hluegills fin these waters too, and make for great first-time fishing for kids and other novices.
 

Crappie fishing is depends on finding a school, you can count on catching several respectably-sized

 

panfish. Mini Jigs and minnows fished in the deeper coves with cover or rocky shoreline should tempt a few fish if you

 

happen upon a school
Summertime anglers should have no problem honing in on a productive catfish bite. The marina source said catfishing

 

"has been teal strong, and there should be a good bite right on

 

through" the summer.

 

"Most of the fish coming in now are channel cats averaging

 

a pretty good size, " he added. "If you had 10 cats, they would

 

probably range from 2 to 8 pounds."

 

Channel cats are the most populous species, but white cats

 

also figure heavily in the creel,

 

a few blues also take a variety

 

of live and stinkbaits at Camanche, and range up to 14 or 15

 

pounds.

 

Best at night, with activity centered in the creek channel and coves, and off the dikes and spillway in the main body. Areas such as Rabbit Creek and China Cove are popular.
Fishing for the

 

cats from the banks as in boats and that both methods are

 

equally good. Along with other species, catfish will move deeper during the hottest season.
As is true with any lake fishing, facilities make a big difference. And South Camanche Shore and Camanche

 

Northshore Resort do a good job of taking care of just about

 

everything a fisherman could ask for.

 
A huge park, with water slides, game rooms,

 

horseback riding, a separate swimming lake, water skiing and

 

tennis courts. South Camanche has a full-service marina with boat rentals, slip rentals, gas, a complete grocery store with a full line of bait and tackle, a service station and hundreds of fixed

 

campsites, hook-ups and ample overflow areas.
Lake Camanche Size: Camanche has between 55 and 60 miles of shoreline, depending on water level, and approximately 7,600 surface acres. The lake is lower than normal this season, but has plenty of water.
Species: Rainbow trout, king salmon, crappie,

 

bluegill, largemouth bass, white cats, channel cats, blue cats, and a few kokanee.

 

Camping: South Camanche Shore has over 500 fixed campsites with tables and barbecues and, with the addition of 100 new hook-up sites, a total of 300 hook-up spots.
A large overflow area with water and portable toilets serves self-contained campers. Hook-

 

up sites can be reserved, but both fixed

 

campsites and hook-up spaces are available

 

on a first-come, first-served basis.

 

Camanche Northshore has 400 RV and tent

 

_sites and housekeeping cottages.

 

Facilities: Resorts have full-service marinas, fish cleaning stations, gas stations, swimming areas, boat launching and rentals,

 

boat storage, bait and tackle, grocery stores,

 

snack bars, tennis courts, horseback riding

 

and tour rides of nearby gold county and

 

Wild West settings
California and Oregon info for private fishing, hunting clubs, and exclusive network of hunting ranches
Click on a county for Hunting Clubs & Private Ranches:
Oregon and California hunting and fishing  maps of hunting clubs, hunting ranches, public and private fishing.
If you like our Fishing map and information on how to fish this lake, we have many more hunting and fishing maps, here is a screen shot, but if you want more info, click on this link:
Also, if you want very specific county by county information on fishing and hunting clubs in California and Oregon for private fishing, hunting clubs, and exclusive network of hunting ranches found nowhere else, here is a screen shot below, click on this link to go to the site:
California and Oregon for private fishing, hunting clubs, and exclusive network of hunting ranches
California Hunting Clubs for Turkey, deer, pig, quail, fishing with Hunting Maps.
Please click on a County for Fishing and Hunting Clubs, Ranches or the Best Public Land Areas
Please click on a County for Fishing and Hunting Clubs, Ranches or the Best Public Land Areas
Contact Me
for Newsletter
Get on our mailing list for Newsletter and to receive New Fishing and Hunting Maps and Hot Spot News in your areaIf you want FREE info on Hunting access and Fishing on over 200 Private Ranches and Hunting clubs, fill this out ! (We NEVER release your info to anyone not specific to this inquiry!)