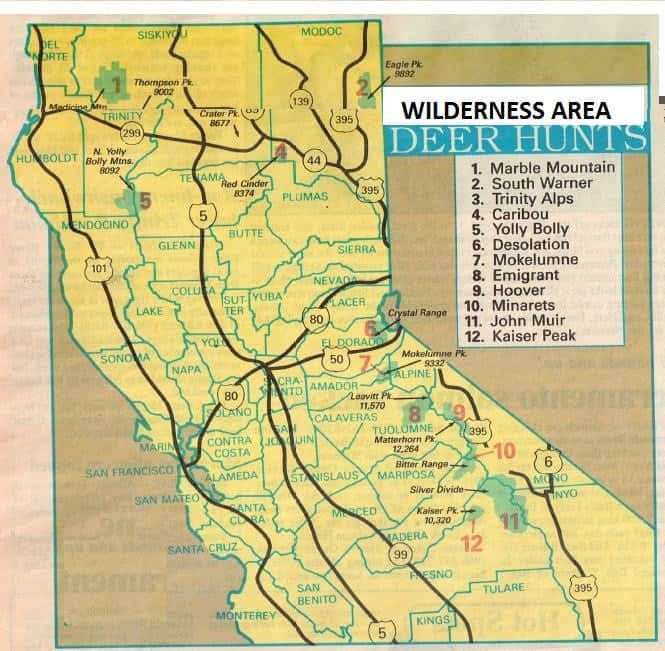 2019 High Sierra Deer Hunting Maps and California Hunting Report, Hunting Clubs and Private Hunting Ranches
Wilderness California Deer Hunting, this is how you will get a Deer this year!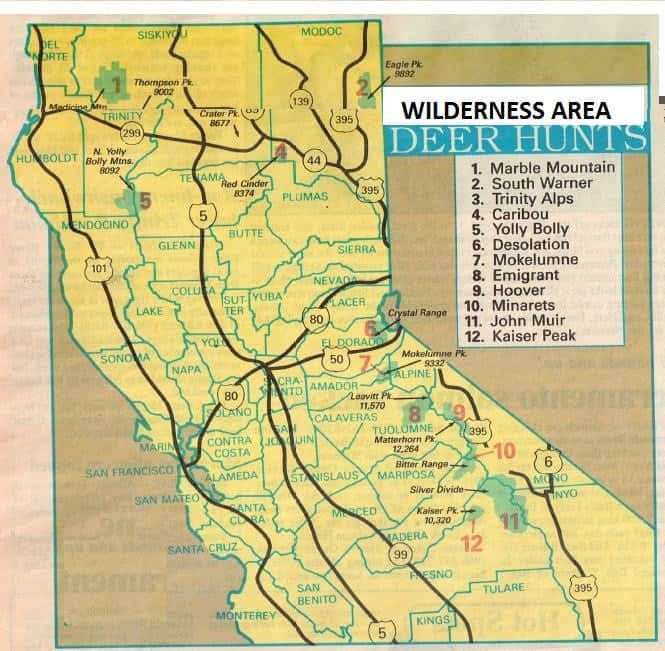 Best Deer Hunting Areas California, Oregon, Washington

California, Oregon, Washington, Hunting Clubs, Private Ranches
There are 12 incredible wilderness areas in California that hold a lot of game. There are no roads, and the topography is rugged and preparation is a key to success. Pack into these areas for a weekend with your supplies to survive.
Where to hunt? Let's take a closer look at some of the state's top wilderness areas:
1. Marble Mountains: The rifle season in Zone B6 is usually around mid-September through late October. The archery season is open early September and you will need a permit to hunt the Marble Mountains. Bucks are plentiful but you need rain or snow in the late season will get deer moving
2. South Warner: This area is located in eastern Modoc County in the Modoc National Forest. Hunting is good
around Warner Peak (9,710 feet) and Eagle Peak (9,892).
Decent access from Surprise Valley Road out of Eagleville where trails lead to the wilderness area Hunters need tags for Zone X 3b. The rifle season is Oct. 1-Oct. 16..
3. Trinity Alps: The Alps have some big bucks throughout the wilderness area's high elevations in the early season. Archery hunting can be excellent, and opens 10 days before the rifle season, and usually permits are available if you apply early.
4. Caribou, Thousand Lakes: Thousand Lakes Wilderness Area is located in Shasta County, while nearby Caribou
can be found in western Lassen County on the edge of Lassen
Volcanic National Park.
Thousand Lakes is in Zone C4. Best hunting is on the west slope of
Crater Peak where the Cow Creek deer herd makes its home
on the summer range. The wilderness area is located in the Lassen National Forest and the Burney Mountain south to Latour Butte.
Caribou Wilderness Area is in C4 above Lake Almanor. Hunting success should be excellent early in the season on
the south-sloping side of Cinder Mountain .As the season
progresses and winter nears, bucks will move out of the
wilderness area through Bailey Creek, Benner Creek and
Rock Creek and migrate west of the lake down to Paynes
Creek.
5. Yolla Bolly: This Wilderness Area encompasses Zone
B2 where the deer
migrate when they come out of the high country in winter.
There are some excellent bucks in the area, but its rugged country.
6. Desolation: This wilderness area is eastern El Dorado County, Zone D5. Success is fairly low in Zone D5, because hunters stay in the lower elevations around Loon Lake but hunters willing to go into the Crystal Range will see plenty of deer.
7.
Mokelumne.
This area consists in the El Dorado National Forest. Elevations range from 4,000 feet near Salt Springs Reservoir to more than 10,000 feet at Round Top. The headwaters of the Mokelumne River begin here and cut its path through several canyons which make some excellent deer habitat. Much of
the wilderness area consists of old- growth timber and dense vegetation, so
hunters have got to locate the valleys
and meadows which offer the best deer
habitat.
Look for feed and water, and the best places to find it are in the valleys. Snow, Underwood and Round valleys are three of the best.
From Sacramento, access is best to the wilderness area
from Highway 4 to Abbotts Pass. Or you
can head east on Highway 50 to Lower
Bear River Reservoir and come in from
the west side.
The area is located in parts of Amador and Calaveras counties, which is Zone D5.
8. Emigrant: Emigrant Wilderness
Area is located in Tuolumne County.
The huge area is on the northwest border of Yosemite National Park. Elevations range from 5,200 to
11,570 feet and features canyons,
domes, lakes and streams within the
Stanislaus National Forest.
Emigrant is located in Zone D6.
Emigrant is a popular deer hunting area among packers
and backpackers who want to get away from the pressure.
It's accessible from Highway 108 out of Sonora Most
hunters head east on I08 to Kennedy Meadows There's good
camping available along Kennedy Creek.
Trailheads are also numerous off of Highway 108 from Pinecrest Lake. Hunters coming from Highway 120 can drive to Cherry Lake where camping is available. Hunt along the Kibble
Ridge and glass for bucks coming from water areas along
Cherry Creek.
Hunters need an access permit from the Stanislaus National Forest office in Sonora or Pinecrest.
9. Hoover: This 42,800-acre wilderness area is located in northwestern Mono County in the eastern Sierra. lt borders
the backside of Yosemite and is loaded with mountains,
canyons, streams, lakes and meadows in elevations ranging
from 10,000 to 12,446 feet. Most of the wilderness area is
located in Zone X12, but the southern tip is in Zone X9a.
Permits are required for both these rifle hunting areas.
10. Minarets: Some call it the Ansel Adams Wilderness
Area, but whatever its name, one thing hasn't changed -—
some big bucks come out of this area every year.
Hunters heading up to the D7 portion will find some nice
bucks in the pockets around meadows on the north-facing
mountain slopes.
When storms hit or the first frost kills the good feed, deer begin moving out of the wilderness area down through the
San Joaquin River drainage.
11. John Muir: This gigantic wilderness area is in the Sierra Nevada Mountain Range. Elevations range from 4,000 to 14,496 feet. The area falls in parts
of D7 and X9b.
Most of the country is granite so look for the meadows…something other than rock. Hunt the timber, the lake bottoms and the little meadows,
the deer are in pockets around the meadows.
Oregon and California hunting and fishing
maps of hunting clubs, hunting ranches, public and private fishing:
If you like our Fishing map and information on how to fish this lake, we have many more hunting and fishing maps, here is a screen shot, but if you want more info, click on this link:
www.freehuntfishmaps.com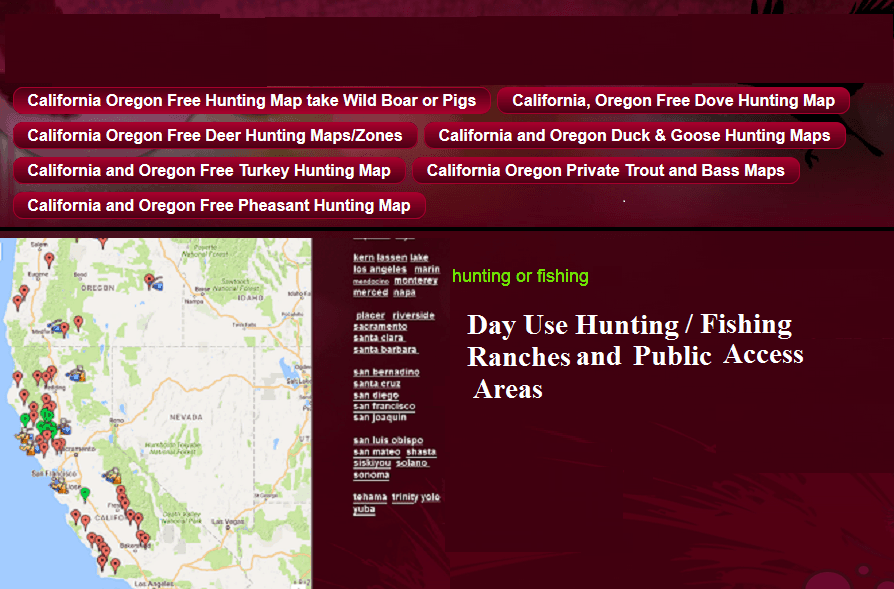 Also, if you want very specific county by county information on fishing and hunting clubs in California and Oregon for private fishing, hunting clubs, and exclusive network of hunting ranches found nowhere else, here is a screen shot below, click on this link to go to the site: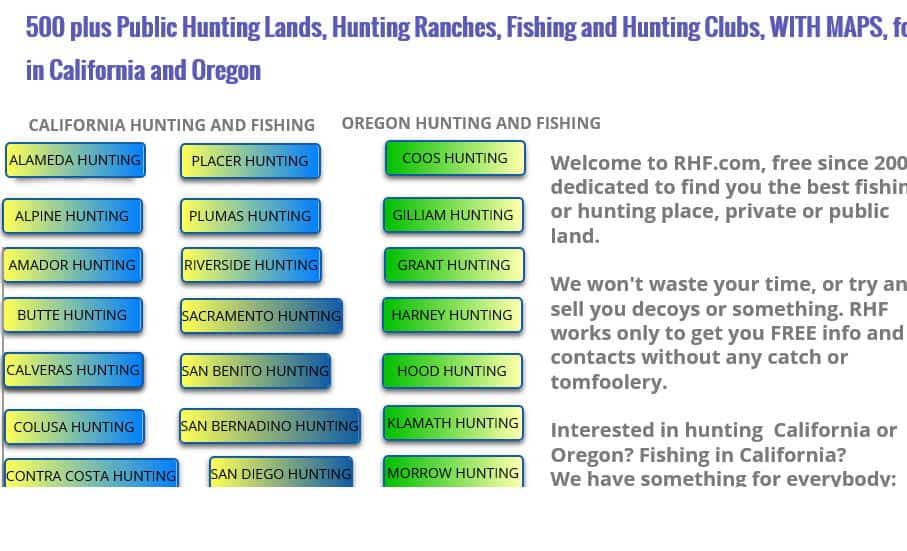 we have many more fishing maps and hunting maps at www.freehuntfishmaps.com
California Hunting Clubs for Turkey, deer, pig, quail, fishing with Hunting Maps.
SIGN UP FOR OUR NEWSLETTER AND WEEKLY REPORTS AND NEW MAPS:
Please click on a County for Fishing and Hunting Clubs, Ranches or the Best Public Land Areas
Please click on a County for Fishing and Hunting Clubs, Ranches or the Best Public Land Areas
Contact Me
for Newsletter
Get on our mailing list for Newsletter and to receive New Fishing and Hunting Maps and Hot Spot News in your areaIf you want FREE info on Hunting access and Fishing on over 200 Private Ranches and Hunting clubs, fill this out ! (We NEVER release your info to anyone not specific to this inquiry!)