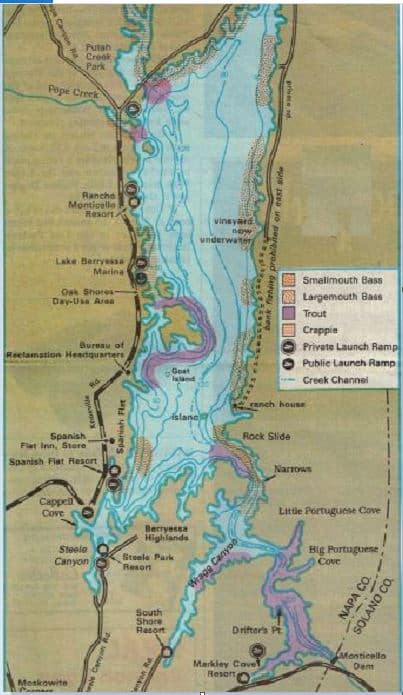 2019 Lake Berryessa Fishing MAP and Fishing Report, and Napa County Hunting Clubs
   Lake Berryessa Trout and Bass Fishing Map
& Fishing Report, How to Fish Lake Berryessa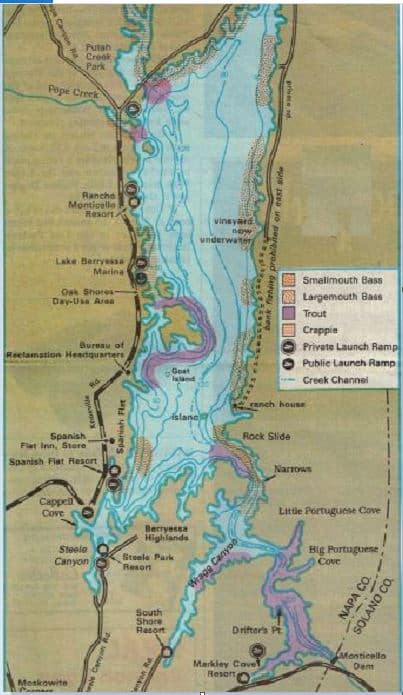 2016 Lake Berryessa Trout and Bass Fishing, see below for Hunting Club, Public Lands, and Hunting Ranches in Napa
The first two to three weeks of October is the great Berryessa trout bite but sometimes lasts about a month.
Then, they are stuffed with shad and go dormant.
It's best to have a boat when the area
you're fishing become unproductive.
Lake Berryessa
anglers use live nightcrawlers, minnows or lures.
Trout seem to school
because of the cool, deep water so the best trout fishing can be found at
the south end of Berryessa's dam.
  Our Fishing map shows this area. Speaking of water, the lake is still  low right now, and the fish are easily spooked. A full fishing report will be out soon.
However, in October
these trout come up to the surface where they go after
minnows, predominantly threadfin shad. Anglers do it trolling, drifting, casting and do, in fact, catch a lot of fish off the rocks by numerous places where you can pull in' get out and start fishing. Watch for turnouts as seen on our Fishing Map above.
Most 
Berryessa fishermen
use a bubble float, that you fill
up with water so you can cast it out. Try hooking a minnow
through the dorsal fin area or through the lip, some use worms with a bobber or off the bottom.
Our fishing report warns of Mercury content, so watch for this.
Anglers with boats use the these methods effectively, but usually trolls rig up with a split shot the size of a pea, put that 3 feet ahead of the lure, and a snap
swivel ahead of that. The swivel acts as a bulldozer of sorts. It
clears away the weeds and debris which are apparent that time
of year.The best lure is a Rainbow Runner, the orange and fluorescent red Rainbow Runner
which is about
1 1/2 inches long.
Lake 
Berryessa…Fast Fishing Information:
Location: In Napa County..
Size: Lake Berryessa is 25 miles long and 3 miles
wide with 165 miles of shoreline.
Species: Rainbow trout, smallmouth bass, large-mouth bass, brown trout, kokanee, crappie, bluegill, channel and bullhead catfish.
Best fishing: Trout rise for shad
in October. Bass fishing is super
March through
June. Catfish and crappie bite all the way from June
through August.
We will keep you up to date with our fishing report due out soon. 
California hunting and fishing  maps of hunting clubs, hunting ranches, public and private fishing
As long as we are at it, why not check out some other Maps available for fishing as well and hunting?
Also some are private ranches with ponds, and private fly fishing streams, click this link: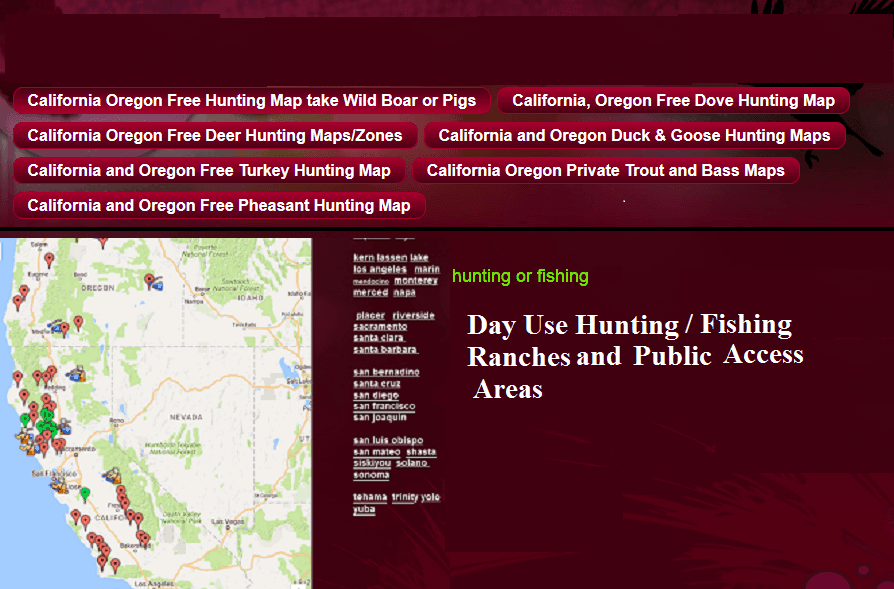 We have another one we like listing over 200 ranches to hunt and fish on in California and Oregon,
very specific county by county information on fishing and hunting clubs for private fishing, hunting clubs, and exclusive network of hunting ranches found nowhere else, here is a screen shot below, click on this link to go to the site:
Click on a county for Hunting Clubs & Private Ranches: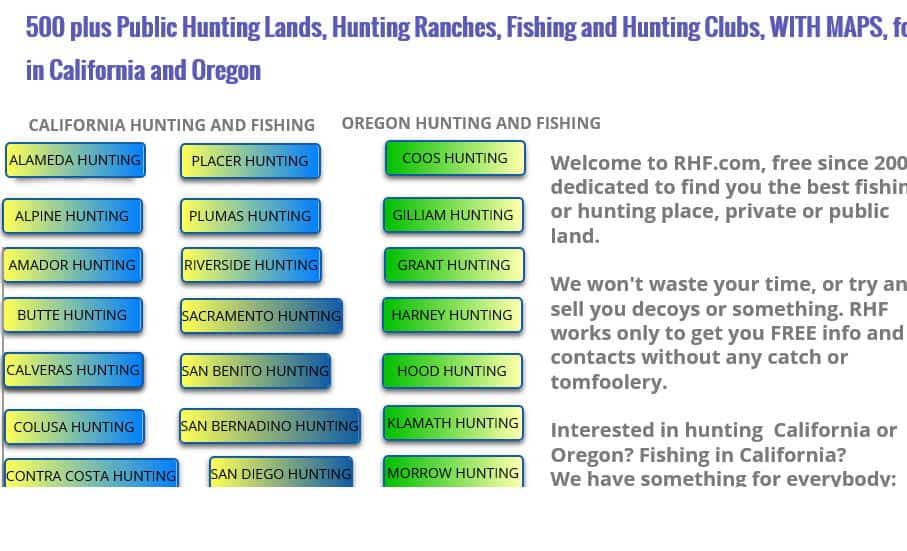 Please click on a County for Fishing and Hunting Clubs, Ranches or the Best Public Land Areas
Please click on a County for Fishing and Hunting Clubs, Ranches or the Best Public Land Areas
Contact Me
for Newsletter
Get on our mailing list for Newsletter and to receive New Fishing and Hunting Maps and Hot Spot News in your areaIf you want FREE info on Hunting access and Fishing on over 200 Private Ranches and Hunting clubs, fill this out ! (We NEVER release your info to anyone not specific to this inquiry!)