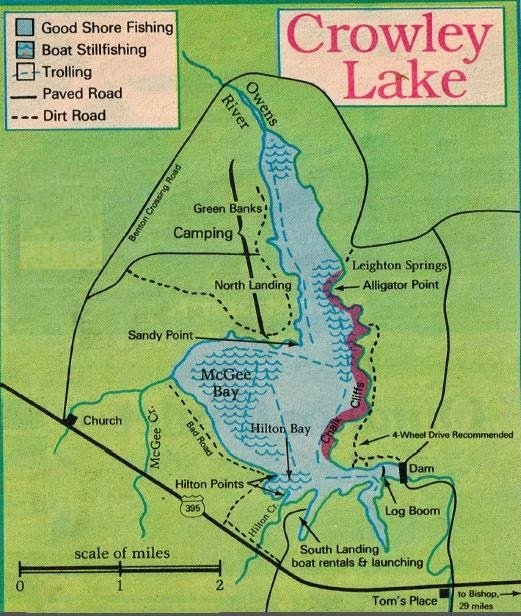 2019 Lake Crowley Fishing Map Fishing and Mono Hunting, Public, Clubs and Ranches
Lake Crowley Fishing Map and Fishing Report 2019 and Mono Hunting !

Anglers
take lots or Perch in this lake, and
close to a third of all
hooked run over the 15-inch mark. The perch run up to around 3 pound
but mostly between 1 and 2
pounds.
The
also some no-limit action for
Sacramento perch all summer.
A
delicacy at the table, there is no limit at Crowley for Perch. Our fishing report indicates the
best fishing is in June and July, the most numerous of the fish
at Crowley are
rainbow, with a few native browns.
As our fishing map shows, the best areas are from the Green
Banks to Sandy Point, but still fishing from a boat is optimum in McGee Bay.
Trollers motoring from Chalk Cliffs to McGee Bay is the ticket.
For fishermen
from shore
include Hilton Point and along the area from Leighton
Springs to Chalk Cliff. The same stretch can also be bait
fished from a boat.
Bait fishermen use air- inflated nightcrawlers, red salmon
eggs, or Zeke's Floatin' Bait. Zeke's best baits seem to be Yellow and the
garlic, corn and original flavor. Baits should be on the
bottom,
weighed with sliding egg sinkers.
Needlefish are the most optimum
trolling lure, then flasher-and-'crawler
combinations and Rapalas minnow imitations.
Our fishing report says you have get the lure fairly deep, around 10 to 15 feet, use
12- to 18-pound test leadcore line
and most importantly, troll slow.
Perch are caught with Maribou jigs, Go-Getters and Crappie
Busters, stick with white and yellow colors.
Crowley has a number of special restrictions
effecting fish limits, season length and the use of
boats.
There's a seven-trout limit on the lake from the
opener until Aug. l. Then there's a two-trout limit
with a minimum length of l8 inches and only artificial lures with a single barbless hook are
allowed from Aug. l through Nov.15, when the
lake closes until spring. There's no limit on the
number of Sacramento perch that can be taken, but
remember the barbless hook regulation after Aug.
l.
Location: Crowley Lake, lies
along Highway 395 about 30 miles north of Bishop
As our Fishing Map shows, its fairly big, about four
miles long and two miles across.
From the general trout opener in April through
Aug. 1 there is a 5 trout limit. From Aug. 1 then closing on
Nov. 15 there is a 2 -trout limit, a minimum
of
18 inches, only with artificial lure with barbless hook requirement as
well.
Perch can be taken from the end of April through Nov. 15 but
remember the barbless hook requirement after Aug. 1.
Oregon and California hunting and fishing
maps of hunting clubs, hunting ranches, public and private fishing.

If you like our Fishing map and fishing information on how to fish this lake, we have many more hunting and fishing maps

Also, if you want very specific county by county information on fishing and hunting clubs in California and Oregon for private fishing, hunting clubs, and exclusive network of hunting ranches

found no where else, here is a screen shot below, click on this link to go to the site: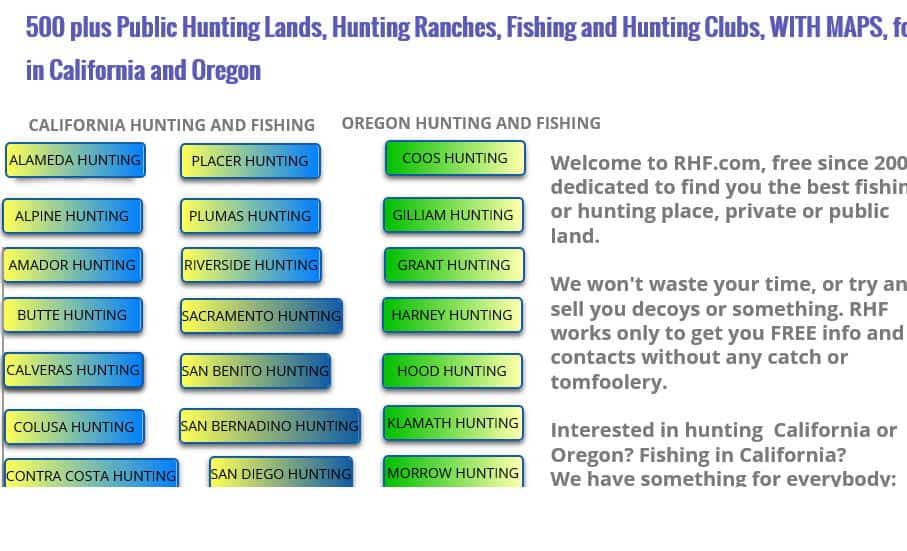 Please click on a County for Fishing and Hunting Clubs, Ranches or the Best Public Land Areas
Please click on a County for Fishing and Hunting Clubs, Ranches or the Best Public Land Areas
Contact Me
for Newsletter
Get on our mailing list for Newsletter and to receive New Fishing and Hunting Maps and Hot Spot News in your areaIf you want FREE info on Hunting access and Fishing on over 200 Private Ranches and Hunting clubs, fill this out ! (We NEVER release your info to anyone not specific to this inquiry!)