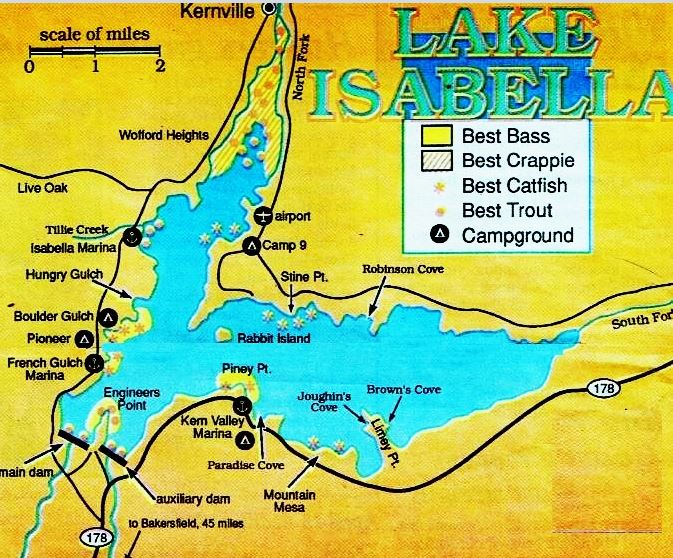 2019 Lake Isabella Fishing Map, Fishing Report, Hunting Clubs,private fishing bass, trout,catfish
2019 Lake Isabella's Best Area Fishing Map, Fishing Report, Local Kern Hunting Clubs, fishing bass, trout,catfish and salmon:
How to fish Lake Isabella and Where to find Big Bass, Crappie, Catfish, Salmon and Trout
It was back in the late '60s that Lake Isabella made its reputation, mostly on
crappie. But a lot of the old-timers here will to tell you their main quarry is catfish.
Isabella is also famous for its problems with
wind, it makes a lot of sense to know how to bankfish for the
hefty cats here.
Must of the whiskerfish you'll run into will be
a perfect l- to 3-pound eating size, but don't discount the
possibility of finding a taxidermy-size specimen. Lake record catch, a whopping 30-
pound, 15-ounce channel cat that toppled the existing record
by almost three pounds.
Summer months will be prime time for catfishers, most along the South Fork
bank on night-
crawlers and other traditional baits.
A lot of guys take their lanterns out there with their lawn
chairs and their ice chests, put a bell on their lines and fish all
evening for blue, bullhead,
channel and white cats at lsabella, with the best fishing in the
evenings.
Which can be another boon to sportsmen who want
to avoid temperatures that gel into three digits in late June,
July, August and sometimes September.
But while summer admittedly isn't the best time to fish
lsabella for bass or crappie, it's definitely worth a try
– it is no big deal to get a 10 pound bass out here anymore and almost all the largemouth bass are caught on boats.
Shore
fishers do get into some good bass fishing when fish are in the
shallows spawning, and when the lake level is high enough to
cover some of the structure at the north end of the north fork.
But usually they're taken on boats, and the best spots
will be the points and coves in both the North and South
Forks.
Because the South Fork has only about 10 percent the
amount of Kern River system as the North Fork, the water
temperature can be as much as 5 degrees higher there. Because the water is warmer bass have
pretty uch finished spawning there early, so pay attention to the time of year.
After the psawn, until the first of October,
the bigmouths will be suspended between 12 and 20 feet,
though they will surface from time to time.
"
As for tackle, the word is "plastics."
Worms are what're taking most of the fish
right now, and you should match the color with the color
the water.
The lighter the water, the lighter the lure, and the darker
the water, the darker the lure is the rule.
Trying Rapalas, Rebels, spinnerbaits and buzzbaits
in fairly shallow water if you're having trouble finding fish.
Hard work should pay off for those searching out the
crappie bite too. As is true for crappie at most lakes, once you
find a school, you can hook up a fairly long stringer. ,
Besides the North Fork, crappie hang out in the South Fork
trees and some of the coves, particularly Brown's Cove.
Summer fishers should be able to pick up plenty of bluegill
too, fishing mealworms and redworms,
The best trout fishing at Isabella is in late spring and early
fall, but a few trout enthusiasts do troll deep along the face of
the auxiliary dam during the summer months looking for
rainbows.
Lake lsabella
Facts:
Size: Lake Isabella offers 38 miles of shoreline
and 11,000 surface acres of water. The lake is
about eight miles long.
Species: Largemouth bass; channel, bullhead,
white and blue catfish; crappie, bluegill; rain-
bow trout. A few king salmon were planted in
the lake in fall of 1984 that will measure up to a
foot now.
Location: From Bakersfield (Located on I-5),
travel 178 East 45 miles to the town of Lake
Isabella, Take either Highway 155 to the North
Fork or continue on Highway 178 to the South
Fork .
Camping: Improved campsites offer water, hot
showers, flush toilets, picnic tables, barbeques
and shade trees. Several unimproved campsites are
also available for free that have water and pit
toilets. All sites are first-come, first-served and
space is plentiful except on holiday weekends.
Grocery stores, gas stations and other conveniences are available in the local towns. The
Isabella Marina located further up the North
Fork also has most services.
Also, if you want very specific county by county information on fishing and hunting clubs in California and Oregon for private fishing, hunting clubs, and exclusive network of hunting ranches found nowhere else, here is a screen shot below, click on this link to go to the site:
California and Oregon for private fishing, hunting clubs, and exclusive network of hunting ranches
California Hunting Clubs for Turkey, deer, pig, quail, fishing with Hunting Maps.
Please click on a County for Fishing and Hunting Clubs, Ranches or the Best Public Land Areas
Please click on a County for Fishing and Hunting Clubs, Ranches or the Best Public Land Areas
Contact Me
for Newsletter
Get on our mailing list for Newsletter and to receive New Fishing and Hunting Maps and Hot Spot News in your areaIf you want FREE info on Hunting access and Fishing on over 200 Private Ranches and Hunting clubs, fill this out ! (We NEVER release your info to anyone not specific to this inquiry!)