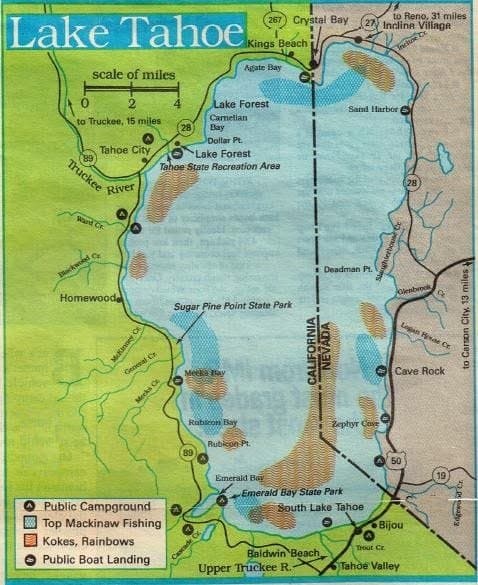 2019 Lake Tahoe Fishing Map,Fishing Report and nearby Fishing and Hunting Clubs
Lake Tahoe Fishing Map and Fishing Report

Best Areas for Kokanees and Mackinaws

How to Fish Lake Tahoe

Local Fishing and Hunting Clubs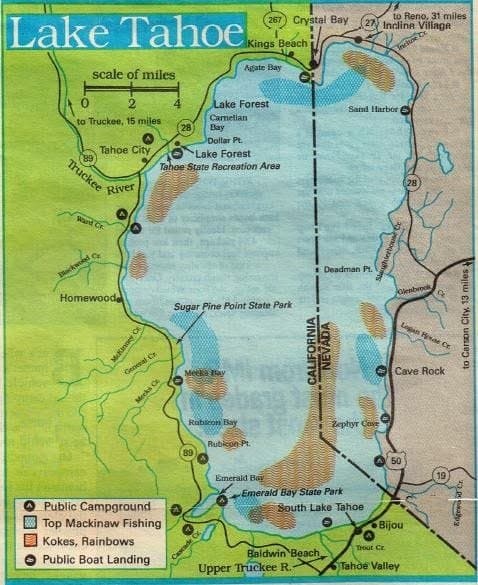 We have many other maps for all the hot spots at www.freehuntfishmaps.com
Lake Tahoe Lake Trout and Kokanee Fishing Report:
Fishing for mackinaws near North Shore with limits of 4 to 7 pounder hitting in only 2 to 3 hours. trolling for Brown trout near South Shore for fish running 2 to 5 pounds is also good. Use Shadow Raps and Krocodile 40 to 60 feet deep. Rapalas at 120-150 feet for Mackinaws.
How and where to find fish at Lake Tahoe
LAKE TAHOE – Lake
Tahoe is beautiful but
can be intimidating to fish, after all, this is the world's 10th deepest
lake (1,645 feet) and sixth largest in the
United States. Highly underrated, it is one of the best fishing lakes in California.
Right now in April they're doing it to
the kokanee,
it is red hot.
Unlike the large Lake Trout, aka Mackinaw, these
kokanee, basically landlocked
salmon — are small in size, with a 16 incher
considered the upper end.
Limit is five fish per day,
with pink flesh and a limit will make a decent meal for a
small family.
Summer is the best
time to go after these silvery
bright fish during the 80- to 90-degree days but at this moment our fishing report found that limits are being caught within a couple hours.
Kokanee, during the
Summer,
start schooling up , just like salmon everywhere, such as in a Bay Area prior to migrating up the
Sacramento River to spawn. But 200 miles from any ocean, these mini salmon migrate up Taylor
Creek, after schooling on the west
side of the lake, around Sugar Pine. See our Fishing Map for details.
The schooling
starts in June, and as July and August
near, the kokanee schools become concentratred as they
migrate to
the south end of the lake.
Our fishing report
found that they first migrate to Rubicon Point then spread out over all of the entire south end. Here is where you should focus your efforts.
Taylor
Creek,
near Emerald Bay, is where they
lay their eggs and
die
–
so
anglers do extremely well by trolling the
south end — from
Sugar Pine Point
to Cave Rock and
all points south.
Like our Fishing Map shows,
Logan
Shoals, Cave Rock, Zephyr Cove, Elks
Point, Camp Richardson, the Keys and
Rubicon Point.
Our Fishing report found that Kokanee fishing is very good right
now averaging 10 to 12 inches. Success on the
kokanee depends on the previous year's
spawn. A good spawn in Taylor Creek in
2017 means an excellent season this
year, and anglers are already seeing the
effects of that good spawn.
Trolling
lures in 40 to 70 feet
of water, is the norm in summer , but as shallow as 10 feet earlier in the year. Electronic fish finders are a must
early in the year because kokanee are spread out in small schools.
Model A Ford Fenders, Red
Magic or Needlefish on Ieadcore line or
downriggers is the best setup. Mackinaw hit
trolled minnows or spoons deep lined. Mackinaw
angling is better at north end.
We will have a fishing report
on this species soon.
Oregon and California hunting and fishing maps of hunting clubs, hunting ranches, public and private fishing.

If you like our Fishing map and information on how to fish this lake, we have many more hunting and fishing maps, here is a screen shot, but if you want more info, click on this link: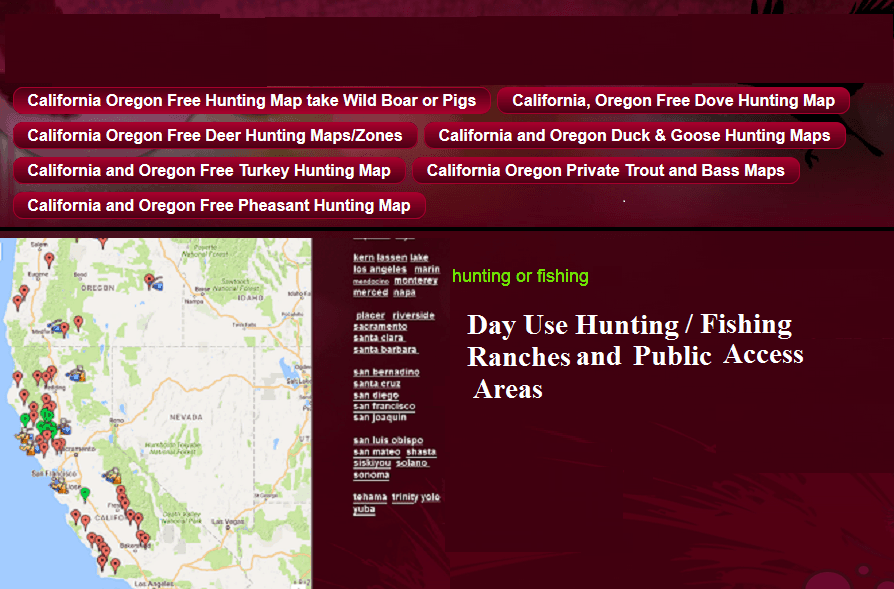 Also, if you want very specific county by county information on fishing and hunting clubs in California and Oregon for private fishing, hunting clubs, and exclusive network of hunting ranches found nowhere else, here is a screen shot below, click on this link to go to the site: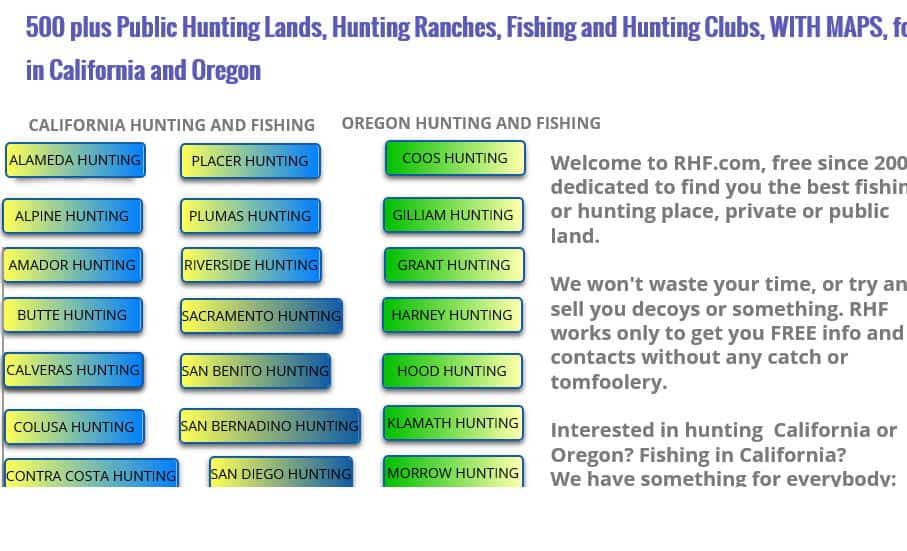 Please click on a County for Fishing and Hunting Clubs, Ranches or the Best Public Land Areas
Please click on a County for Fishing and Hunting Clubs, Ranches or the Best Public Land Areas
Contact Me
for Newsletter
Get on our mailing list for Newsletter and to receive New Fishing and Hunting Maps and Hot Spot News in your areaIf you want FREE info on Hunting access and Fishing on over 200 Private Ranches and Hunting clubs, fill this out ! (We NEVER release your info to anyone not specific to this inquiry!)