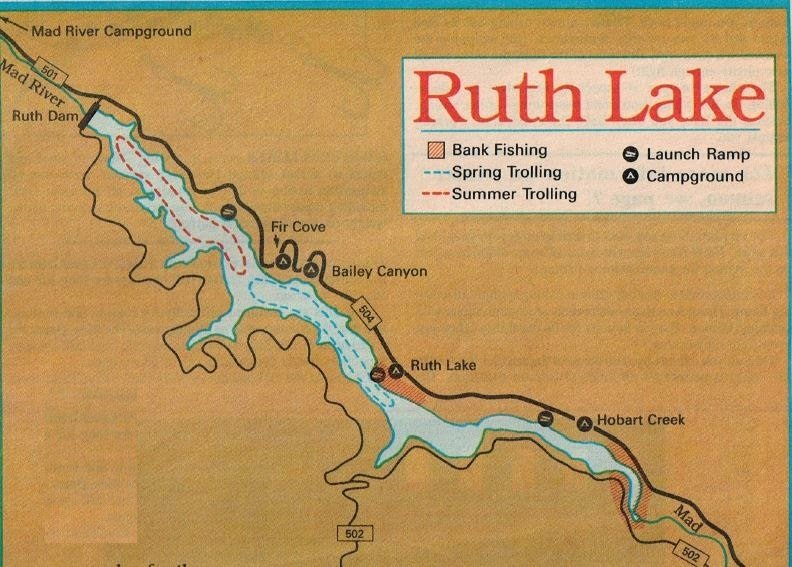 California Hunting Clubs and 2019 Ruth Lake Fishing Map and Fishing Report and How to Fish this Lake!
2019 Ruth Lake Fishing Map and Fishing Report and Local Hunting Clubs and Private Hunting Ranches
Ruth Lake Fishing map and Fishing report, and hunting public lands, ranches and clubs in this area
RUTH LAKE —Winter and spring trout fishing here is consistent but spring bass fishing is maybe the best in northern California… Ruth Lake is an little known gem and the best fishing in the lake is between November and April.
According to our fishing report, the bait of choice right now is salmon eggs and
marshmallows fished in together, and the trout are more
at
areas where there is in flow into the lake, especially at the
south end where the Mad River pours in.
This time of year rainbows are the focus, but kokanee will grow to 19- and- 20 inch fish caught trolling during the summer and fall.
Trolling is working right on top with all kinds of different lures—Super Dupers, Rooster Tails, Mepps.
There is a lot of natural feed in the lake, so there is no set rule for bait or lures, but meanwhile
these fish grow girthy and are pink-meated.
Use our fishing map to see where to fish from both east and west shores on the
extreme south end, and you can drive to right to those spots, at least through the end of
April.
As the water warms and fish move deeper
the best technique during the summer months
is trolling, and the hotter it gets, the deeper trollers go,
eventually working their way down to the north end and the
dam.
Ruth Lake Marina has gas, bait and tackle Two USFS campgrounds are also available
at the lake.
Bass Fishing is good at Ruth Lake!
According to out fish reports, Ruth Lake has become a really good bass lake, and the bass fishing is
fantastic in March and April when they spawn and
spinnerbaits are a favorite for the mix of large and smallmouth, but
jigs probably take
majority of the fish overall.
Mister Twisters are good, and Gitz-lts in purple and
gray. Rocky points
and outcrops provide bass shelter and good fishing areas, there is not
a lot of other
structure.
Our fishing report declares the west side of the lake is preferred over
the east side, and
and also the very upper
end,
but south end is also more shallow areas.
Also, don't neglect the catfish fishery at Ruth either!!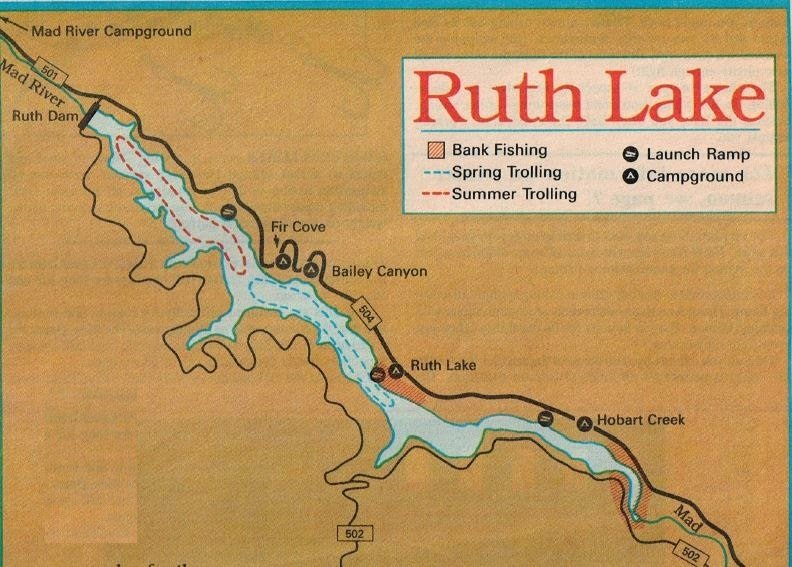 Private Fishing Maps and Hunting Clubs and Hunting Maps of Public Areas in California

If you like our Fishing map and information on how to fish this lake, we have many more hunting and fishing maps, here is a screen shot, but if you want more info, click on this link:

Also, if you want very specific county by county information on fishing and hunting clubs in California and Oregon for private fishing, hunting clubs, and exclusive network of hunting ranches found nowhere else, here is a screen shot below, click on this link to go to the site:
Please click on a County for Fishing and Hunting Clubs, Ranches or the Best Public Land Areas
Please click on a County for Fishing and Hunting Clubs, Ranches or the Best Public Land Areas
Contact Me
for Newsletter
Get on our mailing list for Newsletter and to receive New Fishing and Hunting Maps and Hot Spot News in your areaIf you want FREE info on Hunting access and Fishing on over 200 Private Ranches and Hunting clubs, fill this out ! (We NEVER release your info to anyone not specific to this inquiry!)