2019 American River Steelhead Fishing Report, Maps, Local Hunting Clubs and Public Lands
2019 American River Steelhead Fishing Report and Maps 
American River Fishing Reports
December 28, 2019 – The American River reopens on Sunday, New Year's Day, just in time for Steelhead fishing. There are massive releases from Folsom Dam to watch out for and since Monday, the water velocity has slowed a little bit.
Fishing Map of the American River
About the American River
The American River flows from the Sierra Nevada to the Folsom Lake/Nimbus Dam.  Known as the Upper American River, this is a native trout area to fish. We cover that in another fishing map.
The Lower American River, however has fishing for migratory steelhead, Chinook salmon, stripers, and shad.  Steelhead fishing is very good, and is basically year round.
Winter:
Winter runs are the big boys –Steelhead fishing in the American River reaches the high point December through March, the fish are the largest of the various runs,  average of 8 pounds, and get over 15.
During the Spring returns are "half pounder" steelhead, smallish fish to 15 inches
Fall  American steelhead, a little bit bigger though they can be much larger, starting in September.
Access:
Just north of Highway 50, there are lots of points of access from the just about any exit off the highway.  Hazel Avenue is the closest to the tail water near the Folsom Dam,
Click on a county for a listing of public land and contact info for Hunting Clubs/Ranches, and many more Maps! :
           California and Oregon Private and Public Hunting and Fishing Information:
If you liked our information and are looking for more fishing or hunting maps, and also access to private ranches and hunting clubs, don't miss checking out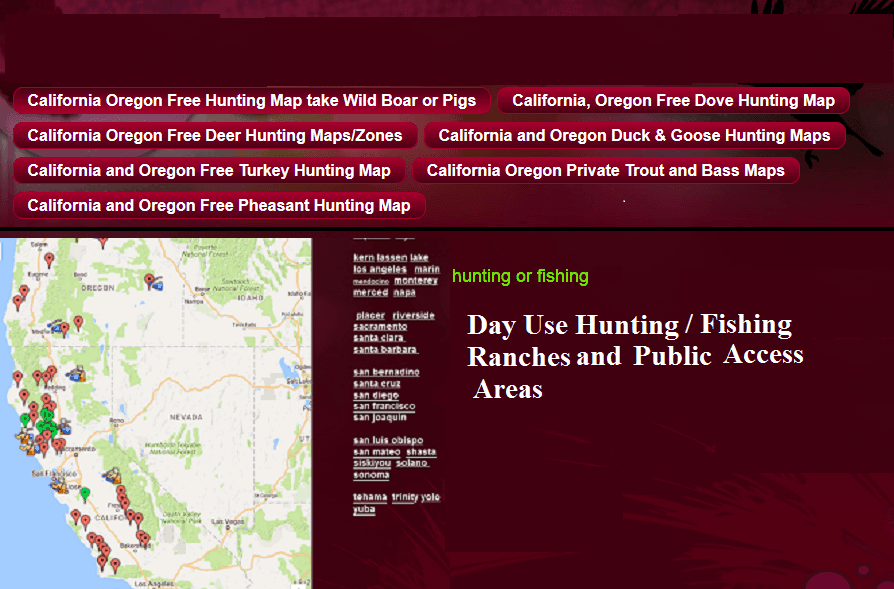 Information on Hunting and Fishing Clubs and Ranches in California and Oregon:
If you want a more specific, county by county description of Oregon and California Hunting Clubs, Ranches and public areas to hunt and fish, you need to see: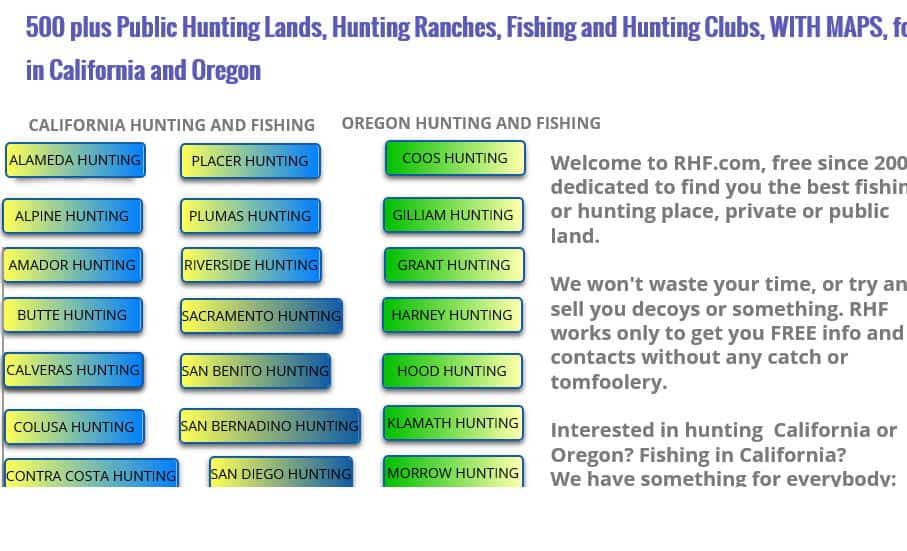 Please click on a County for Fishing and Hunting Clubs, Ranches or the Best Public Land Areas
Please click on a County for Fishing and Hunting Clubs, Ranches or the Best Public Land Areas
Contact Me
for Newsletter
Get on our mailing list for Newsletter and to receive New Fishing and Hunting Maps and Hot Spot News in your areaIf you want FREE info on Hunting access and Fishing on over 200 Private Ranches and Hunting clubs, fill this out ! (We NEVER release your info to anyone not specific to this inquiry!)