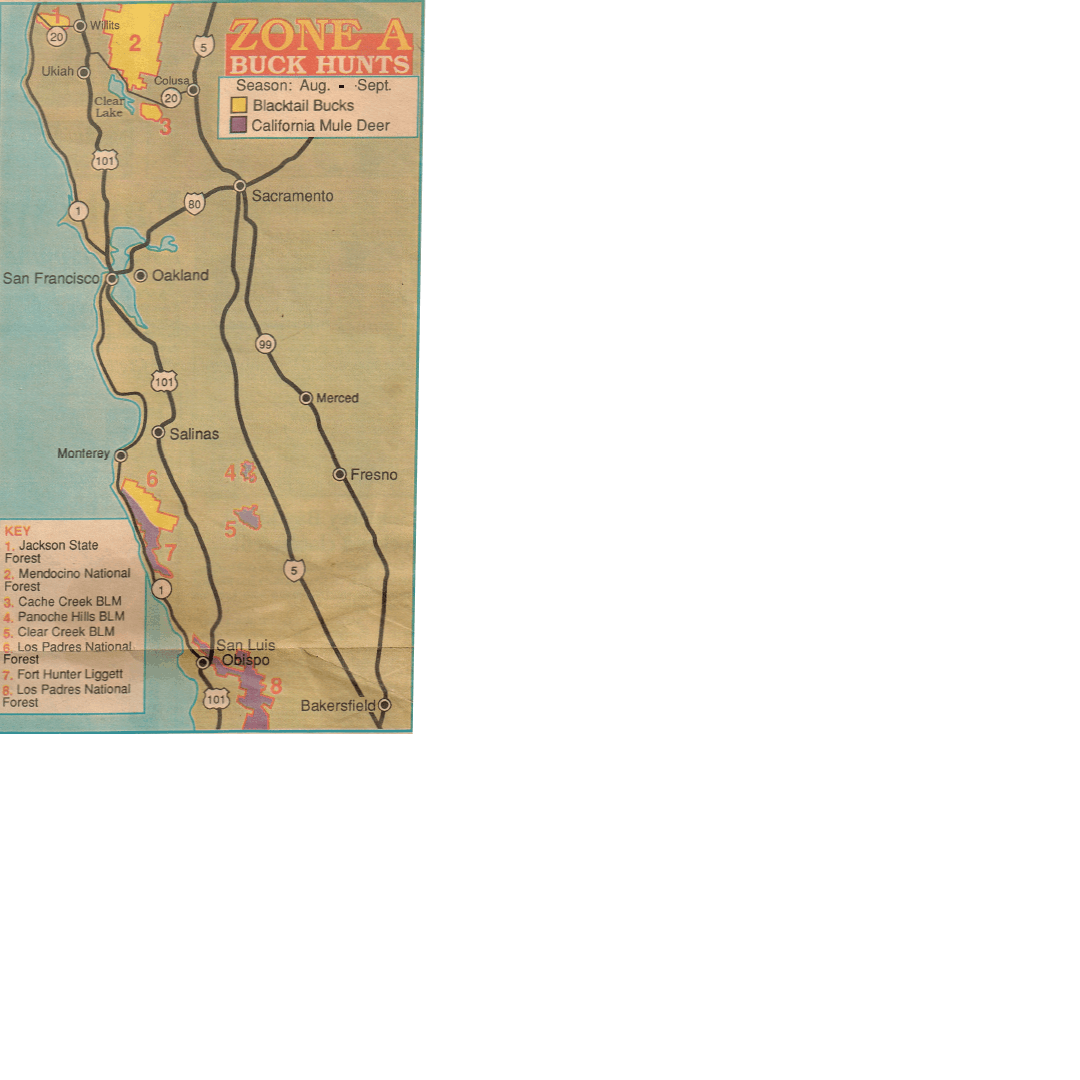 Zone A California Hunting for Deer, best spots, Public Land Areas, Hunting Ranches and Clubs
Find your County below, or click on Map Markers on our Google Map on our Deer Hunting page to find  Day use Hunting Ranches and Clubs or go to
www.ranchhuntandfish.com
Zone A deer hunters heading afield this  August  can expect to see some of the biggest  bucks in years, and thanks to cooler-than normal  temperatures, chances of downing one of those blacktails is  excellent!
The largest zone in the state opens to rifle hunters Saturday, Aug. 12, and nimrods who purchase tags and licenses for  this vast coastal zone have some excellent opportunity on tap.
Perhaps 90 percent of the zone is privately owned, and, like most hunting in California, the best prospects can be found  on those private ranches.  Please see our list of Private Ranches below or click on our map markers to go to that ranch for more information.
We're going to give you some options  on public land.  If you are willing to put  some hard work, buy a forest service or BLM map, have  an excellent opportunity awaiting.  Late spring rains sparked great antler growth in the North , particularly in Mendocino County, which offers the  best California deer hunting in Zone A.
Lake County appears to  be another winner this year, as does private property in  Sonoma and Napa counties.  The farther south you go, the hotter and drier the conditions. Water becomes the key source. 
---
Jackson State Forest
Located in western Mendocino County, Jackson State forest offers fair blacktail deer hunting. Hunters will find  heavy cover and lots of trees, but hunters who locate two year-old clearcuts will find deer feeding in them at  first light and then again just before dark.
During the day, hunters will have to beat the brush because  bucks will be bedded down in thick cover.  The southern tip of the Kings Range at the north end of the  zone is also open to the public, but  hunters will find better deer in Jackson  State Forest.
---
Mendocino State Forest 
Some of the best California deer hunting in the state can be found in this  vast national forest which is open to the  public. Zone A hunters need to be careful not to cross over into Zone B territory which doesn't open until September.  Late-season rains caused some out standing antler growth here, and prospects are better than average as a result.
Horse Mountain, Goat Mountain,  Bartlett Springs and Elk Ridge all have deer and there is plenty of water  around here too.  There's a good piece of Bureau of  Land Management property that follows the North Fork Cache Creek into  Indian Valley Reservoir.
Spanish Ridge  to the north is also worth hunting.  Cache Creek BLM  Hunters willing to do a little hiking  will be rewarded with some excellent  California deer hunting in the 30,000-  acre Cache Creek area,
Hunters will find  deer and wild pig on the area located  just east of Clear Lake out of Clear Lake  Highlands Hunters who want to locate  this area need to stop by the BLM office  nearest them and ask for the Lakeport  and Healdsburg BLM maps. They cost  $4, but it's well worth the money. The  maps will show access roads leading to  the area.  The Cache Creek BLM area is popular among hunters who own horses.  They can get into the back country  where there aren't any roads
You'll find deer in the cool shade and and pigs are also in this area so keep  your eyes open.
---
Panoche Hills BLM 
Central Valley hunters, unlike their  northern counterparts, face extreme   hot, dry conditions.  Prospects are fair at best in most  areas, but there are some decent public  hunting opportunities available.
One is  the Panoche Hills BLM area, located  near Mercy Hot Springs off County    Road Jl, I0 miles west of lnterstate 5.  Hunters will find 30,000 acres, and the  best deer hunting is at elevations higher  than 2,500 feet. Hunters must locate  springs which have been developed by  the DFG and BLM. Deer will be congregated in these areas, as will quail and  some chukar.
---
Clear Creek BLM
  Clear Creek Management Area is  the largest BLM unit in the area with  more than 50,000 acres, of which half  are open to vehicle use.
Clear Creek is also hot and dry and  deer are widely scattered this year. The  area is made up of rolling hills, leather  oaks, manzanita and chaparral so it's  ideal for deer.  Stay away from the barren hills  which contain asbestos. This area is  located 4 miles south of ldira off  County Road Jl.
Get a map from the  BLM and located the springs. Hunt in  high places like San Benito Mountain,  and look for available water. You'll find  deer and pigs.  Two other public hunting areas that  offer fair deer hunting are the Upper  Cottonwood Wildlife Area and Pacheco  Pass west of San Luis Reservoir.
---
Los Padres National Forest 
Los Padres National Forest offers  south coast buck hunters some of the  best public hunting opportunity, but hot  dry conditions have forced Stage Il fire  restrictions in the l.7 million-acre forest  which stretches from Carmel down to Ventura County.  S
Stage ll fire restrictions prohibit all  tire use outside developed recreation  sites; restricts vehicle use, including  motorcycles and ATVs; and prohibits  the use of smoking tobacco except in  the developed recreation sites or in  enclosed vehicles.
The tinder dry forest means deer  will be close to water.  The best hunting  will likely be opening weekend, then  again the final weekend when it's hoped  cooler temperatures will prevail.  For big bucks, you can't beat that  final weekend.
---
The Venata Wilderness
Offers hunters the best bet and top prospects are  Chews Ridge, Arroyo Seco, Black Cone  and Prewitt Ridge.  Fort Hunter Liggett is always a viable option. See our blog on the Fort by searching for it in our search bar above.  Call the post at  408-385-1205 for information and  hunting reservations!
Please click on a County for Fishing and Hunting Clubs, Ranches or the Best Public Land Areas
Please click on a County for Fishing and Hunting Clubs, Ranches or the Best Public Land Areas
Contact Me
for Newsletter
Get on our mailing list for Newsletter and to receive New Fishing and Hunting Maps and Hot Spot News in your area If you want FREE info on Hunting access and Fishing on over 200 Private Ranches and Hunting clubs, fill this out ! (We NEVER release your info to anyone not specific to this inquiry!)