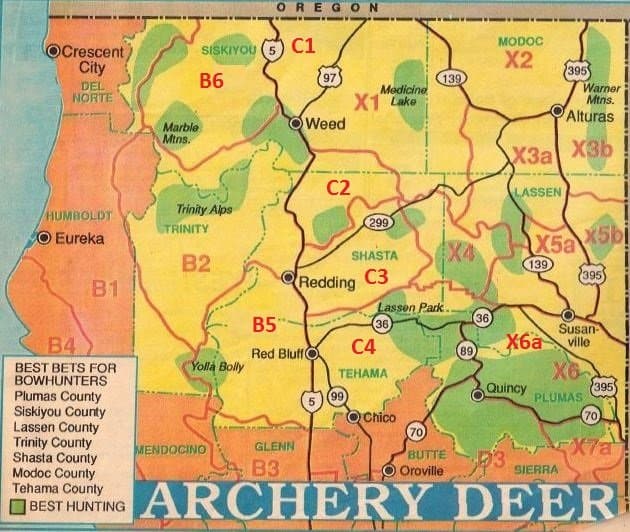 2019 Archery Deer Hunting Maps and California Hunting Report



California Bow Hunting Report and Deer Hunting Maps

Best Public Land Deer Zones

local Hunting Clubs and Ranches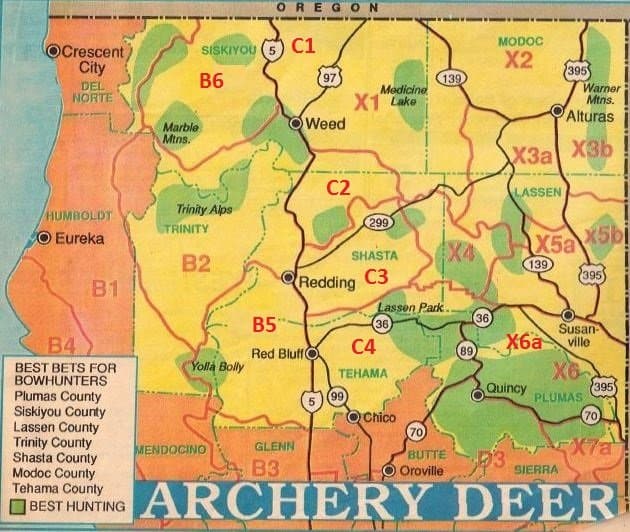 If you're a bow hunter and if you buy an
archery-only tag,
deer hunters are rapidly learning
that Northern California is the place to be this fall. And, Hunters who purchase archery
deer tags can
actually start hunting deer early in July, when the Zone A deer
season opens. See our hunting map for more deer zone information.
Furthermore, archery only tags allow bow hunters to hunt deer in
nearly every zone in the state,
but check with the fish and game to make sure before going. Rifle hunters, on the other hand, must buy a deer tag for a certain zone and remain in that zone throughout the season while bow hunters can cross boundaries, and extend their hunting season from July until November if they purchase a second archery-only tag.
Compared to other western states, Northern California is a great
choice for deer with a bow because
it's such a flexible hunting opportunity.
Around mid-August every year is when all of the North State's prime bow hunting zones open to archery hunting, and while
most close
late September.
According to our hunting report, the top bow hunting counties, in order, are Plumas, Siskiyou,
Lassen, Trinity, Shasta, Modoc and Tehama:

(Note the prime areas in our hunting map for these zones).

Plumas County: This county is numero uno,

as

it's covered with

trees and brush and there's a lot of cover and deer. Plumas County consists of zones X6 and D3 and both are loaded with mule deer and blacktail cross. The two years dry weather but recent thunderstorms have brought a little rain which has cooled the forest floor. Stalking conditions will be much better in the Plumas National Forest this year.

Above Lake Davis around Crocker Mountain is always good in the Clover Valley area. Another good area is Grizzly Ridge and the Bucks Lake area is another good bet for bowmen, as is

Mt. Ararat and Lookout Mountain, and finally

the Gold

Lake Basin.

Siskiyou County: This huge zone that borders Oregon offers some excellent mule deer hunting on public land.

Hunters who have access to horses, or who want to hike in and get away from the road and foot traffic, should consider the Marble Mountain Wilderness Area. Hunters will find

some dandy bucks in this portion of Zone D1 , and those with

horses will have a big advantage over those who don't. Northwest Siskiyou County looks excellent, particularly along the Klamath River

The eastern half of Siskiyou County offers good public hunting throughout the Klamath, Modoc and Siskiyou national forests. Our hunting report concludes water will be a key source as the season progresses and springs dry up. Traditionally, top hunting areas are Medicine Lake, Indian Spring Mountain, Harris Mountain and Mt. Dome.

Lassen County Bow hunting Prospects are good in zones X5a, X5b, X5c,

but hunters need special tags to hunt period

one in these. Archery-only tags are no good here, but

hunters can hunt in X4, X3a and X6, all of which include part

of Lassen County.

The deer will be concentrated at the highest elevations. Then,

deer will be on the move between now and rifle season

trying to locate new water sources as old ones dry up.

The best hunting in X5b will be

in the north half of

the zone, including thc Cottonwood Mountains,

Observation Peak

and Shinn Mountain,

X5a tag holders will find bucks

on top of Snowstorm Mountain,

Fredonyer

Peak

and Shaffer

Mountain.

X5c tag holders will find bucks west of Eagle Lake in the timber

will find bucks

west of Eagle

Lake in the timber

of Lassen

National Forest where there are high deer densities. On the south side, hunting should be excellent in zone X6 which is open to archery only tag holders.

Look around

Diamond Mountain and Bass Hill. Deer numbers appear to

be good here.

Trinity County: The biggest blacktail bucks in the state

are grown here, home of the Weaverville buck herd which

boasts the best buck-to-doe ratios anywhere with more than

40 bucks per 100 does.

The hot bow hunting here is in the Trinity Alps and hunters

willing to put in a little effort will be rewarded with some

dandy bucks, including some that make the Pope & Young

record book every year.

Along the Trinity River, sources are seeing some good bucks during fishing trips. Hayfork and old burns are providing excellent forage this year and antler growth is good.

Shasta County: Some excellent bucks available this year in northeastern Shasta County, tipped biologist Dave Smith in Redding. The Cow Creek herd, you can count on seeing some big, older bucks above Shasta Lake. Burney, Old Station, Hat Creek, Hat Creek Rim

and local farm bucks in the foothills offer prime hunting this

fall.

Don't overlook the western half of

Whiskeytown

Lake's and its

heavy cover, big bucks and good access.

Modoc County: Bow hunters

will find some good animals in the Warner Mountains of X3a . Fort Bidwell offers big

bucks, as does the South Warner Wilderness.

Western Modoc County offers fair prospects in X2. Much

of the terrain is wide open, sagebrush and juniper

that's difficult to bow hunt.

Tehama County: The Yollo Bolly Wilderness in the Western half of the county offers good hunting for hunters willing to pack in.

Zone C4 and lots of bucks are taken below Lassen Park. That's where the east Tehama deer herd frequents.

It is the largest deer hear in the state. Also we suggest you try Mineral, Mill Creek and Northeastern Plumas County above Lake Almanor.
Oregon and California hunting and fishing
maps of hunting clubs, hunting ranches, public and private fish
Click on a county for Hunting Clubs & Private Ranches
If you like our Fishing map and information on how to fish this lake, we have many more hunting and fishing maps, here is a screen shot, but if you want more info, click on this link:
www.freehuntfishmaps.com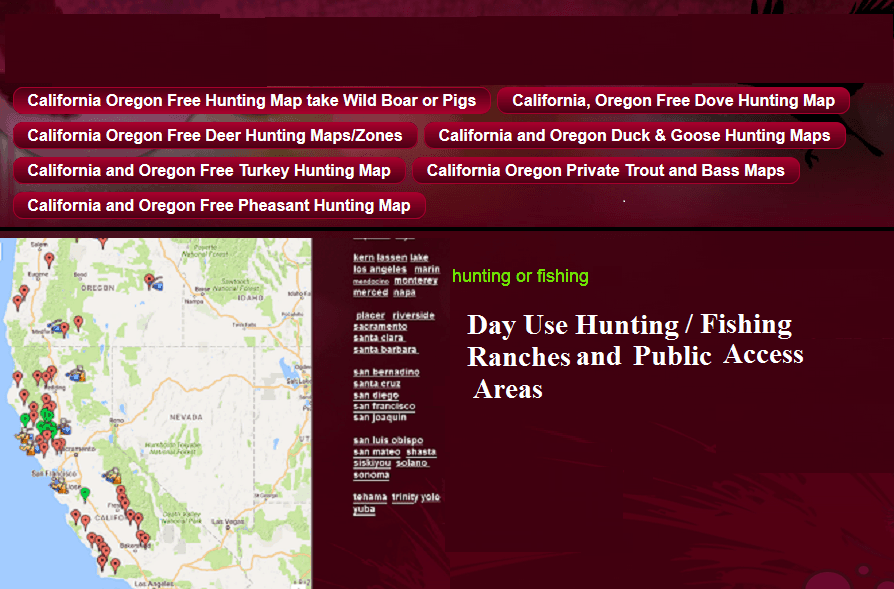 Also, if you want very specific county by county information on fishing and hunting clubs in California and Oregon for private fishing, hunting clubs, and exclusive network of hunting ranches found nowhere else, here is a screen shot below, click on this link to go to the site: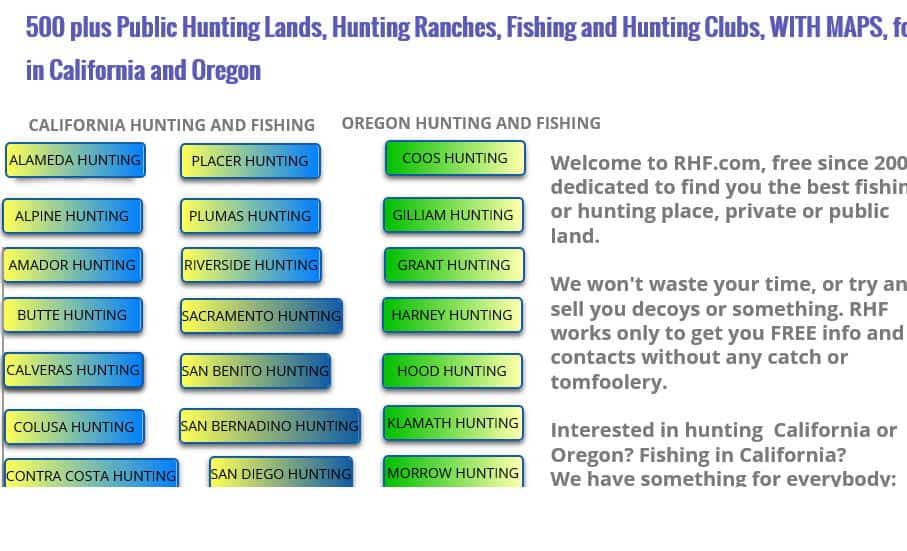 www.ranchhuntandfish.com
California and Oregon for private fishing, hunting clubs, and exclusive network of hunting ranches
we have many more fishing maps and hunting maps at www.freehuntfishmaps.com
California Hunting Clubs for Turkey, deer, pig, quail, fishing with Hunting Maps.
Please click on a County for Fishing and Hunting Clubs, Ranches or the Best Public Land Areas
Please click on a County for Fishing and Hunting Clubs, Ranches or the Best Public Land Areas
Contact Me
for Newsletter
Get on our mailing list for Newsletter and to receive New Fishing and Hunting Maps and Hot Spot News in your areaIf you want FREE info on Hunting access and Fishing on over 200 Private Ranches and Hunting clubs, fill this out ! (We NEVER release your info to anyone not specific to this inquiry!)