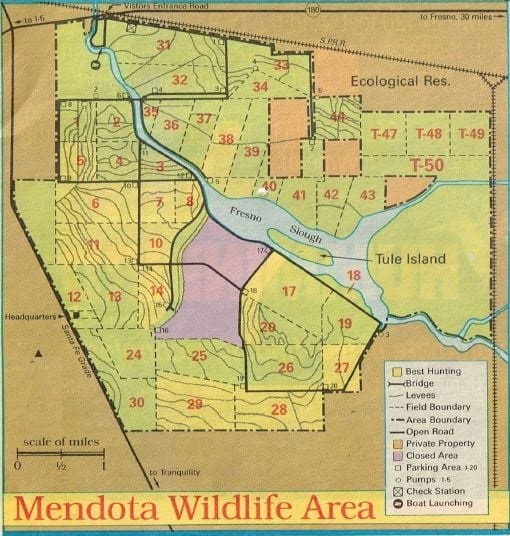 2019 California Duck Hunting, Mendota Refuge, report, Duck Hunting Clubs, Blind leases, how to hunt
Duck hunting California Mendota Refuge
– Hunting report and how to hunt Mendota refuge
– Mendota Refuge Maps and information on Best Areas
– Local duck hunting clubs and blind leases
-Access to 80 Hunting Ranches and Hunting Clubs for one monthly fee!!!
MENDOTA — Pintail! Many waterfowl hunters agree, are the most prized duck in the Pacific Flyway. This 12,000-acre wildlife area is offering some of the best pintail hunting in the state! But there are good numbers of mallards, shovelers and green-winged teal using the area too. Most of these birds are residents, and they're wising up pretty fast. In fact, yearlings and two-year old ducks have been the main targets traditionally the first few weeks of the season not only at Mendota, but at public and private shooting areas throughout the entire state. The older, more mature birds have been around the block a few times. They're more wary of decoy set. Stay tuned to our Refuge hunting report and use of Hunting Map for reference.
Hunting at Mendota is best when the birds are well into their Pacific Flyway migration. Mendota is the only major resting area between the refuges on the Los Banos Complex 50 miles north and Kern National Wildlife Refuge 120 miles south, so it's a popular resting spot for mallard, teal, spoonies, gadwall, widgeon, and of course, pintail. Sprig are attracted to this large water from Fresno Slough.
Even in drought-like years like this one, Mendota always seems to have enough water to flood its fields. Refuge managers flood most of the hunting units with water that's about ankle~deep, ideal for pintail and mallards who like to stand in water while their feeding. Fresno Slough is a big piece of wide open water that attracts big flocks of pintail. See our Refuge Hunting Map for reference. Mendota has about 40 shallow ponds and an abundance of prime duck feed and cover such as timothy, watergrass, spikerush, smartweed and bullrush. There are numerous marsh areas on the east side and they consist of dense cattails and tules which attract mallards and greenwinged teal. See our Refuge Hunting Map for reference.
The Department of Fish Game manages the state wildlife area, and Mendota's diversified habitat attracts all the major duck species, and the local hunters know it! Waterfowlers from Fresno, Madera, Los Banos and Visalia flock to Mendota Wildlife Area like ducks to the rice fields, and during the peak of the migration, you can expect to see lots of hunters from the Bay Area and even Los Angeles! Mendota has about 40 shallow ponds and an abundance of prime duck feed and cover such as timothy, water- grass, spikerush, smart-weed and bullrush.
If you've never hunted Mendota, don't let the crowds scare you off. The shooting area is extremely large, so big in fact, that Mendota can handle 600 hunters at one time! lf you've never been to the area, then l suggest you spend at least one weekend learning the area and getting the routine down pat. See our Refuge Hunting Map for reference. That way, come the end of November and December — the prime hunting months at Mendota -you'll know your way around. Weekend crowds lately have only been about 300 to 400 so you shouldn't have any problem getting on in the upcoming weeks There is a sweat line, so hunters have a reasonably good chance of showing up and getting on. Stay tuned to our Refuge hunting report22
During the peak season, however, reservations are a must. There's nothing worse than sitting in a sweat line at 7 a. m. in the rain and wind, watching ducks fly overhead and seeing some other hunter shooting them! Make those Type A reservations today! Once you get your reservation, you can reach the wildlife area by driving west on Highway 180 from Fresno.
California hunting clubs, hunting ranches, public and even private fishing
Boar hunting private lands in California has several advantages over the public areas. Chief among these are much less hunting pressure, better forage and water supplies and easier vehicle access. It's a fact of life, and if you've never got your boar, hunting on private ranches is almost a sure thing.
We use a hunting map site that has over 200 private ranches, with or without guides www.ranchhuntfish.com
Click on a county for Hunting Clubs & Private Ranches:
It's free, and get you access to our free map site too. Here is a copy of the home page: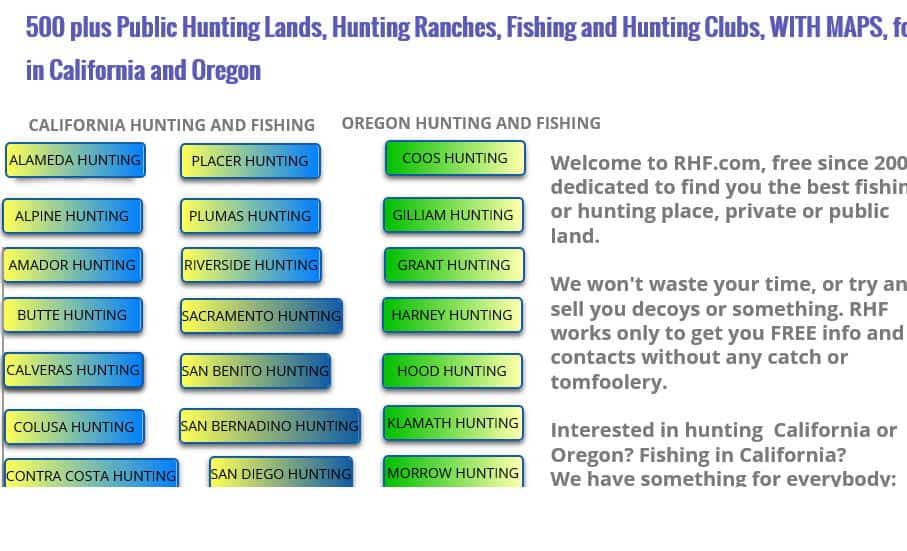 We have many more hunting and fishing maps, here is a screen shot, but if you want more info, click on this link: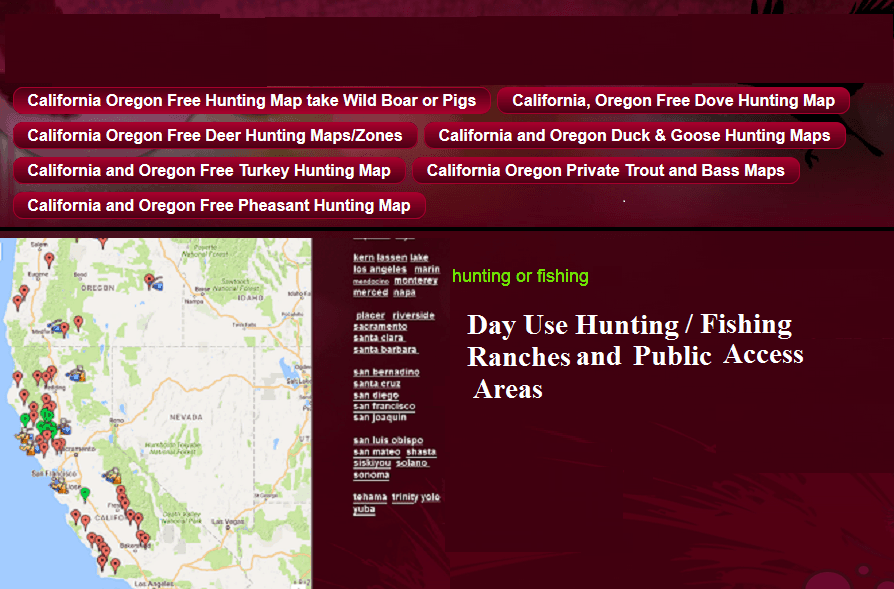 Please click on a County for Fishing and Hunting Clubs, Ranches or the Best Public Land Areas
Please click on a County for Fishing and Hunting Clubs, Ranches or the Best Public Land Areas
Contact Me
for Newsletter
Get on our mailing list for Newsletter and to receive New Fishing and Hunting Maps and Hot Spot News in your areaIf you want FREE info on Hunting access and Fishing on over 200 Private Ranches and Hunting clubs, fill this out ! (We NEVER release your info to anyone not specific to this inquiry!)