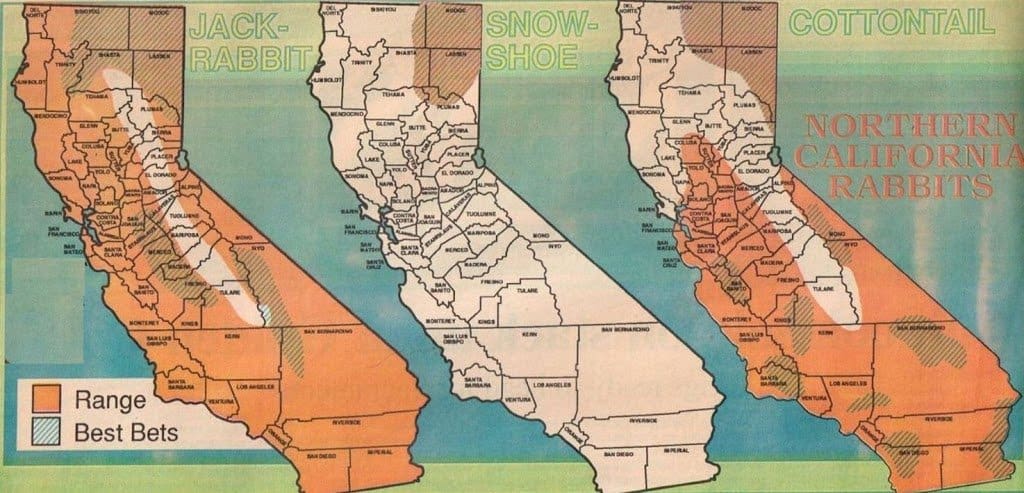 2019  California Rabbit Hunting Maps, Report, plus Public Land Hunting, Hunting Clubs, and Ranches
——–Another Bullet Blog from FreeHuntFishMaps.com
California Rabbit Hunting Maps, Report

Best plus Public Land Rabbit Hunting

Hunting Clubs, and Hunting Ranches info
Here you get access to our giant free hunting and fishing Map site, with how to fish and where to fish or hunt these Public lands. Get access to Hunting Clubs and Private ranches for fishing and hunting. Always free with no strings attached to help preserve our Outdoor Heritage.
Click on a County for California or Oregon Hunting or fishing on Public Lands, Hunting Clubs and Private Hunting Ranches
Jack Rabbits Snow Shoe Hares CottonTails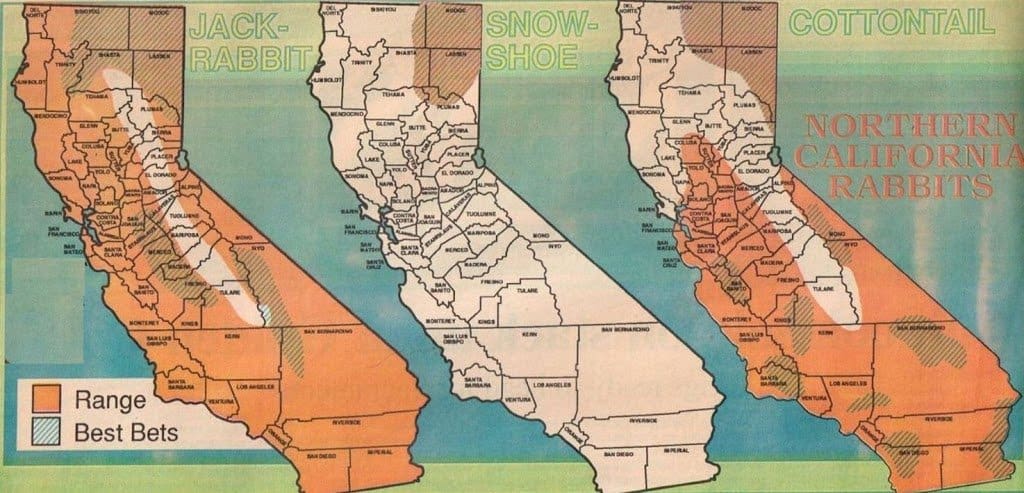 The Bullets on successful Rabbit hunting in California:
Rabbits are nocturnal, best time to hunt them is at first light, then again just before dark.
At night they feed on the farmer's fields or grass, then head back into the sagebrush
sagebrush is almost always owned by the Bureau of Land Management,
slowly sneak through the brush. Rabbits will' usually dart from' their hiding places.
Use a shotgun like 20-gauge with high-base No. 6 shotshells for best results.
Use .22 rifles from a stand near water or stillhunt them.
Once you scare them, wait. They often stop long enough for a shot
Season: July 1 through Jan. 28, but jacks are open year round.
Best hunting: Los Banos, Little Panoche, Cottonwood wildlife areas are good bets for cottontails; Lassen County and Owens Valley are excellent; Lassen, Modoc, Mono counties best for brush rabbits; Modoc County best for snowshoe hares; jackrabbits are available statewide, with best hunting available in northeast California in open, sagebrush areas.
The most popular hunted species in California is not deer, ducks or pigs, it's jacks and cottontails! California has a variety of rabbits, including cottontails, jacks, snowshoes and subspecies of each. .
The blacktailed jackrabbit is the most common of the hares in the state. Its 22 inches long and weighs 4 to 6 pounds. The whitetailed jackrabbit is one the largest hares found in the United States. It can weigh up to 12 pounds, but usually weighs 6 to 8. I
They frequent the open country in the foothills and mountains. Califomia is also home to snowshoe hares, which look considerably different than their jackrabbit counterparts. The ear is shorter than the head and they only are 15 inches long and weighs about 2 1/2 pounds.
Snowshoes can be found in northeastern California, particularly in Modoc and Lassen counties. They're brown in the summer and turn white in the winter, and its tail is black on the outside. "
Cottontails, on the other hand, are the most desirable rabbits in the state, as they make the best table fare. There are basically two kinds of cottontails: Audubon cottontails can be found in central and southern California. lt's the most common rabbit in the state as far as numbers go, and also one of the smallest. This rabbit can be found in the lowlands throughout the state which include the arid and open brush regions. This small rabbit weighs only 1 1/2 to 2 1/2 pounds.
Northern California is home to the Nuttall cottontail which is bigger than the Audubon. The Nuttall weighs 2 1/2 pounds and is 14 inches long. This cottontail can be found along streamside thickets, sagebrush, sagebrush-covered hills and rocky areas in northeastern California.
There's also the brush rabbit which can be found in dense, brushy areas along the western slope of the Sierra. lt looks similar to the Audubon, only the brush rabbit has a small, narrow white tail. lt's about 13 inches long and weighs 1 or 2 pounds. The ears are shorter and more rounded than the Audubon, and it has a blue belly. Hunters often take these rabbits while quail hunting.
The pigmy rabbit is the smallest rabbit in the state, and can weigh less than a pound.. It looks like a small cottontail without the white tail.
A wet spring causes some excellent greenup and grass growth. Go to Lassen County east of Highway 395 and Owens Valley is another prime cottontail area. . Rabbits can be found on many of California's state wildlife areas, including Los Banos, Mendota, Cottonwood, Little Panoche. San Luis Reservoir, O'Neill Forebay and Volta. Check with the Duck Refuges before you go – they might be closed until September or so to protect incoming waterfowl populations.
"The best hunting for rabbits is southward is Little Panoche early in the morning and late in the afternoon. Mendota Wildlife Area (209-6554695) offers fair rabbit hunting in the upland bird area, reported sources. Shotguns are required, and the best hunting can be found out of parking lot 1, and the dry fields behind the locked gates. Hunters can find jackrabbits in the higher elevations, particularly in the northeast part of the state in Modoc, Siskiyou, Lassen and eastern Shasta counties. Jacks like the open sagebrush country, and you'll find them close to water and alfalfa fields. Cottontails, on the other hand, like brushy areas, but they too can be found near creeks, springs and ponds.

Hey! Here are links to our home pages to Free Hunting and fishing Maps site and to our County by County Public Lands, Hunting Clubs, and Private Ranch fishing and hunting info.:
County by County look at California and Oregon Hunting and Fishing Public Lands and Private Ranches and Clubs
Please click on a County for Fishing and Hunting Clubs, Ranches or the Best Public Land Areas
Please click on a County for Fishing and Hunting Clubs, Ranches or the Best Public Land Areas
Contact Me
for Newsletter
Get on our mailing list for Newsletter and to receive New Fishing and Hunting Maps and Hot Spot News in your areaIf you want FREE info on Hunting access and Fishing on over 200 Private Ranches and Hunting clubs, fill this out ! (We NEVER release your info to anyone not specific to this inquiry!)