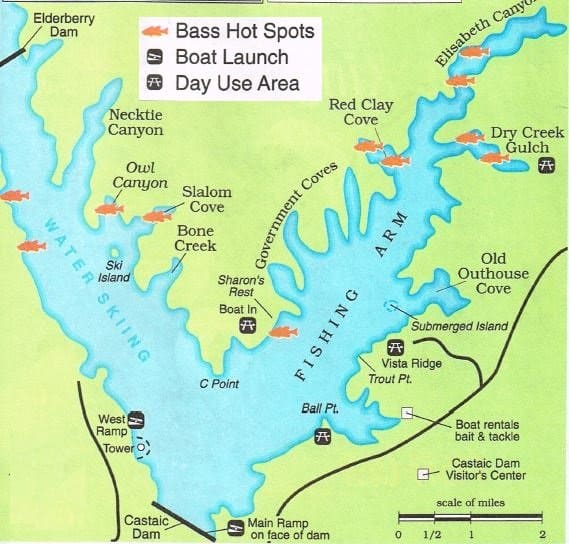 2019 Castaic Fishing Map, Fishing Report, local Hunting Clubs, private fishing nearby
Castaic Fishing Map for Best Areas and 2019 fishing Report, How to fish Castaic, and info on Hunting Clubs nearby
CURRENT CONDITIONS LAKE CASTAIC DECEMBER 2016
Depth is the key right now, at least 30 feet. Using brownish spoons and jigs is the most effective for largemouths and scattering of small mouth bass. Stripers are more spread out, its best to troll using an umbrella rig with shad look a likes. Catfish seems to be very slow right now.
The good news is trout are going to be planted this week.
——————————————————————————————-
Known for it big bass, Lake Castaic has a two-fish, 18- inch minimum size limit, and sometimes you can take one or two 10 pounders a trip. Finesse plastic worm methods are now mandatory to catch fish here as well as live waterdogs and large trout imitation lures are decent options as well. As our fishing map shows, Lake Castaic is located roughly 45 miles north of Los Angeles on I-5. Take the Lake Hughes turnoff to the main entrance.
The lake is open year round, except Christmas Day, from sunrise to sunset. Subject to high winds during the spring months, the launch ramps may be closed at times.
Our fishing report shows that Spring fishing for striped bass and largemouths extends through mid- summer from late April. Stripers may respond to trout plants, or else follow the shad balls following the baitfish spawn. Black bass nesting begins in earnest in late April, but when the water is high, the fish tend to stay shallow.
Best Methods: Largemouths less than 4 pounds caught mostly on 4-inch plastic worms; Green weenies, light browns, and smoke and purple variations all seem to work. Carolina or dropshot rigs seem to get most of the bites. Stripers like the big trout plugs, or may hit bucktail jigs or Rattletraps when the fish are chasing shad.
Stripers are still part of the fish
population.
Furthermore, stripers, including fish to nearly 40 pounds, on the good weeks,
anglers may take three to seven fish from
8 to 17 pounds.
LARGEMOUTHS!
More fishing reports have shown that May and June are two of the very best months for catching bass at Castaic, most of the bass are going to be in less than 15 feet of water, and that's an advantage for anglers. The shallower fish are mostly 1 to 4 pounders.
Any brush that is inundated, or lacking that, they will hang around rock outcroppings or ledges. And since there is really very
little organic sniff in the water, most of
the fish hang around some kind of bottom change or lip on a rock face.
That's one of the reasons why lure selection here is so narrow.
Plastic worms are the first choice, and everything else is secondary. The
only thing you might want to alter is
your rig. Use our fishing map to see
Slalom Cove and Red Clay Cove which both
have water with a tinge of color; still, the
fish are more willing to hit lighter
line, as they see lots of baits during this
busy time of year as the bigger bass are not very willing to come up on the banks.
Use out fishing map to look for points and ridges where the
water may come up as shallow as 8 or 10 feet.
Castaic's
remaining trophy bass have
proven to be roamers, so they
station close to open water
where they can forage on
planted trout, and whether using live
waterdogs or a soft plastic
imitation try
casting over into 60 feet and
working up the slope, keeping
in contact with the bottom all
the time.
California and Oregon info for private fishing, hunting clubs, and exclusive network of hunting ranches
Also, if you want very specific county by county information on fishing and hunting clubs in California and Oregon for private fishing, hunting clubs, and exclusive network of hunting ranches found nowhere else, here is a screen shot below, click on this link to go to the site:
www.ranchhuntandfish.com
we have many more fishing maps and hunting maps at www.freehuntfishmaps.com
California Hunting Clubs for Turkey, deer, pig, quail, fishing with Hunting Maps.
Please click on a County for Fishing and Hunting Clubs, Ranches or the Best Public Land Areas
Please click on a County for Fishing and Hunting Clubs, Ranches or the Best Public Land Areas
Contact Me
for Newsletter
Get on our mailing list for Newsletter and to receive New Fishing and Hunting Maps and Hot Spot News in your areaIf you want FREE info on Hunting access and Fishing on over 200 Private Ranches and Hunting clubs, fill this out ! (We NEVER release your info to anyone not specific to this inquiry!)