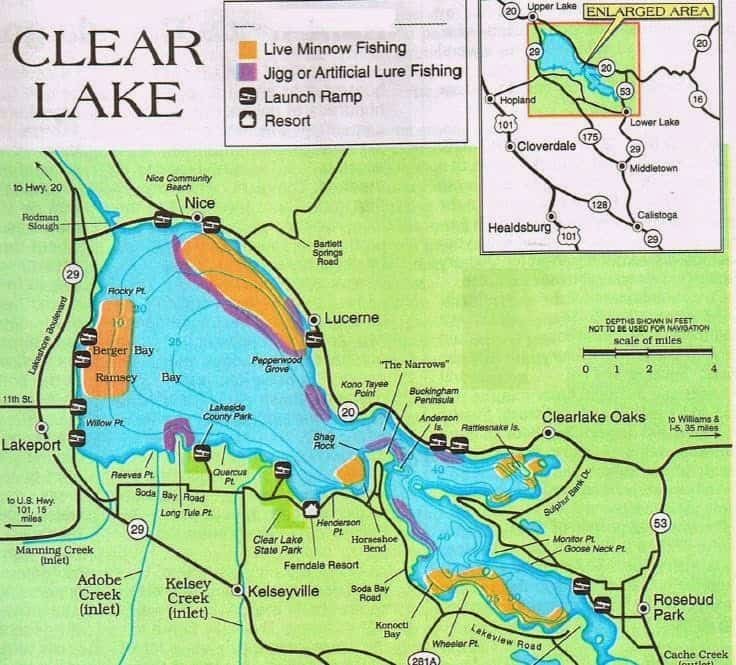 2019 Clear Lake California Bass Fishing Map, Fishing Report, and Lake County Hunting Public Lands and Hunting Clubs
2019 Clear Lake Fishing Map and Fishing Report and Information, PLUS Lake County Hunting Lands
Clear Lake Fishing Reports and Best Areas Fishing Map

This year, the high lake level (highest it's been this late in the year in a long time) the bite slowed down a lot for most anglers. When temperatures in the morning are in the high 40's and the day time highs are usually in the high 60's use Brown/brown jigs, 2.0 Squarebills, and a shakeyhead for the bass, and the crappie feel for micro-swimbaits, all should be fished in 10-20 feet of water.
When windy and rainy, some diehard anglers using Lucky Craft LV lipless crankbait or throwing swimbaits and A rigs.
The angler's with the most success put in their time and worked three different sizes of swimbaits. Most is with live bait and fish shallow around the North end docks.
Fishing Maps of Clear Lake
Our first Clear Lake Fishing map is for winter, yes, winter Bass fishing with live minnows, 20 fish days are not uncommon here, so long as you use minnows, even with water temps in the 40's!!! Local bait shops (see below) will have the minnows for ya.
WINTER TIME MAP (BASS ONLY)
Our second Clear Lake Map is for you lazy summer and fall fishermen, like most of us!! Included is good fishing map for crappie, sunfish, bluegill and catfish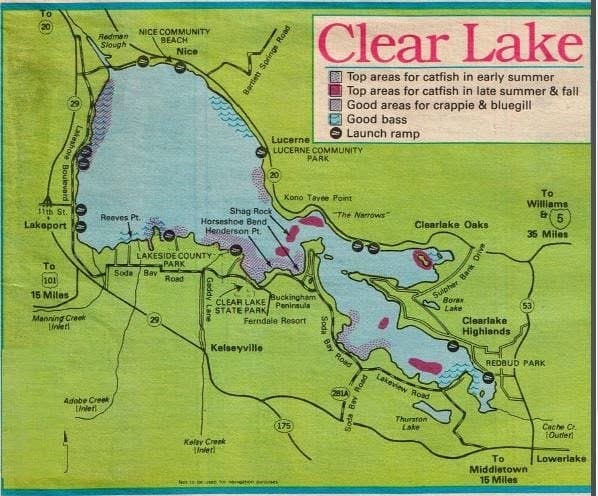 About Clear Lake
NOW- MORE ON THIS GREAT FISHERIE!!!
WE'LL try and tell you just about everything you'll need to fish rhe best areas of Clear Lake because it sometimes takes a JUST few live minnows, clams, or the silver-side smelt. Because catfish are one of the most popular species at Clear Lake, more hooks are tipped with bait here than just about anything else.
Many Clear Lake regulars net the silversides early in the mornings during the late summer and early fall months, and freeze them for use as – bait throughout the year. – One angler suggested freezing them in a milk carton or other container filled with lake water, so that they aren't as fragile when thawed
The next best -bait for cats, bass is probably minnows. Which most suppliers sell here at the lake.
Hooking them just behind the dorsal fin and floating them 4 to 5 feet below a bobber this time of year. For catfish most folks use about a 2 1/2-inch bobber.
For crappie, live minnows and
Mini-Jigs are both effective, and you never know what color will work on the jigs until you get out and try them.
Local favorites are red-white, yellow and white. Lighter colors work
best- because they come closest to imitating the bright surface of the silver side.
Whisker fish: clams are another excellent bait for extra holding power. With the spawn underway through June, you shouldn't put the bait too far below the bobber. Frozen anchovy also lure a lot of catfish, and the old-but-good night crawler deserves mention too.
Night crawlers are an old favor bass fishermen too, Right now's one of the best surface lures is Devil's Horse, an injured type lure with a spinner, sure to be the favorites.
When bass are deeper, lot of crank baits and plastic worms get good use.
You can also do well on spinner baits like Jitterbugs
Poppers. They do real well in with the crawfish-colored
Bombers
One more tip for the bass: the real heavy fish are caught on plastic worms.
OK, so how to you get there? Bait shops? Here you go….
Location: From San Francisco, drive Highway 101 north and exit north of Ukiah on Highway 20 east; from Oakland, take Highway 80 north to Napa and Highway 29 north from Napa; from Sacramento, take the Highway 20-West exit off l5 at Williams.

Species: Channel, blue and yellow (brown bullhead)catfish; largemouth bass; crappie; bluegill; sunfish.

Facilities: There are about 240 resorts, campgrounds and sporting good stores located around the perimeter of the lake. For information, call the Lake County Chamber of Commerce (707-263-6131) or Clear Lake Chamber of Commerce (707~994-3600) or the Camping Information Hotline at 707-274-2276.
California and Oregon Private and Public Hunting and Fishing Information:
If you liked our information and are looking for more fishing or hunting maps, and also access to private ranches and hunting clubs, don't miss checking out
Information on Hunting and Fishing Clubs and Ranches in California and Oregon:
If you want a more specific, county by county description of Oregon and California Hunting Clubs, Ranches and public areas to hunt and fish, you need to see: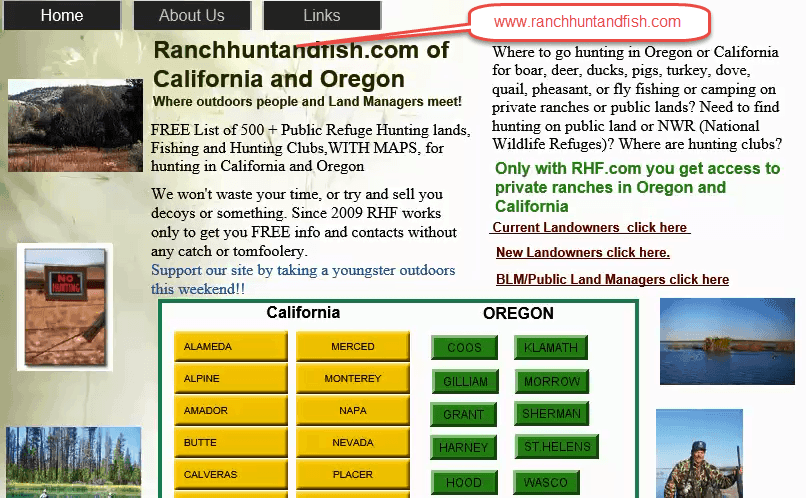 Please click on a County for Fishing and Hunting Clubs, Ranches or the Best Public Land Areas
Please click on a County for Fishing and Hunting Clubs, Ranches or the Best Public Land Areas
Contact Me
for Newsletter
Get on our mailing list for Newsletter and to receive New Fishing and Hunting Maps and Hot Spot News in your areaIf you want FREE info on Hunting access and Fishing on over 200 Private Ranches and Hunting clubs, fill this out ! (We NEVER release your info to anyone not specific to this inquiry!)