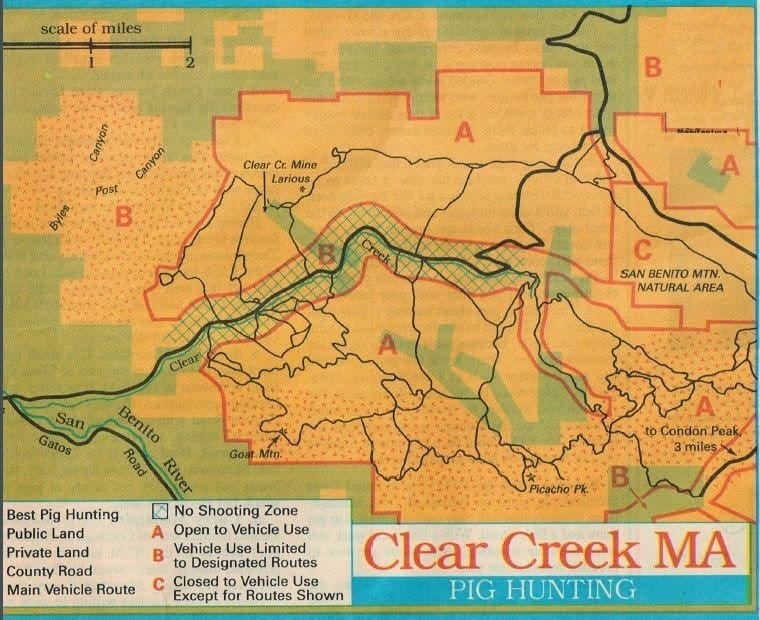 2019 Deer, Pig, Turkey Hunting map San Benito's BLM Clear Creek plus Local Hunting Clubs!
Clear Creek Hunting Pig, Turkey, Deer

BOAR Hunting Information

Maps and Best Areas Where to Hunt Pig and Turkey
Clear Creek Management Area
Hunting MAP near
HOLLISTER, California
Clear Creek Management Area is the biggest BLM area in San Benito.
50,000 acres are open and this area is so large we map only a where the best Pig Hunting
is, the north and southwest section of the management area. Clear Creek Deer and Turkey Hunting is good because Clear Creek runs through this section.
Our Hunting Map is not topographic, but Clear Creek features rocky hills with scrub oaks, manzanita
and chaparral bush. Boar Hunting, Deer and Turkey Hunting are good to excellent.
Clear Creek MA is located 4 miles south of ldria via
County Road Jl and the New Idria Road or via the Clear Creek Road from the Coalinga-Los Gatos Road.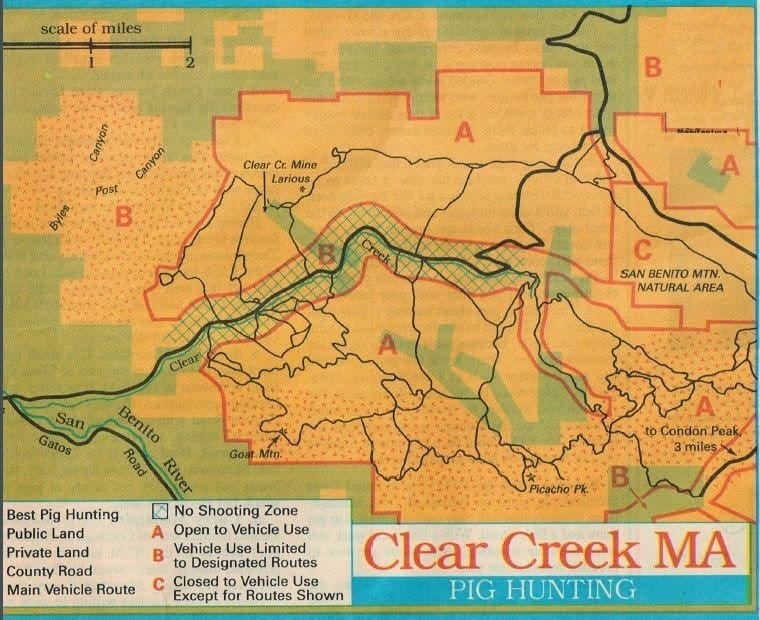 There are some new rules for 2014 and beyond, you will need to buy a permit for $5.00 per car, and some areas restrict you to no more than 5 visits per year. The California Condor no lead restrictions apply here, too.
For information about wild pig hunting in the Hollister Field Office Area, call BLM's Pig Hunting Hotline at (831) 630-5037.
Speaking of information, private lands are your best bet, especially for pigs, we have two sites that have access to a network of private ranches, and one site has hunting maps like the above and lots of public lands hunting maps with contact info.
Information on fishing and hunting in California private fishing, hunting clubs, and exclusive network of hunting ranches
Here is a screen shot we think it s worth checking out: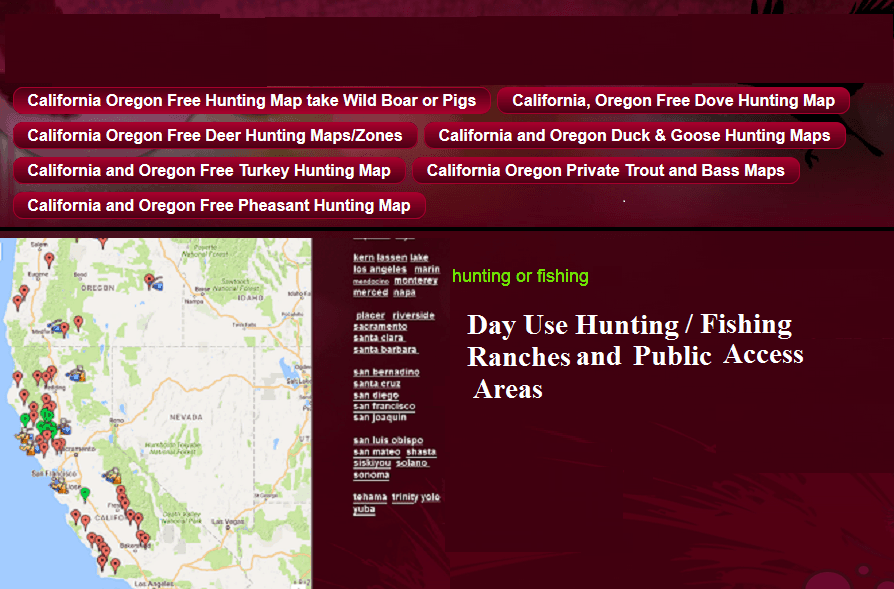 Oh, in addition here is a sister site that is all about private ranches, really excellent county by county list in California and Oregon, the site operators are rural land sellers that actually help there customers keep their property with hunter's access fees:
Click this link to go to the live site, this is just a screen shot!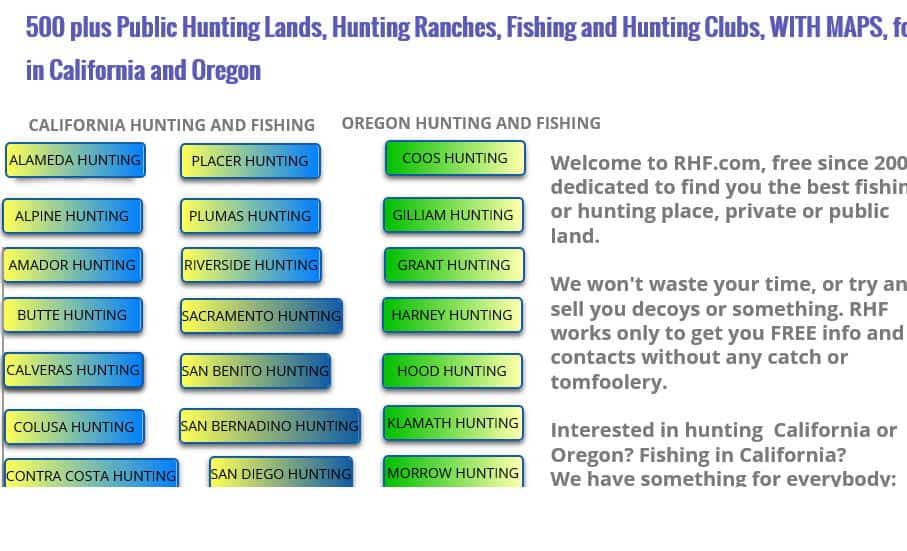 Please click on a County for Fishing and Hunting Clubs, Ranches or the Best Public Land Areas
Please click on a County for Fishing and Hunting Clubs, Ranches or the Best Public Land Areas
Contact Me
for Newsletter
Get on our mailing list for Newsletter and to receive New Fishing and Hunting Maps and Hot Spot News in your areaIf you want FREE info on Hunting access and Fishing on over 200 Private Ranches and Hunting clubs, fill this out ! (We NEVER release your info to anyone not specific to this inquiry!)