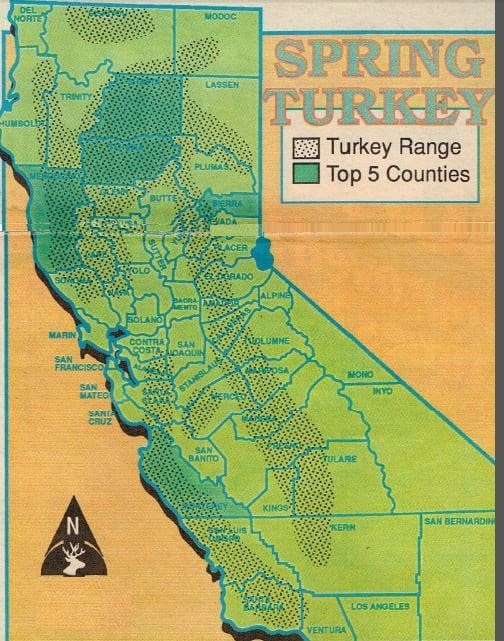 2019 Fall and Spring Turkey! Where to hunt Turkeys in California in public areas, hunting clubs and hunting ranches
2019 California Turkey Hunting Maps
Best Public Land Areas and Where to find Tukeys
Turkey Hunting Spring and Fall Opener
Hunting Clubs and Hunting Ranches
Our Spring Area Map, see below for Fall with detailed Public Areas and Private Ranches and Hunting Clubs and How to decoy Turkeys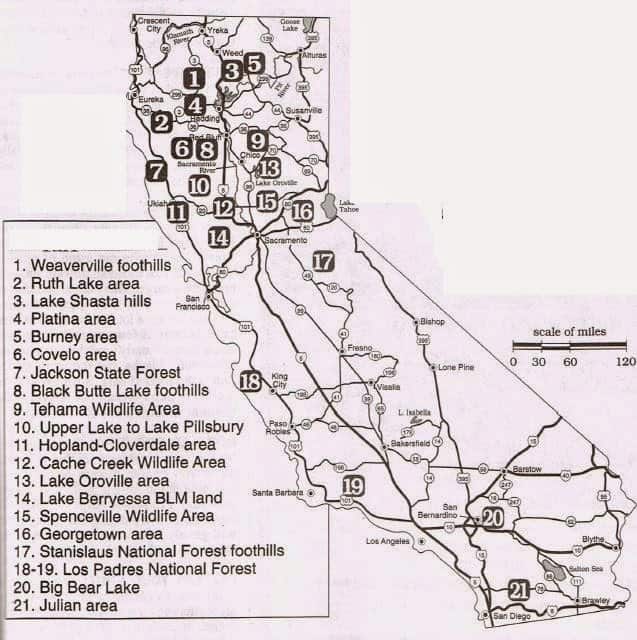 Our Map shows where to hunt Turkeys in California in public areas, hunting clubs and private hunting ranches
2017 California Hunting Map for Turkey with Hunting Clubs and Hunting Ranches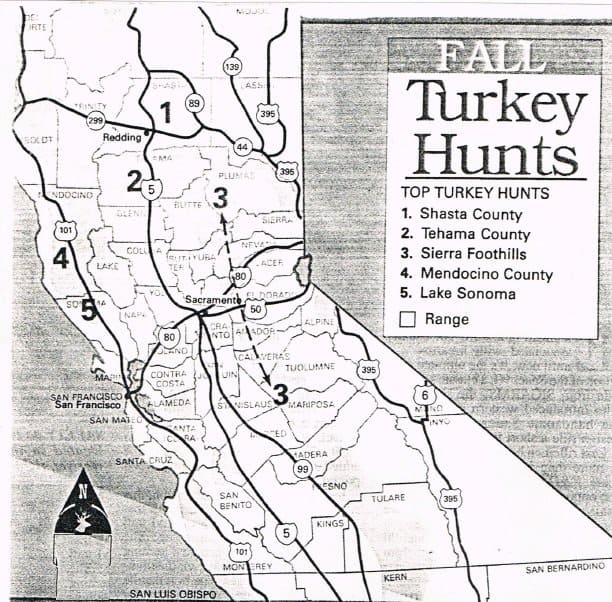 Update: Nonleaded ammunition is now required statewide when hunting wild turkeys with a shotgun for the upcoming 2017 spring wild turkey season. Leaded gasoline is still OK if you have a flamethrower. Big yuck.
California 2017 Spring wild turkey season opens on March 25, 2017 and through April 30, 2017. The archery season is May 1, 2017 to May 14, 2017.
Lots of turkeys are available for hunting on California's private land, and wild turkeys can also be found on most of the by hunting turkey in national forests and Bureau of Land Management (BLM) lands wherever there are oak woodlands. To further advance California Turkey hunting the DFG has an ongoing program to relocate turkeys into new areas.
Despite this abundance of turkeys on public land, it still takes some scouting to locate the birds. Patience and persistence are the two main ingredients in scouting for turkeys.
California has three species of wild turkeys; the Rio Grande, Merriam and Eastern, plus hybrids which can be a mixture of any of the three. Each species has its own type of habitat. The Rio Grande prefers the drier lower elevation oak woodlands. The Merriam stays in the high country above 5,000 feet. The Eastern prefers denser wet forests.
The most common species, the Rio Grande, can be identified by the buff-colored feather tips on their tail. The Merriam has white tips on their tail feathers, while Eastern's have darker feathers throughout their body. All species will inter-breed as their ranges cross.
The turkey hunting in the foothills on public lands in the Sacramento Valley and the San Joaquin Valley contain mostly Rio Grandes. The mountains in the Mendocino National Forest, El Dorado National Forest, Stanislaus National Forest, Siskiyou County and San Bernardino National Forest are public lands that are home to the Merriam. Eastern turkeys can be found along the North Coast and in the Cleveland National Forest.
The spread of wild turkeys throughout the state is one of the true success stories of the California Department of Fish and Game.
l. Shasta County: This is the No. 1 key producer in the state, and though most of the birds are killed in the spring, there are more birds available in the fall. 'l'hat's because chicks are hatched in May and June and are available as young adults this time of year. Top public land hunting can be found in the Shasta National Forest just North of Lake Shasta.
Hunters can use its to gain access to roadless areas up River, Squaw Creek and McCloud . Turkeys are plentiful here! Birds are also abundant around Burney south of Highway 299. Round Mountain, Oak Run, Whitmore, Palo and Cottonwood are all excellent.
2. Tehama County: Some good Turkey hunting is available on the iarna Vlfildlife Area there are birds on the Open area north off hogsback Road. 'There's a fair acorn this year and birds will be near wherever water can be found. Per- s are not needed for the turkey hunt. Dye Creek Preserve (916-527-3588) rs some of the best turkey hunting in county. Private areas around Table Mountain, Bend, Los Molinos and Vina all productive.
3. Sierra Foothills: If you can gain access to a local ranch, then you've got it made. We have a netork of hunting Ranches and hunting clubs all over California and Oregon, especially in this area. Click on a county below for more info.
Turkeys are doing extremely in Butte, Sierra Yuba, Nevada, :er, El Dorado, Amador and public hunting opportunity is limited in the region, but there are e a few birds above Lake Oroville in Plumas National Forest, Bullards Reservoir has birds between Woodside and Comptonville.
The Yuba River and Beale Air Rwrce Base is another productive spot.
4. Mendocino County: The best is private propertry, we have several ranches to 40,000 acres, but there is good access and lots of birds on the Lake Mendocino Wildlife Area (707-462-7581). Access into the hunting area is by boat or foot, which means pressure is light. Private lands around Yorkville, Cloverdale and Potter Valley all have birds.
5. Lake Sonoma: A special fall turkey hunt is scheduled on Army Corps of Engineers land, creating some excellent hunter opportunity in the Lake Sonorna area. by permit only, noted biologists in Yountville (707-944-5529). Two hunters can hunt off one permit and hunters can apply for them by submitting a standard U.S. postal service card with name, address, hunting license number and phone number to Lake Sonoma Turkey Hunt, P.O. Box 47, Yountville, CA 94599.
In the past 20 years the DFG has relocated hundreds of turkeys to public lands. These birds are now established and the reproduction has been phenomenal. In the coming years wild turkeys will be in new areas, offering additional hunting opportunities.
Part II (begins below please scroll down)
Please scroll down past our Ranches and Free maps to see Part II, the rest of the general locations throughout the state where turkeys can be found on public land (refer to the map).
We have over 200 private ranches listed here, exclusive for you, where you will get the best hunting. Some are with turkey hunting guides, but most are unguided hunting ranches. Also access to our map site which has tons of public hunting areas, fishing maps, and reports.
Click on a county for Hunting Clubs & Private Ranches



Go to www.ranchhuntandfish.com (here is a screen shot) or click on a county you want to hunt, and then see our list of public areas below:
1. The foothills around Weaverville contain turkeys. Hunters should check the lower elevations in the Trinity National Forest.
2. Ruth Lake has had turkeys for a number of years. The birds are widely scattered and holding their own. The road between Ruth Lake and Covelo is a good choice.
3. The hills above Lake Shasta offer excellent turkey hunting. Backbone Ridge is an excellent area. Hunting from a boat in the Pit River Arm and the Squaw Arm is also popular.
4. Turkeys can be found throughout the Platina area.
5. Recently turkeys have spread to the Shasta National Forest near Burney. The area contains both Rio Grandes and Merriams.
6. The Mendocino National Forest east of Covelo holds both Rio Grandes and Merriams. Check out the Black Butte River drainage and the Mendocino Pass area.
7. Turkeys have been recently been sighted in the Jackson State Forest This is a large area and it will take some scouting to locate the birds.
8. The foothills around Black Butte Lake holds a large number of turkeys. Maps
9. Turkeys can be found all the way from Chico to Butte Meadows. The Tehama Wildlife Area is a good choice. Maps of the area can be obtained from the DFG.
10. Turkeys are widely scattered throughout the Mendocino National Forest from Upper Lake to Lake Pillsbury. Check the old logging roads for tracks and feathers.
11. The BLM land in the Hopland Cloverdale area offers decent turkey hunting.
12. The Cache Creek Wildlife Area has more than 30,000 acres of prime turkey land. The recently acquired Payne Ranch has a good population of turkeys. This is hike-in country.
13. The national forest around Lake Oroville has a large population of wild turkeys. Check the Berry Creek area. Be careful and stay off the state park property.
14. The Bureau of Land Management has a small piece of property near Lake Berryessa that has turkeys. You can gain access by boat or by hiking in.
15. "Turkey heaven." That' what many people label the Spenceville Wildlife area. It gets a lot of pressure but also has a lot of birds. Nearby Daugherty Hill Wildlife Area below Collins Lake is another good choice. .
16. The El Dorado National Forest near Georgetown offers good turkey prospects. This is one area that will take some scouting to locate the birds. The Auburn Recreational Area has a large
County by County information on fishing and hunting clubs in California and Oregon for private fishing, hunting on exclusive network of hunting ranches found nowhere else
We have some maps (FREE!) of these areas: www.freehuntfishmaps.com, here is a screen shot,
How to decoy and hunt Turkeys in California in public areas, hunting clubs and private hunting ranches

Please click on a County for Fishing and Hunting Clubs, Ranches or the Best Public Land Areas
Please click on a County for Fishing and Hunting Clubs, Ranches or the Best Public Land Areas
Contact Me
for Newsletter
Get on our mailing list for Newsletter and to receive New Fishing and Hunting Maps and Hot Spot News in your areaIf you want FREE info on Hunting access and Fishing on over 200 Private Ranches and Hunting clubs, fill this out ! (We NEVER release your info to anyone not specific to this inquiry!)