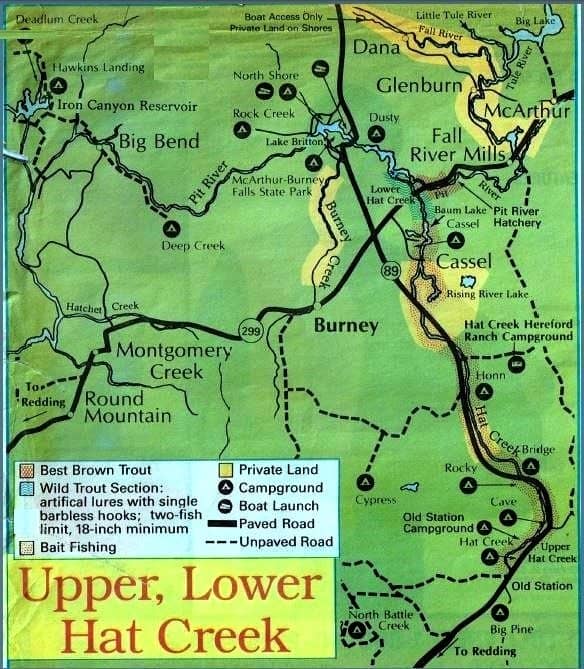 2019 Hat Creek Fishing Map and California Fishing Report, Shasta Hunting Clubs and Ranches
Hat Creek Fishing Map and Fishing Report for 2019, where to camp and how to fish this creek! Local Hunting Clubs too!
Please see our Hat Creek area Fishing Map below, and if you like that, please expand your interests by checking
www.freehuntfishmaps.com
, which has other fishing and hunting maps, at no charge,
and contact and information on hunting clubs and ranches available no where else.
Hunting clubs and private ranches, in California and Oregon, Lake and Stream and Hunting maps
Fishing is superb in the Upper Hat Creek region. Brook trout are the most prolific trout and is what is planted by the DFG.
Use worms or spinners are what is working right now. Other parts of the creek is showing mixed results.
California's Hat Creek
is undoubtedly one of the most amazing trout fishing streams in
nation.
Fly, bait and lure fisherman all can enjoy Hat Creek a majority of which is open to bait anglers.
Hat Creek starts high in the Northern California's Lassen Volcano National Park
in
Shasta County.
The creek filters northerly into the town of Old Station on Highway 44, where for
the next 30 miles or so,
it reaches Cassel. See our Trout Fishing map for the best areas, and pay attention to the private fishing properties.
This area above Cassel is
Upper Hat Creek
and holds both planted and native trout that range from
14 inches. The California Department of Fish and Wildlife
stocks upper Hat Creek regularly so lure casters who toss Panther Martins, Super Dupers, Mepps and Rooster Tails will hook up.
Bait fishers
who drift
salmon eggs, nightcrawlers, red worms or crickets who use
small hooks, light tackle, 4-pound test line and little weight
work best.. The creek is wide and has a even-flowing current that is also optimum for dry fly fishing.
Lower Hat Creek

is

situated in California's northeastern

Shasta County.

Lower Hat

Creek

can be reached by taking Highway 299 eastbound

from Redding, figure about a one hour drive.
Upper Hat Creek
is best to take
Highway 44 east to the Highway 89 junction.
From Old Station all the way for
30 miles to Baum Lake.
See our Trout Fishing map for all the info, which also shows some camping areas, there are a bunch of U.S. Forest Service campsites available along the
river.
Lower Hat Creek
is
mainly a trout fly fishing area,
although lures with single, barbless hooks are acceptable.
Anglers who toss in the evenings
get good results on the lower river from 7 to 9 p.m. Good fishing will last through
July, then pick up again in September.
The most popular flies are Golden stoneflies, Elk Hair Caddis, Midges and Rusty Spinners
.
Flies can be fished everywhere too, as both nymphs
and dry fly patterns will entice trout to strike. Renegades, Rio
Grande,
Kings and Deer Hair Spiders are among the more
useful
patterns.
Access is also decent
on
upper Hat Creek,
but be aware are two
sections that are private fishing , near Bridge Campground and
an seven mile section above Cassel.
Much like its neighbor, Fall River, Hat Creek has so much natural food, the trout are discriminating so make your presentation as attractive as possible.
Glasses are a must
have to detect the rises.
During the hot part of the day, look for places that have
shade. Later, dusk is when
you'll
catch almost 90 percent of your fish!
Make sure your fly
drifts at the
same speed as the current, or you will spook them.
Lower Hat Creek
is
a
native trout
fishery and anglers are allowed to keep only two fish per day.
Local Oregon and California Hunting Clubs, and Private Hunting Ranches!
If you found the above useful, we have another site that shows, county by county, what the best areas are for fishing and hunting in California and Oregon. You can fill out some info and they will find you a hunting club or private ranch.
Please click on a County for Fishing and Hunting Clubs, Ranches or the Best Public Land Areas
Please click on a County for Fishing and Hunting Clubs, Ranches or the Best Public Land Areas
Contact Me
for Newsletter
Get on our mailing list for Newsletter and to receive New Fishing and Hunting Maps and Hot Spot News in your areaIf you want FREE info on Hunting access and Fishing on over 200 Private Ranches and Hunting clubs, fill this out ! (We NEVER release your info to anyone not specific to this inquiry!)