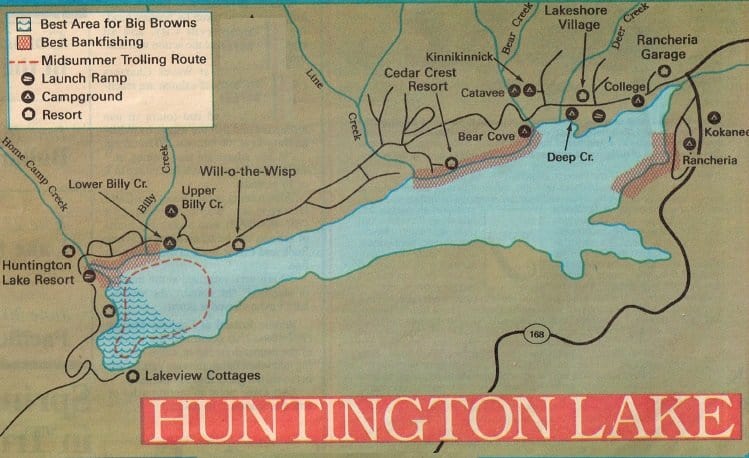 2019 Huntington Lake Fishing Map and Report, how to fish Huntington, and Fresno Public land Hunting and Hunting Clubs
Fishing Map and Reports

Best Areas and Where to Fish
How to  Fish Huntington Lake
Fresno Area Hunting Clubs with Fishing
  
 If you want to see fishing Map and info  on nearby Shaver Lake see to the right or click here
 Huntington Lake Quick Fishing Information
Location: Huntington Lake is located on the west slope of the Sierra off Highway 168.
Species: Rainbow trout, brown trout, kokanee.
Facilities
: Huntington Lake Resort
has cabins, rental boats and motors, canoes, a restaurant, marina and bait and tackle shop. Cedar Crest Resort has cottages, RV spaces water and electricity, tent spaces, boat rentals for guests, grocery stores and a gourmet restaurant. These and other facilities on the lake book well in advance, so make reservations early, especially for the months of July and August.
Boating:
Boaters can launch at Rancheria
Marina or Huntington Lake Resort at the
west end of the lake.
Camping: The Forest Sen/ice maintains several campgrounds around the lake.
Rancheria and Deer Creek, located right on the lake, are the best.
Tackle and information:
The Red Barn,
located right on Highway 168 in Shaver
Lake, keeps track of fishing
at Huntington and Shaver, and has a good
supply of tackle, camping supplies and
hardware.
 Situated in dense Sierra timber,
Huntington Lake offers great
trout fishing in one of the most scenic
spots you're likely to set eyes on. Huntington is a snow-fed lake full of clean, pure water from the mountains. The water is cold year-round, which makes this an unpopular lake with swimmers and skiers, and very popular with fishermen!
All that cold water contributes to a very healthy trout population. Huntington has large numbers of both rainbows and browns, as well as a significant kokanee fishery.
Some of the regulars at Huntington say Huntington is the one place where you can count on getting a limit of trout, even if just fishing from the bank.
After years of drought, this year's snowpack should restore the lake to its eminence. Hallelujah!
Fishing's usually best in June and
September, with the best brown trout
action in the early fall.
May and June are two of your best fishing months up here. At dawn, use a bobber 3 feet
above the worm.
Later in the day, you usually have to re-rig
everything, and use a marshmallow to float the worm off the bottom.
There's definitely a consensus that says
trollers should work close to the shoreline on
the north shore of the lake between Lakeshore and Will 'o the
'Wisp. Down by the dam is generally the best bet, and specifically at Dam No. 1, because
that's the deepest part of the lake. That's where most of the big
browns are caught too.
There's yet another consensus that nightcrawlers
are just about unbeatable at this lake.
So, you're out of nightcrawlers, as the best bait up here,  then
salmon eggs and redworms are next in line.
Part of the reason nightcrawlers are so effective is because
there are so many major streams running into those lakes.
Line Creek, Home Camp Creek, Rancheria Creek, Deer Creek and other streams all wash worms into the lake, and trout congregate at stream mouths to find an easy dinner.
Another reason nightcrawlers are so effective is because
they're equally attractive to both native and hatchery trout.
Huntington has a lot of both. Salmon eggs may draw more
hatchery fish than natives because they more closely resemble the pellets trout are fed at the hatchery.
Nightcrawlers are best fiy-lined with a small split shot or
drifted from a boat, but when fish move into deeper water,
fishing them on the bottom under a sliding sinker is effective bottom — or you can blow the worm up.
One of the great things about this lake is the amount of
bank access. Virtually the entire shoreline is open to bank fishing, and there are lots of productive areas. All the creek
inlets are worth a try, especially those on the north shoreline.
Rancheria is another consistently productive spot.
Trolling is also extremely effective,  Rainbows are averaging 12 to 16 inches, the bite's best in the early mornings and just before the sun goes down. Trollers like to pull hardware "anything gold" is hot although the majority of fishermen use nightcrawlers.
A variety of other spinners are popular fodder for rainbows, Rapalas are the top teaser for the browns. Anglers looking to bag a trophy brown might also consider fishing flies. The old-timers talk about going out between 7 and 10 when the lake is calm and fly fishing. One veteran angler who fishes huge black Woolly Buggers on a size 4 hook for browns!
The lake is comes up in the Spring 2 to 3 feet a week, and trout will likely be feeding in
newly-flooded channels.
While there are the typical 8-inch hatchery trout at Huntington, there are also some very non-typical holdover rainbows and browns as well as some brood-stock trout stocked by the DFG.
Last year a lot of fish in the 4- to 9-pound were
hauled out here.
The best eating fish in the lake are the smaller brown and native rainbows and the hatchery trout that have been in the lake at least a year. Thanks to a rich diet and lots of cold water, hatchery trout firm up fast, and sometimes you'll even find
rainbow with pink meat
Stream fishing is very popular around Huntington, although most are so small that it can be tough to fish flies.
Gibson said fishing is usually best for those who float a cricket, a grub or salmon eggs in the streams.
Home Creek, Rancheria Creek and Line Creek are the most popular with fly fishermen. All are pretty small, so they can be tough to fish, but all have good concentrations of native fish eager to take naturally-presented patterns. Try caddis, California Mosquitos, Black Gnats, Woolly Worms and Woolly Buggers.
As for Kokanee at Huntington, the lake sources say they use Cow Bells and kokanee rigs and troll deep for the kokanee. There are a few anglers
that even use leaded line.
The dam is generally the hot spot, because kokes like the
deeper water.
One thing you should definitely plan for at Huntington is
wind.
There is a wind that comes up here every day at about 10:30 in the morning, and it dies down about 5:30 every night.
Because of the midday wind, fishing is usually best from 6 to 9:30 a.m. and again from 6 to 8 p.m.
Remember us when you haul in that huge trout!
California and Oregon Private Fishing and Hunting Club, Hunting Ranches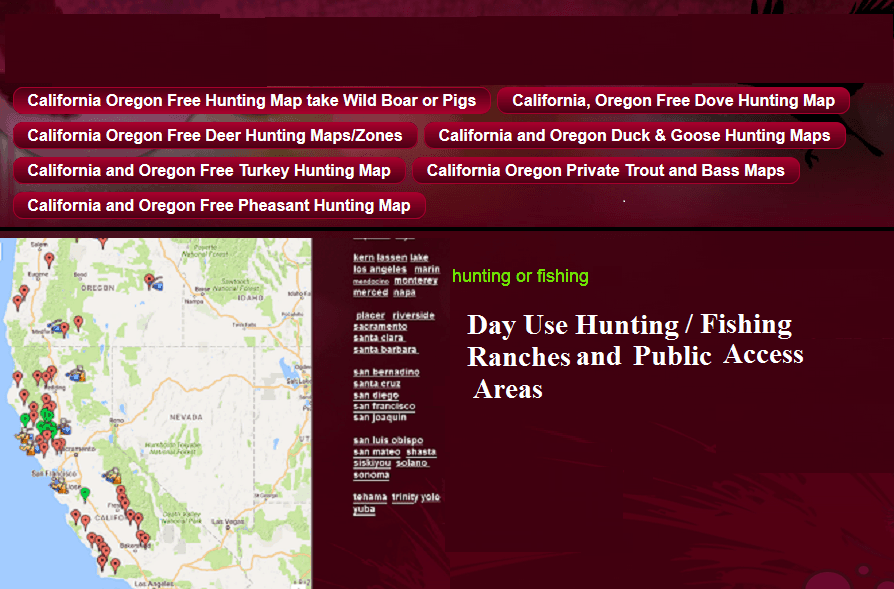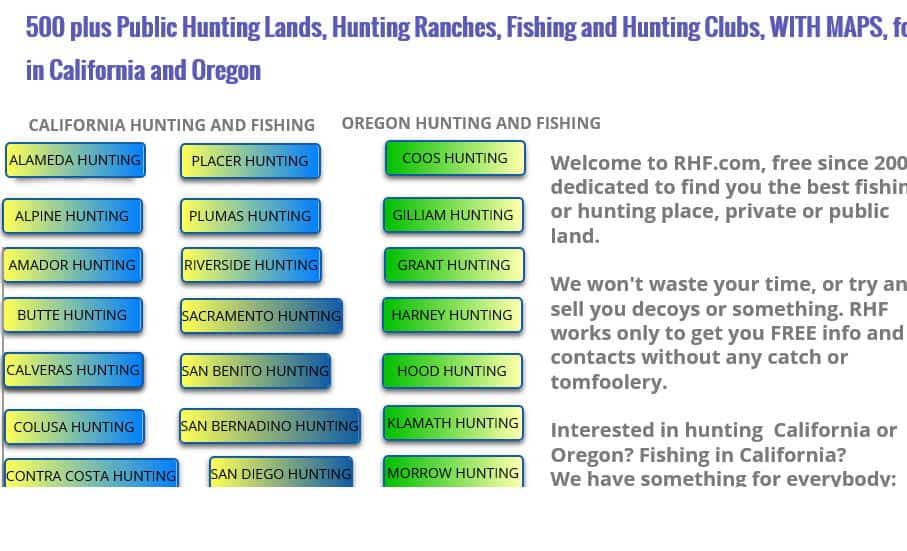 SIGN UP FOR OUR NEWSLETTER AND WEEKLY REPORTS AND NEW MAPS:
Please click on a County for Fishing and Hunting Clubs, Ranches or the Best Public Land Areas
Please click on a County for Fishing and Hunting Clubs, Ranches or the Best Public Land Areas
Contact Me
for Newsletter
Get on our mailing list for Newsletter and to receive New Fishing and Hunting Maps and Hot Spot News in your areaIf you want FREE info on Hunting access and Fishing on over 200 Private Ranches and Hunting clubs, fill this out ! (We NEVER release your info to anyone not specific to this inquiry!)