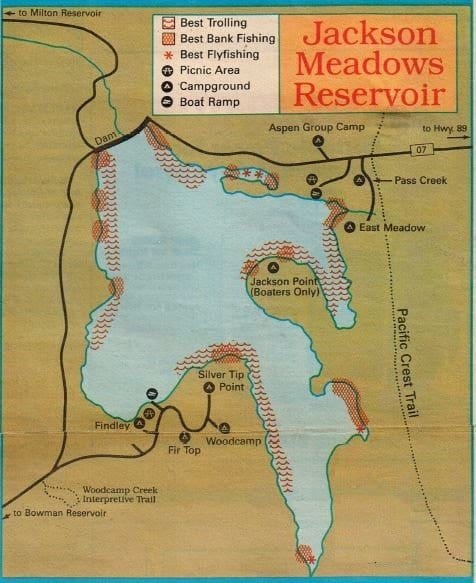 2019 Jackson Meadow Fishing Maps and Fishing Report, Local Hunting Clubs
Jackson Meadows Fishing Maps and Fishing Report

Best Areas and How to and Were to fish Jackson Meadows Area Lakes

Information on California fishing and Hunting Clubs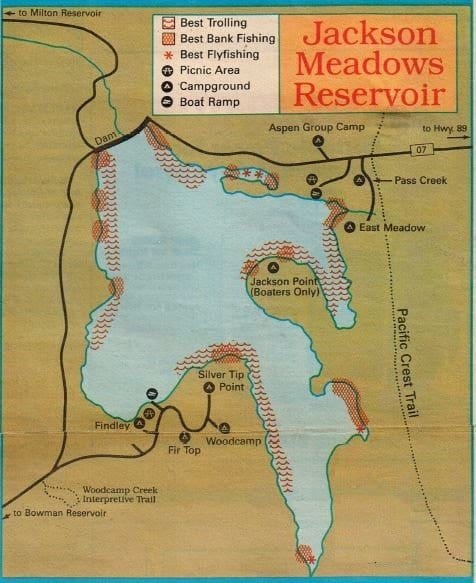 Fishing map and Report for
Jackson Meadows Reservoir
Jackson Meadow Reservoir
is located on the headwaters of the Middle
Fork of the Yuba River and has excellent bank and boat fishing for brown and rainbow trout.
In fact, the entire area has options galore: Milton Reservoir is upstream, the Yuba
River, trout action on
Bowman Reservoir only six miles away, even brook trout in Lake of the Woods,
more browns at Webber Lake, and finally several
miles of fair creek fishing at
Canyon Creek. Much camping is available everywhere.
Depending as always on the time of year, use bobbers,
air-injected worms or try to troll the lake.
In Jackson Meadows
chase
rainbows and browns in areas away from where sun is on the water.
Our 2015 Fishing Report shows that faster trolling areas using rainbow trout imitation Rebels or Rapalas.
You must wait until after the access road from Highway 89 opens, usually around the end of May, while the water temps are cool.
Once things heat up,
switch to blades and worms or spoons
from 15 to 30 feet
until  Autumn and back to shallow lure techniques for the big browns.
As our fishing map shows, trolling off
steep banks and drop offs or anchor off tributaries and the trout respond to baits such as worms or salmon
eggs under bobbers.
Jackson Meadows Reservoir
comes alive
at dawn and
dusk to swirls of
trout feeding on the surface, mostly in coves.
You can use Spoons, bobber-and-fly or spinners
and
fly fishermen with Size 14 Female Adams,
Size 18 Black Ants. If
fish are not swirling much,
a Size 12 Rio Grande King or a Size 12 dark brown or
olive Zug Bug in the flooded stream channels at cove.
Our 2015 California fishing report further concludes serious dry fly folks can fish Joe's Hoppers and the usual terrestrial
patterns where creek currents enter the
lake.
Webber Lake, is famous place for brown trout to gorge
grasshoppers if wind blows them into the shallow
south side.
Back at Jackson Lake, while there is floating debris residing at the dam,
you can fish just off the edge of this.
In the evening, bigger browns are known to frequent in this area, so troll a very large rainbow-trout
plug near the shore and off the
dam
As our California Fishing Map shows, shore fishermen take trout off points on the shallow east side of
Jackson Meadows in the morning.
Also in
the evening, Bowman Reservoir, 
along the
points produce for count down casters and bait
fishermen.
In fall,  the low lake can cause problems
launching larger trailer boats, but it is well known that in the Yuba
River watershed,
fall is the
best fishing
DETAILS: Jackson Meadows
is
1 1/2
square
when full, with
about 11 miles of shoreline at 6,200
elevation.
Brown and rainbow
trout.: Deep fast trolling in summer, surface trolling spring/fall and try ski-in ice fishing in winter.
Shore bait fishing at dam and
points with worms and
salmon eggs.
Shore casters should try 1/4-ounce Gold
castmasters with a five- to 15
countdown off the points.
Troll rainbow trout and minnow looking
lures. Nearby pay
camping and RV hookups at Webber Lake. Open camping sites are six miles away
at
Bowman Reservoir.
Brook trout fishing at Lake
the Woods north of Jackson
Meadows Road .
  California and Oregon hunting and fishing
 

maps of hunting clubs, hunting ranches, public and private fishing.

If you like our Fishing map and information on how to fish this lake, we have many more hunting and fishing maps, here is a screen shot, but if you want more info, click on this link: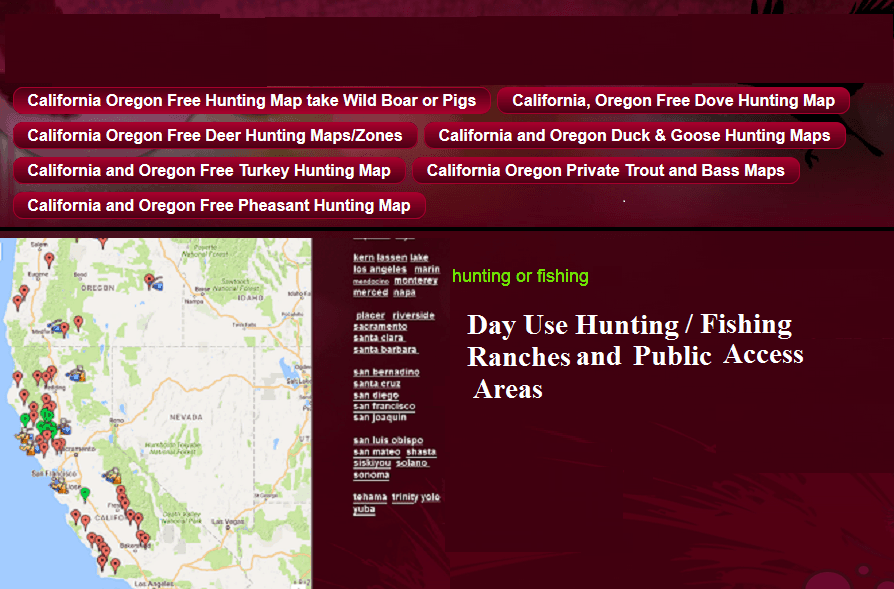 Also, if you want very specific county by county information on fishing and hunting clubs in California and Oregon for private fishing, hunting clubs, and exclusive network of hunting ranches found nowhere else, here is a screen shot below, click on this link to go to the site: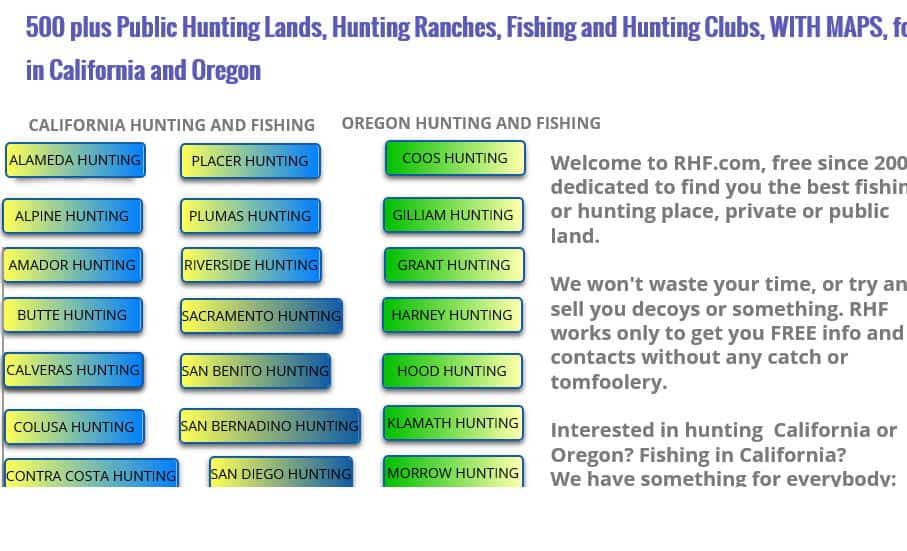 Please click on a County for Fishing and Hunting Clubs, Ranches or the Best Public Land Areas
Please click on a County for Fishing and Hunting Clubs, Ranches or the Best Public Land Areas
Contact Me
for Newsletter
Get on our mailing list for Newsletter and to receive New Fishing and Hunting Maps and Hot Spot News in your areaIf you want FREE info on Hunting access and Fishing on over 200 Private Ranches and Hunting clubs, fill this out ! (We NEVER release your info to anyone not specific to this inquiry!)