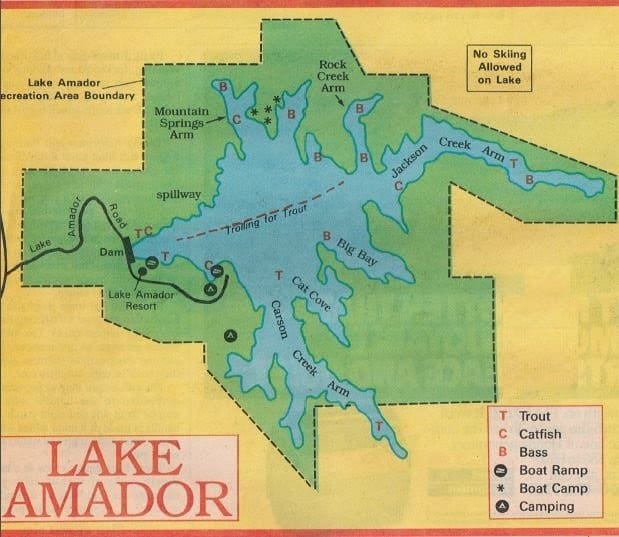 2019 Lake Amador Fishing Map and Fishing report, Amador Hunting Public,Clubs, and Ranches
Fishing Map for Lake Amador Best Areas, Fishing Report and Local Hunting Clubs
Lake Amador Fishing Report
Lake Amador is nice and full and probably within five feet from spilling. Not even a little bit of off-colored water will deter trout of up to 6 pounds from biting on Power Bait or a marshmallow-nightcrawler combination. Most anglers work their way from the marina across the dam to the spillway while others use a boat and run up a creek arm, drifting down with bait bouncing bottom.
Fishing Map of Lake Amador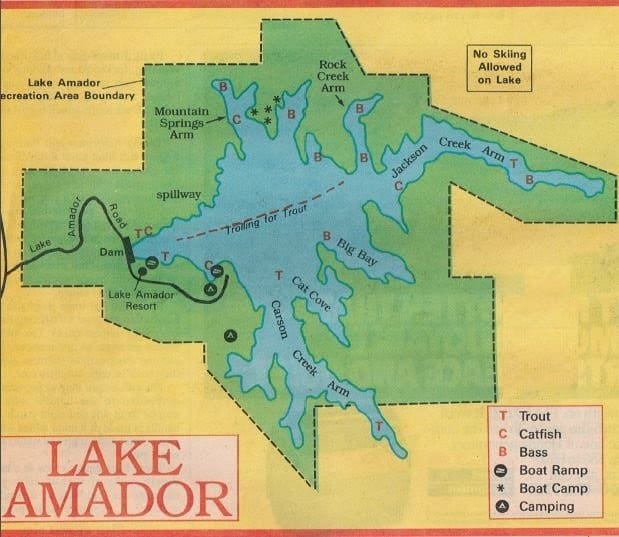 Small (400 acres, 13 miles of shoreline) Lake Amador
reservoir is known to host NorCals largest bass, and not to mention multitude of
trout, black crappie, channel catfish.
Big bass to 15 pounds are taken every year. There is reasonable day use fee to use this lake, but the operators also raise and purchase fish for this lake.
Our fishing report concludes April
and even better is May
as the lunkers start spawning as they move
up to the shallows
and move into the
coves. Lake Amador is known for producing trophy-class Florida strain largemouth
bass.
After the Lake's temperature increases,
look at our fishing map to see where Jackson creek enters the lake because
bass, trout, catfish and panfish tend to school up
channel's cooler water and higher levels of nutrients
As our fishing map shows, the best areas are Mountain Spring, Rock Creek, Jackson Creek and Carson Creek as good bass-producing coves, but some are
than the others at certain times of year
Basically fish these areas wherever you see
structure.
When the lake warms up — it reaches up to 80 degrees in
the summer — our fish report says that the fish head
to Jackson Creek to seek cooler
water.
This is a good area to use worms deep, near
the bottom just about
all summer long. Meanwhile,
use
spinner- baits, Poe's Plugs and Green Weenies with an orange tail along the shore. 7-inch Green Weenies also with chartreuse and white spinner baits, crankbaits, worms and grubs.
'Crawlers are always a good bait
with a sliding lead weights.
How to fish for Lake Amador's Trout, Catfish, Crappie and Bluegill
Lake Amador is one of the foothills' top trout spots, for up to
5 pound
rainbows . Trollers with flashers and night crawlers
is the preferred method.
Some of the trout are grown
in rearing ponds right behind the lake, others are purchased
and some are released by the Department of Fish and Game, around 50,000 pounds per year in total.
For good crappie fishing,
the top baits are live minnows and anglers can buy
minnows in the
store.
White
and red Mini-Jigs will also land crappie in the coves and
wherever you can find snags of brush.
Move your jig right off the bottom.
Normally, when it
drops, that's when they strike.
Channel catfish to 20 pounds can be caught in the mornings and late evenings or at night, using
nightcrawlers, minnows, chicken
livers, sardines and clams, The best catfishing along
the
face of the dam and in coves along the
shoreline, according to our fishing reports.
You should
leave the bail on your reel open
and let the fish go for 10 feet before setting the hook.
Red ear sunfish they follow about the same
patterns of feeding as do the bluegill.
You'll probably pick up some of the
sunfish when you're fishing for bluegill.
After the crappie have had their
peak, the bluegill get best in June and
July. They bite redworms and mealworms. Bluegill fishing is a blast for your
kids.
California and Oregon Private and Public Hunting and Fishing Information:
If you liked our information and are looking for more
Information on Hunting and Fishing Clubs and Ranches in California and Oregon:
If you want a more specific, county by county description of Oregon and California Hunting Clubs, Ranches and public areas to hunt and fish, you need to see: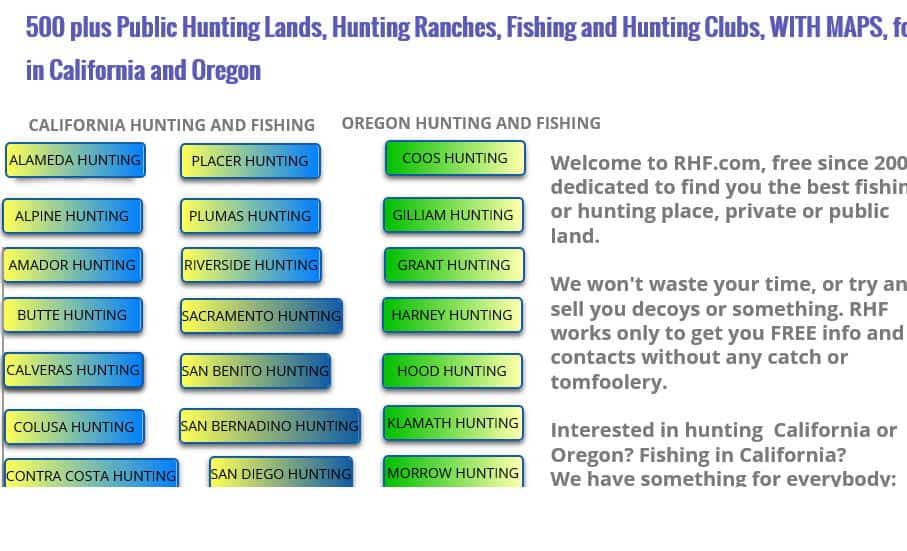 Please click on a County for Fishing and Hunting Clubs, Ranches or the Best Public Land Areas
Please click on a County for Fishing and Hunting Clubs, Ranches or the Best Public Land Areas
Contact Me
for Newsletter
Get on our mailing list for Newsletter and to receive New Fishing and Hunting Maps and Hot Spot News in your areaIf you want FREE info on Hunting access and Fishing on over 200 Private Ranches and Hunting clubs, fill this out ! (We NEVER release your info to anyone not specific to this inquiry!)