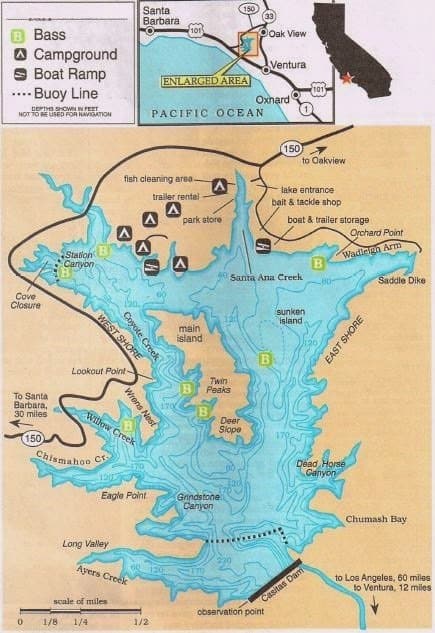 2019 Lake Casitas Fishing Map and Report and Santa Barbara Hunting Clubs and Ranches
2019 Lake Casitas Best Areas Fishing Map and Report and also SoCal / Santa Barbara Hunting Clubs and Ranches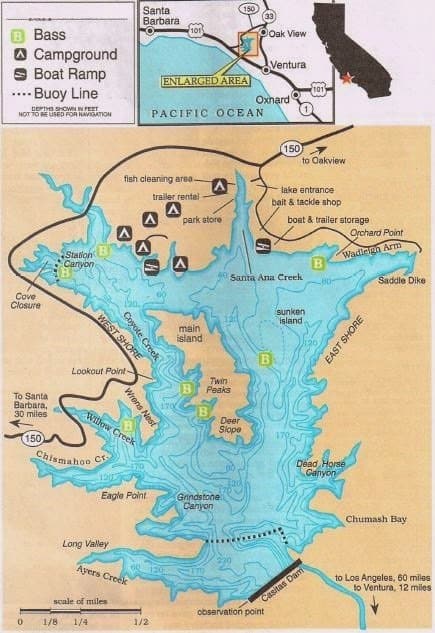 Fishing Map and Fishing Report for Lake Casitas and Ventura Hunting Clubs too!
Lake Casitas' bass

are most effectively caught with l

ive bait, according to our fish report

from the big bass

experts
, especially in the spring, when the sizable ones are on nests. Most prominently at the less deep
north end of the lake. More are in spots
around the island, sunken island and
southwest coves.
Use our fishing map to see more.
At
Lake Casitas, as winter ends in
January and February,
use either live
crawdads or big trout looking plugs or lures.
In March and April, hit the spawning areas according to the fish reports.
Then, as the weather warms over the period from May to the end of
June the shad spawn is on and you can get your own bait with a
shad net.
The shad are near the
main launch ramp or any
of the
docks,
all you have to do is plunge down with your net and the shad will fill the
bottom of the net.
Generally, seek out the
brush
and also some exposed dead branches in Station Canyon, indicating the underwater
points are
located.
The submerged island in mid lake is very productive and of course try and follow the topography of the land to envision where the points are underwater. Use our Lake Casitas fishing map for best results.
For using live shad, tackle should be
8-pound test
line and a No. 4 beak style hook. Hook
the shad through the lips and cast
or drift with the wind.
Set the hook after waiting a few counts to ensure a decent set..
You might prefer to fish with a plastic worm or other artificial lure. Warming water
will make more fish
active, and this is when
they are more susceptible to these lures, as well as
the
big trout lures, our fishing report
says the best of the
plastic worming techniques
here is drop-shotting.
You put the worm
above
the sinker, let
the worm fall all the way
to the bottom on slack
line. The fish hit when you
bring the line tight and
the worm hops back up.
Make sure
you get to the water early,
baits will also work well in summer but that action is complicated by the weed growth now present.
Lake is open all year.
Spring is the top season from
the end of February through the
month of May.
Lake has bass, red ear,
crappie, channel catfish and
rainbow trout.
Fishing Maps for Oregon and California Hunting Club and Ranch Contact Info!
If you liked our fishing map, we have many more, and add more plus hunting maps every day. Here is a screen shot below, click on this link to find more places to hunt and fish:
If you want more specific, county by county hunting and fishing maps, and contact info on hunting clubs and a network of hunting and fishing ranches:
Here is screen shot below. Click on this link to see live site:
Please click on a County for Fishing and Hunting Clubs, Ranches or the Best Public Land Areas
Please click on a County for Fishing and Hunting Clubs, Ranches or the Best Public Land Areas
Contact Me
for Newsletter
Get on our mailing list for Newsletter and to receive New Fishing and Hunting Maps and Hot Spot News in your areaIf you want FREE info on Hunting access and Fishing on over 200 Private Ranches and Hunting clubs, fill this out ! (We NEVER release your info to anyone not specific to this inquiry!)