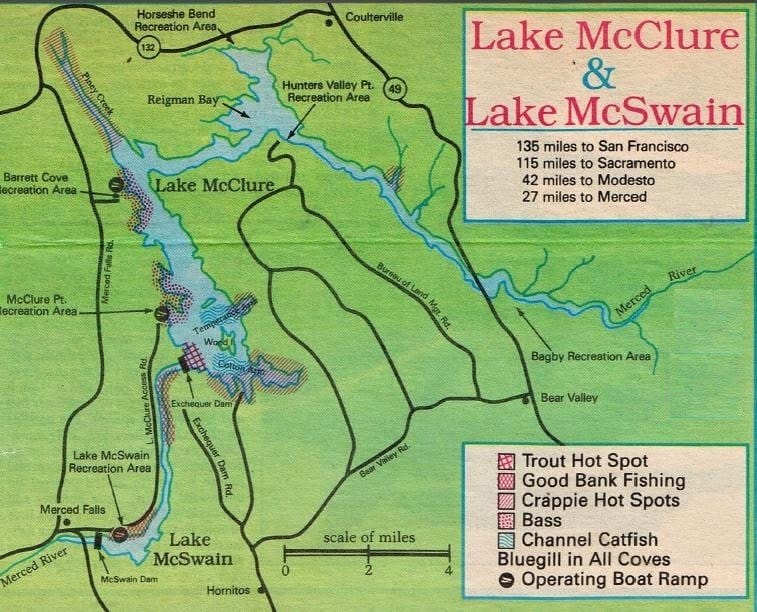 2019 Lake McClure Fishing Map and Fishing Report, and Local Hunting Clubs and Private Fishing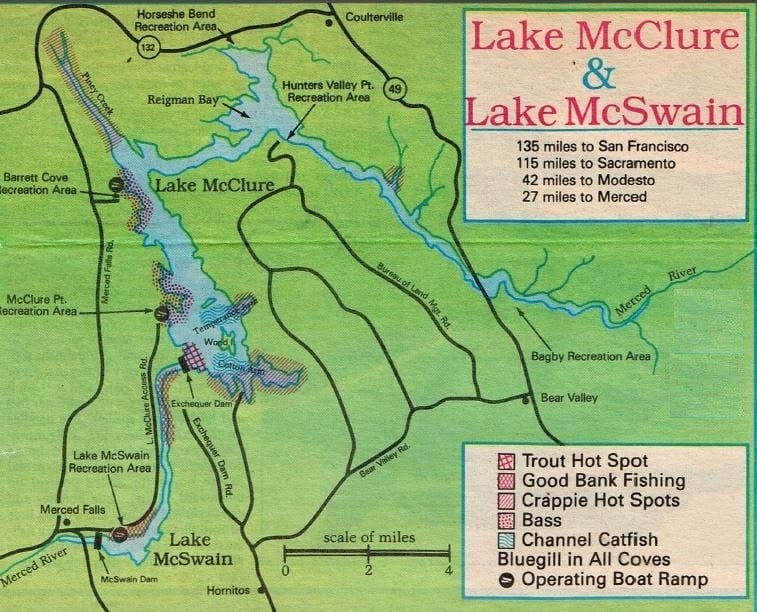 Lake McClure Fishing Map and Fishing Report

Best Areas to fish Lake McClure

Local Fishing and Hunting Clubs

Private Hunting Ranches
The lake has almost reached its average level of

8

0% so is close to its normal.. The water is clearing, try surface lures for Bass tand switch to jigs and plastic worms on the drop-shot. The bass spawning. Try McClure Point and Barrett Cove .
How to fish Lake McClure
Lake McClure low waterconcentrates the fish, making them more vulnerable and a lot easier to find. Crappie, and the catfish and bass are are responding. Crappie seem to be hit best well on nightcrawlers, as our fishing map shows are mostly in Cottonwood, Temperance and Piney Creek, are also known to favor minnows and Mini-Jigs
According to our fishing report, Bass are bustling after silver spoons and minnows along the rocks off the shoreline at McClure Point and Barrett Cove,
Catfish are in the heavyweight class from 14 to 20 using anchovies, sardines and
clams fished on the bottom in the late afternoons.
Oregon and California hunting and fishing
maps of hunting clubs, hunting ranches, public and private fishing.
If you like our Fishing map and information on how to fish this lake, we have many more hunting and fishing maps
Also, if you want very specific county by county information on fishing and hunting clubs in California and Oregon for private fishing, hunting clubs, and exclusive network of hunting ranches found nowhere else, here is a screen shot below, click on this link to go to the site: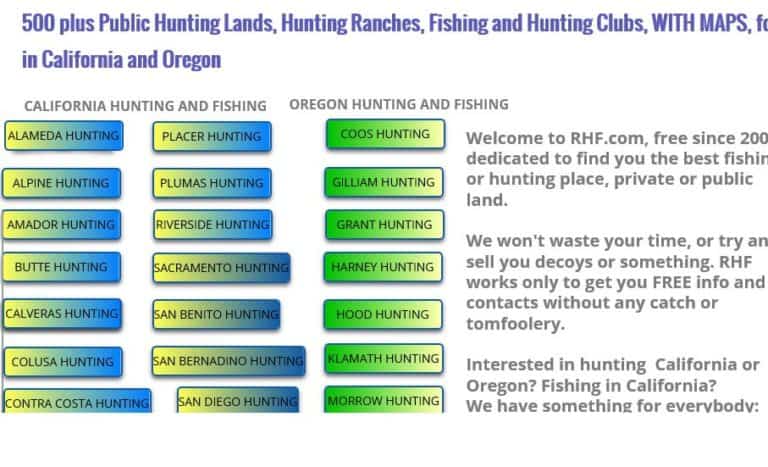 Please click on a County for Fishing and Hunting Clubs, Ranches or the Best Public Land Areas
Please click on a County for Fishing and Hunting Clubs, Ranches or the Best Public Land Areas
Contact Me
for Newsletter
Get on our mailing list for Newsletter and to receive New Fishing and Hunting Maps and Hot Spot News in your areaIf you want FREE info on Hunting access and Fishing on over 200 Private Ranches and Hunting clubs, fill this out ! (We NEVER release your info to anyone not specific to this inquiry!)