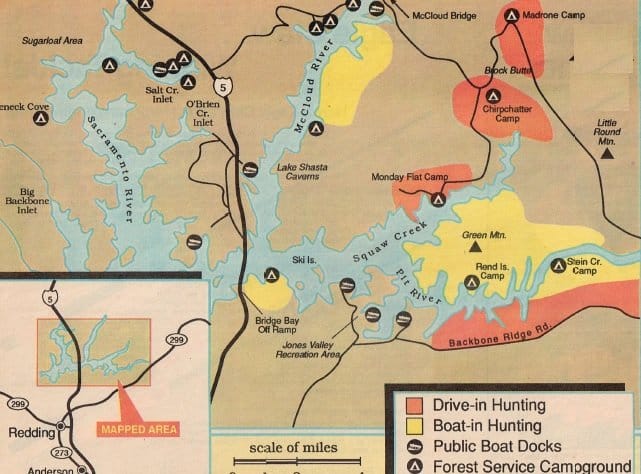 2019 Lake Shasta Turkey Hunting on Public Hunting Land where to find turkeys Shasta lake
2019 Lake Shasta Turkey Hunting Map and Report

Shasta Public Land Best Areas

Shasta Hunting Clubs and Private Ranches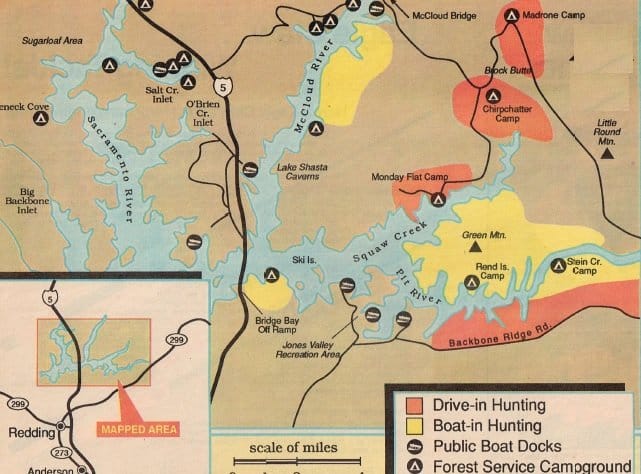 Lake Shasta Turkey Hunting on Public Hunting Land where to find turkeys Shasta lake
The Lake Shasta area has lots of turkeys, lots of public land! It's turkey hunting time in Northern California and Lake Shasta is the place to bag that trophy gobbler. Turkey hunting is the fastest growing hunting sport in California and the national forest that borders Lake Shasta ranks as the No. l turkey producer in the state. The steep rugged hillsides above the lake are a haven for hundreds of wild turkeys.
Much of the prime turkey hunting areas in California are on private land where gaining permission is increasingly difficult, however, we have over 100 private ranches or hunting club ready for you. See our info below, or head up to Shasta. Or, do both!
Hunters can reach many of turkey hunting areas by vehicle. But hunters who want to escape the pressure of other hunters can travel by boat to the more remote areas that have an abundance of turkeys and few hunters. The most popular turkey hunting area is Backbone Ridge above the Pit River Arm of the lake. Hunting pressure on Backbone Ridge can be intense, but if you're willing to hike a mile or two off the road, you can find solitude and the old toms with their harems of hens.
Backbone Ridge can be reached from Jones Valley. The road follows the ridge line and comes out at Fenders Ferry. There are good populations of turkeys along the entire length of Backbone Ridge. Madrone Camp and Little Round Mountain are other good areas for turkeys The steep rugged hills and heavy timber will make you work hard for your gobbler, but these areas hold some monster Toms..
Boats can be launched at Jones Valley and there are several boat-in campgrounds in the Squaw and Pit River arms. Hunters who boat in are often discouraged by the dense cover of chapparal that covers the hillsides near the lake shore. The peaks of these hills are usually covered with thick stands of oaks and have open glades Most of these open glades will hold small flocks of turkeys. All you need is a little lung and leg power.
Bully Hill on the Squaw Arm also holds turkeys. This is a brushy area and at first glance doesn't look like turkey habitat. But there are flocks scattered throughout the area. The past few years, hunters have also discovered turkeys in both the McCloud and Sacramento arms of the lake. Locating turkeys is actually more difficult than hunting and calling the birds. Wild turkeys are one of the most elusive animals in the woods. Just because you don't hear turkeys gobbling, doesn't mean there are no turkeys in the area. The turkeys around Lake Shasta have been hunted hard and they have become very cautious about responding to a call.
One of the best methods of locating turkeys at Lake Shasta is to talk to the bass fishermen. These fishermen are out on the lake at daylight when the turkeys are most vocal. Since many of fishermen don't hunt, they will usually tell you where they have seen and heard turkeys.
Another method of locating an old tom is to slowly cruise the arms of the lake. Stop often and use a turkey or crow call. lt's not unusual for a gobbler to answer your call from as far away as a half mile. Late afternoon is an ideal time to locate turkeys for the following day. Remember, all turkey hunting must stop at 4 p.m.. If you hear a gobble, mark the area and return the next morning at least one hour before daylight. The best time to hunt Lake Shasta is mid-spring, during mating season. The weather is usually mild and the hens have already started to leave the flocks to nest. The gobblers are on the prowl and can be called in…
California hunting clubs, hunting ranches, public and even private fishing
Hunting private lands in California has several advantages over the public areas. Chief among these are much less hunting pressure, better forage and water supplies and easier vehicle access. It's a fact of life, and hunting on private ranches is almost a sure thing.
We use a hunting map site that has over 200 private ranches, with or without guides
www.ranchhuntfish.com
It's free, and get you access to our free map site too. Here is a copy of the home page: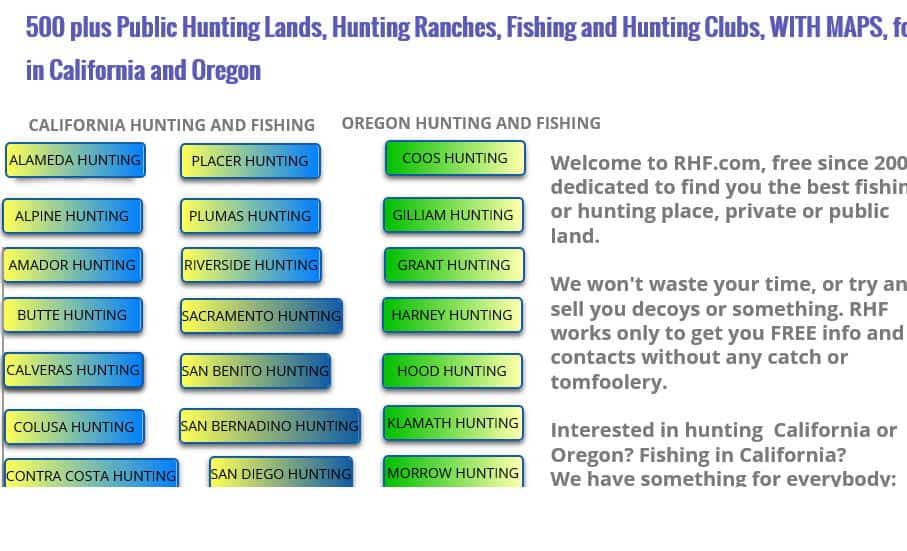 We have many more hunting and fishing maps, here is a screen shot, but if you want more info, click on this link: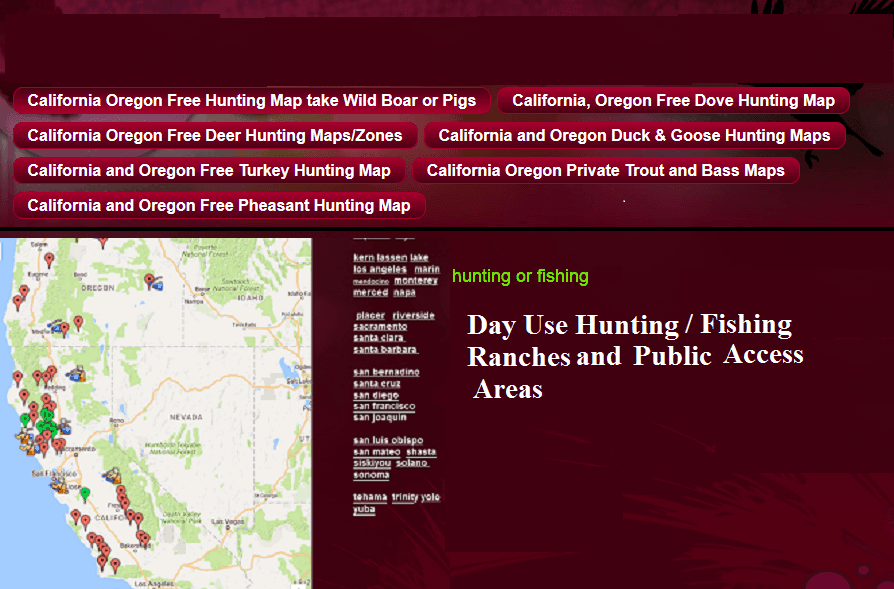 Please click on a County for Fishing and Hunting Clubs, Ranches or the Best Public Land Areas
Please click on a County for Fishing and Hunting Clubs, Ranches or the Best Public Land Areas
Contact Me
for Newsletter
Get on our mailing list for Newsletter and to receive New Fishing and Hunting Maps and Hot Spot News in your areaIf you want FREE info on Hunting access and Fishing on over 200 Private Ranches and Hunting clubs, fill this out ! (We NEVER release your info to anyone not specific to this inquiry!)