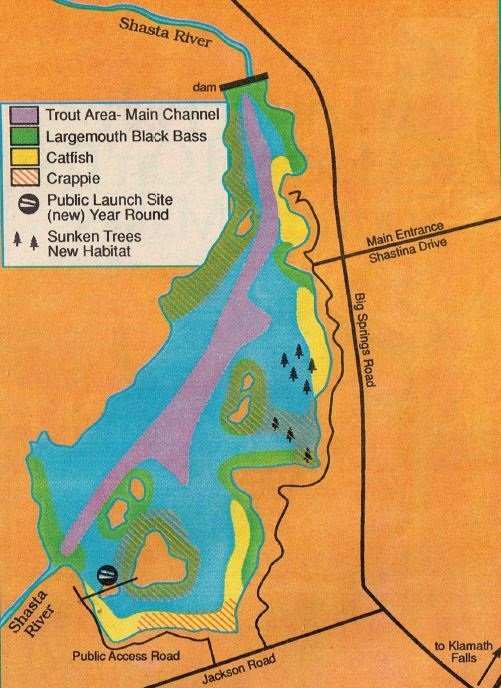 2019 Lake Shastina Fishing Maps, Report, plus Public Land Hunting, Clubs, and Ranches
2019 Lake Shastina Fishing Maps, Report, plus Public Land Hunting, Clubs, and Ranches
Here you get access to our giant free hunting and fishing Map site, with how to fish and where to fish or hunt these Public lands. Get access to Hunting Clubs and Private ranches for fishing and hunting. Always free with no strings attached to help preserve our Outdoor Heritage. Click on a County for California or Oregon Hunting or fishing on Public Lands, Hunting Clubs and Private Hunting Ranches
2017 Lake Shastina Fishing Map

How to Fish this Lake, find best areas, reports

Local Hunting Lands and Private Fishing
Plus! : Hat Creek, McCloud River, Fall River, Lake McCloud, Trinity Lake, Lake Shasta
(to see nearby fishing areas and other Map click on name to right =========>
Where to find Fish and how to fish Lake Shastina

Great fishing not hard to find for trout, bass and catfish. Lake Shastina has been one of Northern California's best kept secrets and is only minutes from two mayor interstates, I-5 and Highway 97.
It has fantastic wide variety of cold and warm-water species.
Lake Shastina offers over 5 miles of shoreline when full, plus many productive islands in the lake. It hosts sizeable populations of rainbow and brown trout, some to over 10 pounds, largemouth bass, catfish, panfish, and some of the largest crappie you'll ever catch.
The spring spawning period is the time when catfish, black bass and crappie really turn on in this lake the minute the surface water temperature reaches 57 degrees. But until those surface waters warm, trout trollers will do well on good-sized rainbows and a few browns by sticking to the deep water midlake channel between the dam and the south end. Blades and 'crawlers work best, but spoons and spinners, wobblers and flies also are great for Shastina trout.
Egg and night- crawler anglers also do fair from shore. Crappie are thick in all the rocky, shallow areas near shore and around the tree habitats placed in the lake in 1988. Fish to 3 pounds are not at all uncommon here. Crappie Killer jigs and crappie plastic jigs in yellow, red and white, and pink.
Bass is good in warmer weather but prime time when temperatures send bigmouths to the shallows. Try Plug fishing for largemouth 2 to 5 pounds the best from April through early May, then turns red-hot again in September and October.
Work the rocky shorelines at the west shore and both ends of lake with deep-diving crankbaits. Surface lures work well later with warmer waters on the surface.
Catfish to 15 pounds come out of this lake. Shore fishermen using nightcrawlers, worms, chicken livers and cut mackerel or clams can take limits of cats 2 to 17 inches. The south end to the launch site is best in spring months; also off dam and deep coves.
Panfish are everywhere, mostly green sunfish that love to slap surface poppers and red worms. Shallow shorelines in rocky areas, particularly from the dam along the west shore to the south end can produce. Bluegill and redear sunfish are here as well. There are lots of minnows, lots of feed for all species.
Lake Shastina has been terribly low in the wake of northern California's three-year drought. However, with the more recent rains the lake is on a fast road to recovering. At press time the lake was 75 percent full and rising everyday
Location: In Siskiyou County, between state 5 and Highway 97. Rainbow, brown trout, black bass, crappie, catfish, sunfish. Facility is located at the southern end of the lake on Milkhouse island which can be reached from the public access road off Jackson Ranch Road.
Season: Open year-round. . When to fish: Trout bite year-round; bass bite best March-May than again September and October; Crappie bite March, April; Catfish hit in spring, summer.
Click on a county for OREGON or CALIFORNIA Hunting Clubs & Private Ranches:
Hey! Here are links to our home pages to Free Hunting and fishing Maps site and to our County by County Public Lands, Hunting Clubs, and Private Ranch fishing and hunting info.: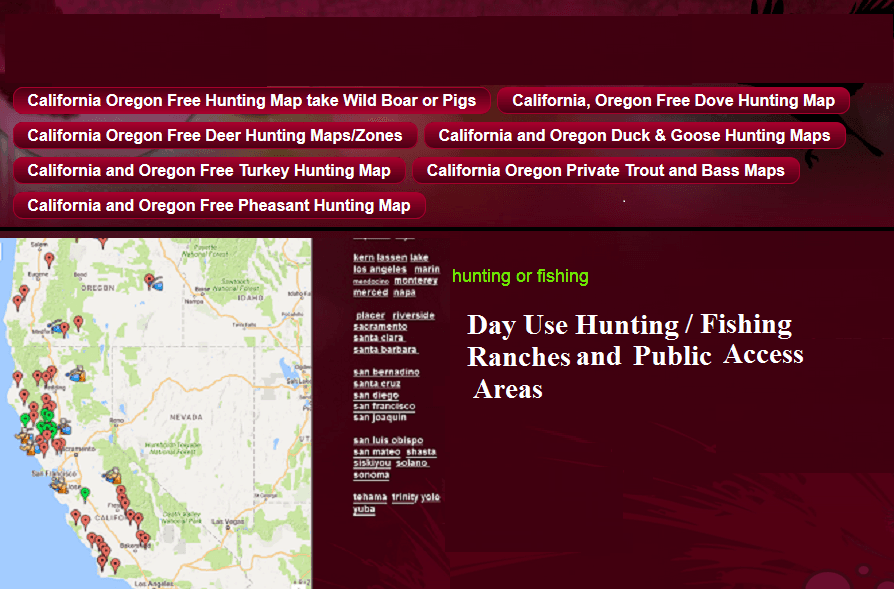 County by County look at California and Oregon Hunting and Fishing Public Lands and Private Ranches and Clubs
Please click on a County for Fishing and Hunting Clubs, Ranches or the Best Public Land Areas
Please click on a County for Fishing and Hunting Clubs, Ranches or the Best Public Land Areas
Contact Me
for Newsletter
Get on our mailing list for Newsletter and to receive New Fishing and Hunting Maps and Hot Spot News in your areaIf you want FREE info on Hunting access and Fishing on over 200 Private Ranches and Hunting clubs, fill this out ! (We NEVER release your info to anyone not specific to this inquiry!)