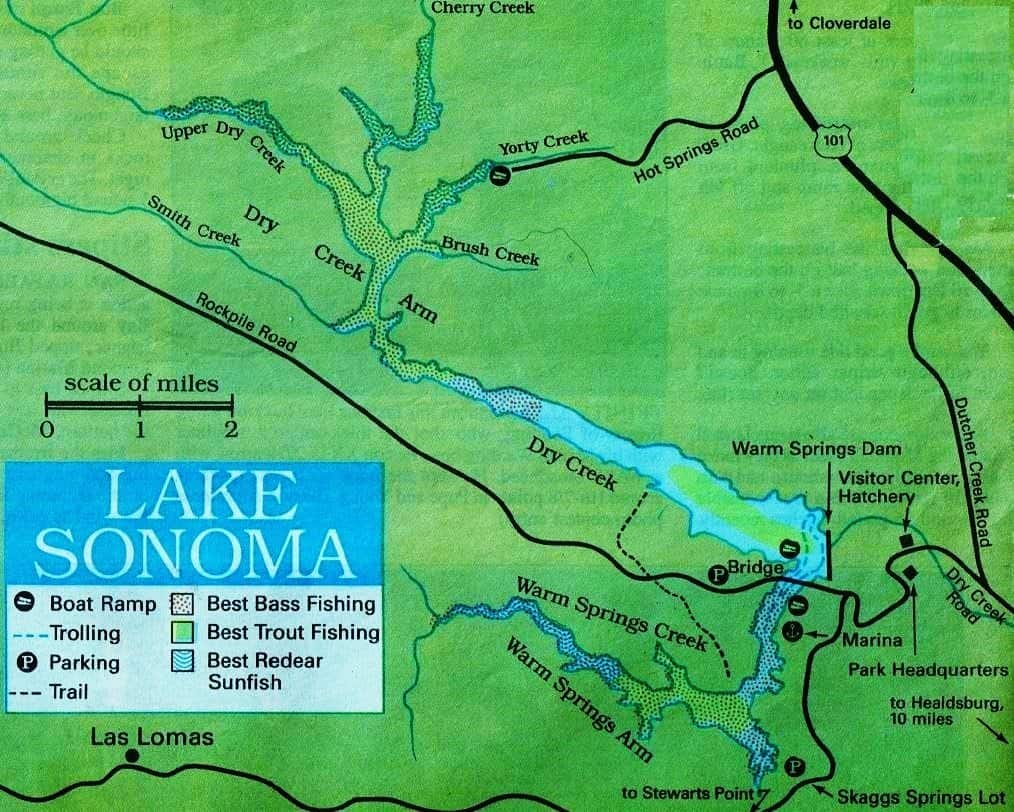 2019 Lake Sonoma Fishing and Pig Hunting on Public Land
Here you get access to our giant free hunting and fishing Map site, with how to fish and where to fish or hunt these Public lands.
Get access to Hunting Clubs and Private ranches for fishing and hunting in Sonoma and all over California. Always free with no strings attached to help preserve our Outdoor Heritage.
Click on a County for California or Oregon Hunting or fishing on Public Lands, Hunting Clubs and Private Hunting Ranches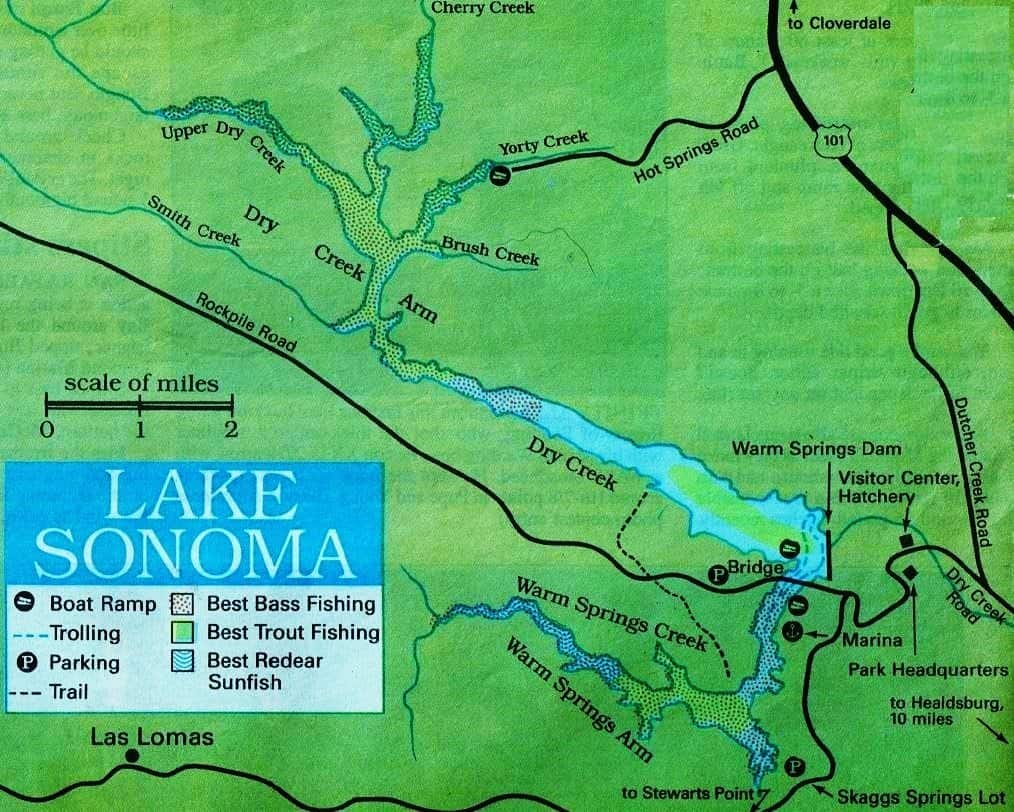 Lake Sonoma Fishing

Sonoma Pig Hunting on Public Land

Best Places to find fish and hunt pigs

Where to fish Lake Sonom

Information on Pig Hunting
Bullet Facts Lake Sonoma:
Location: ln Sonoma County between Geyserville and Cloverdale off Highway 101.
Species: Largemouth bass, smallmouth bass, redear sunfish, steelhead trout, bluegill, green sunfish, Sacramento perch, channel catfish.
Boating: There are three boat launches in operation. The first is a public ramp that requires some strenuous hiking up to the parking lot (parking fee aslo pays for launch) when you retrieve your rig after fishing. A private ramp is available at Lake Sonoma Marina (full service with good selection of boats to rent) for $8 which includes parking.
A third public ramp at Yorty Creek but only car top boats or vessels not trailered are allowed.
Camping: Public camping (110 sites) is available around the lake on a first-come, first-served basis. Camps accessible only by boat or hike-in (113 sites) are located around the lake. Lake Sonoma Marina, 707-433-2200 Lake Sonoma Recreation Area,
Hunting:Archery and crossbow only Pig Hunting Thanksgiving weekend through mid-March and Lottery Spring and Fall Turkey and Hunting Youth Programs . You must go through lottery /draw process at http://www.dfg.ca.gov/wildlife/hunting/uplandgame/gamebird/
Purchase of pig hunting permit required at Park headquarters and other places and info to obtain the Pig Permit: (

Requires driver's license, hunting license, and California state pig tags)
Lake Sonoma Marina (707) 433-2200
Park Visitor Center
Turra's Back Room Archery Shop
West Coast Archery Shop
For more info on how to pig hunt in California, see our other posts:
0 Maps with detailed info on how and where to hunt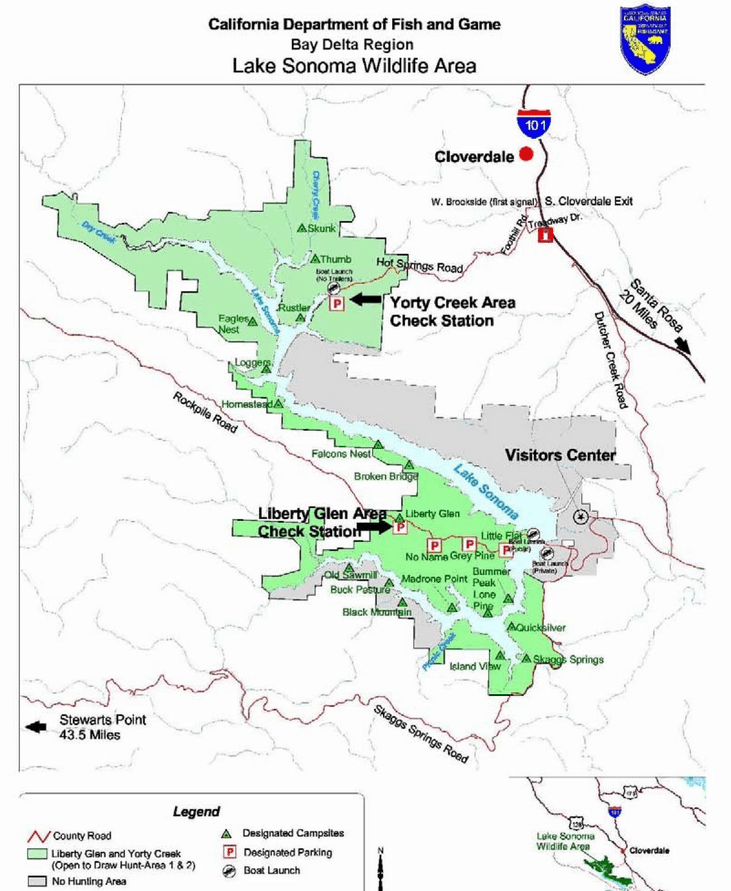 Lake Sonoma, located in the Coast Range of Sonoma County, was built in 1979 has some excellent fishing so anglers are bypassing the big lakes and heading the much smaller, but productive Lake Sonoma.
Sonoma has excellent numbers of largemouth, some of the best redear sunfish populations in the state! These fish scale to 11/2 pounds and stringers are easy once you locate the schooling fish, catching them are using worms and grubs. Small jigs, such as a red and white or yellow and white Mini-Jig will entice these panfish when cast and worked in the brush.
Occasional steelhead trout! Although the Department of Fish and Game doesn't plant them anymore, anglers still catch a fair number of steelhead trout. They're holdovers from plants in the early and mid-80s, including some big fish to 6 pounds that are probably native steelhead of Dry Creek and the Russian River system. –
One of the neat features at Sonoma – the fact that there is such outstanding habitat. When the dam was built in 1979 Dry Creek flooded acres of standing oak trees and madrone. Most of those trees are still standing today, and they make great spawning habitat for sunfish, bluegill and bass
Find the brush, and you'll find sunfish,where the limbs are sticking out. Some of the best redear sunfish action can be found in Upper Dry Creek, Cherry Creek and Yorty Creek, but Brush Creek is worth a try too. Warm Springs Arm is another good producer for anglers dunking redworrns, mealworrns or casting and retrieving Mini-Jigs.
Bass action can be spectacular at times, but don't expect a lot of monsters at Lake Sonoma Most of the bass are largemouth, and a bunch of Florida- strain blacks were planted in 1982. Some of those fish are now 7 and 8 pounds, are great fighters, and a 20-fish day means lots of action and a few good fillets!
The whole lake offers good bass fishing but in the summer you've got to stay away from the waterski areas.
Cherry Creek is a good bass fishing, while Smith Creek is fair, and people catch a lot of fish out of the Warm Springs Arm. "Even more fish on Dry Creek.
Top bass lures are twin-tail grubs in brown and salt and pepper,. Simply work the plastic worms and grubs through the brush and you'll catch fish, even if most of them are still growing up. The bass target redear, bluegill and green sunfish, there is a lot of forage fish in the lake.
Along with smallmouth bass, channel catfish and bluegill, but redear sunfish are the best fishery on the lake.
STEELHEAD are available in Lake Sonoma, but the trout program has been discontinued and only a handful remain. Trollers can still catch them along the east side of the dam and up the canyon with flashers and nightcrawlers. Trout, which are rapidly vanishing in the lake, but Anglers can still catch those trout this summer if they fish the proper depth.
In 35 to 45 feet of water, pull Ford Fenders and a nightcrawler. The red and silver blades are best, let out 120, feet of line and troll real slow.Top trout areas are the dam, the main body of the lake in Dry Creek, the canyon area, the east bank coming off the dam and the high cliffs areas are best for Anglers will have to use a downrigger, Deep Six diver, Pink Lady or leadcore line to get to trout-holding country, and once there, troll with the flasher-crawler setup for hookups.
Hey! Here are links to our home pages to Free Hunting and fishing Maps site and to our County by County Public Lands, Hunting Clubs, and Private Ranch fishing and hunting info.:
County by County look at California and Oregon Hunting and Fishing Public Lands and Private Ranches and Clubs
Please click on a County for Fishing and Hunting Clubs, Ranches or the Best Public Land Areas
Please click on a County for Fishing and Hunting Clubs, Ranches or the Best Public Land Areas
Contact Me
for Newsletter
Get on our mailing list for Newsletter and to receive New Fishing and Hunting Maps and Hot Spot News in your areaIf you want FREE info on Hunting access and Fishing on over 200 Private Ranches and Hunting clubs, fill this out ! (We NEVER release your info to anyone not specific to this inquiry!)