2019 Little Grass Valley Reservoir Fishing Map and Fishing Report, Private Fishing and Hunting Clubs in this area
 Little Grass Valley Reservoir Fishing Map and Fishing Report

Best Areas to fish and How to fish Little Grass Valley

 Nearby Fishing and Hunting Clubs, and Private Ranch Hunting
 Little Grass Valley Lake has some excellent fishing, qnd we've
heard of brown trout in the 20-pound
class being hooked and landed.
As a plus, 
Kokanee are
chasing trolled lures, tipped with
half a nightcrawler behind a set of flashers.
The silvery kokes are 15 and 17 inches in 25 feet of water
and sometimes you will be surprised by large
brown and rainbow trout. In spring, worms and bobbers, even from the bank, 
will produce
along the points and shallows off the north
side of the lake and along the east bank campgrounds.
Using our fishing map, try the stream
mouths and then switch to lurers when the water warms up to 60
degrees, lures like gold or silver 1/4-ounce gold Mepps
and Kastmasters .
Fly fishermen do well with Muddlers, Woolly
Buggers and Woolly Worms in purple,
olive or dark brown
However, according to our fishing report, the largest brown trout hit
rainbow and
brown trout-finish plugs in the 4-inch to
5-inch size slow trolled about 150 feet behind, along the  points
and banks that face southwards, then moves
out into deeper water after temps hit 65 degrees, in late June.
Creek
mouths and submerged stream beds are good for bank fishermen who can also suceed. Go just east of the dam near a green
patch, This is an underground spring
that feeds cool water into the lake and
attracts fish.
Fly fishermen do best from mid- June to mid-October at Little Grass Vallley, along stream mouths and off with Woolly Buggers ..
At dusk in June and at dawn in July,
August and early September, Little
Grass Valley Lake produces fish on dry
flies. Black Ants in
size 12 and 14 and Tan Millers or Brown invisibles in size 10 work.
Also watch for
trout feeding in the summer
on tiny black flies, size 20 or 22.
 Oregon and California hunting and fishing
 

maps of hunting clubs, hunting ranches, public and private fishing.

We are your source for Hunting in California and Oregon, public and private. Our sites include FREE maps for access for Turkey Hunting, as well as FREE contact info for 100's of Turkey Hunting ranches, clubs, and Public lands.  Our network of Hunting ranches is exclusive, available nowhere else, sourced from our long years of ranch land sales. We help our old customers keep their lands, and you get to benefit, with properties from 1000 to 20,000 acres in size.

If you like our Fishing map and information on how to fish this lake, we have many more hunting and fishing maps, here is a screen shot, but if you want more info, click on this link: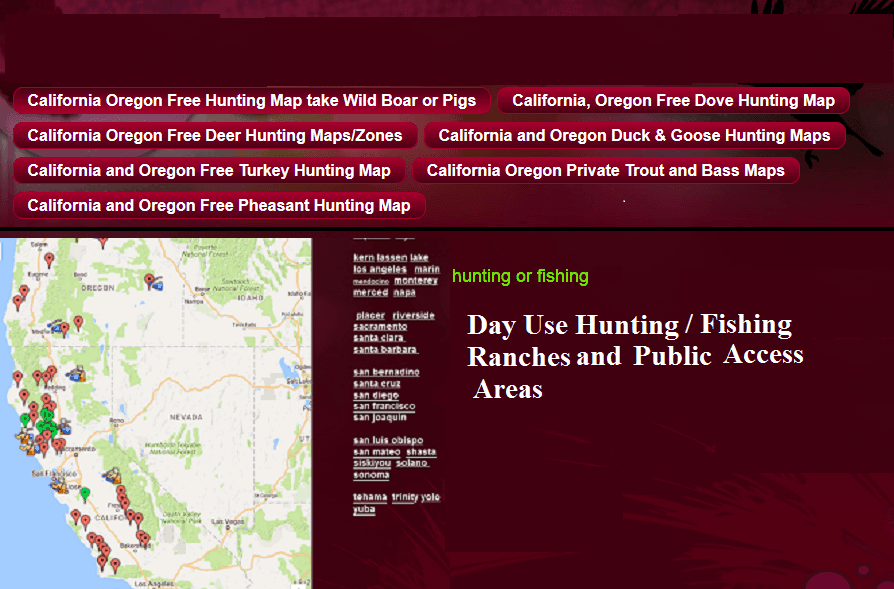 Also, if you want very specific county by county information on fishing and hunting clubs in California and Oregon for private fishing, hunting clubs, and exclusive network of hunting ranches found nowhere else, here is a screen shot below, click on this link to go to the site: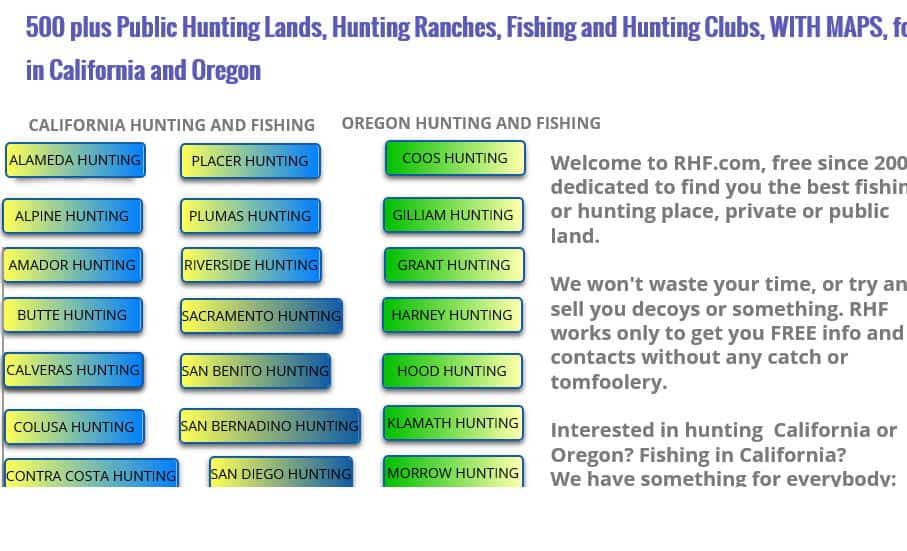 Please click on a County for Fishing and Hunting Clubs, Ranches or the Best Public Land Areas
Please click on a County for Fishing and Hunting Clubs, Ranches or the Best Public Land Areas
Contact Me
for Newsletter
Get on our mailing list for Newsletter and to receive New Fishing and Hunting Maps and Hot Spot News in your areaIf you want FREE info on Hunting access and Fishing on over 200 Private Ranches and Hunting clubs, fill this out ! (We NEVER release your info to anyone not specific to this inquiry!)