2019 Millerton Fishing Map, Fishing Report, Hunting Clubs Fresno County
2019 Millerton Lake Fishing Map, Fishing Report for Striped bass, Small mouth and Large Mouth bass
Milllerton Lake Fishing Map
Millerton Lake Quick Facts Fishing Information
Location: Millerton Lake is located 20 miles north east of Fresno and 20 miles east of Madera in
central California.
Size: More than 3 miles wide at its widest point and more than 16 miles long back into the river canyon. Millerton features 43 miles of shoreline.
Camping: Nearly 100 developed sites for tents, RVs and trailers and nearly 40 primitive sites for tents at Fort Miller. A boat-access-only camp is located at Temperance Flat with tables, stoves and water.
Boating: Launching ramps are located on both sides of the lake, south and north shores. No waterski-
ing is allowed east of the Finegold day-use area,
hence, fishing is good upriver in the summer.
Species: Smallmouth, largemouth, spotted and striped bass, catfish, American shad and crappie.
How to fish Millerton Lake and Where to find the Best Areas:
Millerton Lake anglers will find a wide variety of warm-water dwellers in this large Central Valley water, including smallmouth, spotted, largemouth and striped bass.
The lake was formed in 1944 when the construction of Friant Dam backed up the cold waters of the San Joaquin River.
It's a very large lake that features
43 miles of shoreline — it's 3 miles
wide at its widest point and stretches
more than 16 miles long in Madera and
Fresno counties. Needless to say, there's a lot of water — and you can always catch fish in this lake.
Most of the fish are, indeed, bass, but anglers will find catfish and a smattering of crappie and catfish. There are no trout, but anglers can head upriver for a quick rainbow fix.
Smallmouth bass are by far the biggest attraction, and although Millerton Lake bronzebacks don't reach record-
class proportions like Trinity Lake fish
do, there are certainly some top quality
bass to be had. There are a lot of throwbacks, and anglers will probably
catch three to five sub-12-inch fish for
every keeper, but there some lunkers in
there too.
,Millerton has some of the best
smallmouth bass fishing in this part of
the country, Pine Flat
is good too, but is the top smallmouth bass
fishery around, especially if they fish the
areas we've marked.
Best bass bets
on Millerton
is Rocky points and coves
on the north side near the dam. Try Winchell Bay, Finegold Creek area, South shoreline upriver from Finegold and Temperance Flat.
Anglers will find smallmouth off the rocky points all over the lake, but the
key to successful fishing is to fish
all over on
the rocky points, but specifically anglers should
look for odd-shaped points, rocks and
coves for best results.
Boaters equipped
with fish finders will have a big advantage over those who don't. Because of its huge size, Millerton would appear to be a difficult lake to
fish, especially for the novice or first-
time bass angler. But if you concentrate on certain areas of the lake, you can always score.
Drive
past Friant Dam and start fishing rocky
points and coves on the north side.
Throw
4-inch
worms at the time of year when small- mouth are getting ready to spawn.
If temperature is cold still, fish them real slow, the bass are still somewhat sluggish, but anglers who jig the baits from the shallow shoreline to 30 feet of water will
catch fish.
Smallmouth will move into shallow water— 5 to 10 feet — in mid- March and April when they spawn, then they'll move back into deeper water. For this latter time, throw nibbler (small grub like rubber worms) baits in 5
to 30 feet of water.
Later,
start tossing crankbaits and spinner- baits toward the shoreline.
Winchell Bay is an excellent small-mouth bass producer. lt features big,
heavy rocks and bass move in and out of
there before, during and after the spawn.
Work the rocky points and walls along the face of the scenic area, but don't spend too much time there. Head upriver and start fishing the Finegold Creek area. This is an excellent small- mouth bass area, and bassers should
spend a lot of time throwing baits
toward all the shores.
One of the best ways to catch bass
here is split-shotting because most all of the
banks have a good angle that you can
really walk it down.
Grubs or California Worms are excellent bass-catching baits, brown worms with an orange
tail or brown worms with a chartreuse
tail for the hungry smallmouth.
Moving upriver, anglers should concentrate their efforts on the south side of the arm. There's a good chance you'll
hook a black bass in this area, as well as striped bass
are also numerous and fishing is productive from March through
July.
Temperance Flat is an
excellent largemouth and Kentucky
spotted bass producer, and anglers will
find some good striper action too.
Head east as far as you can go and you'll catch blacks throughout Tem-
perance Flat. Blacks are also available in front of the dam.
Improved campgrounds for RVs, trailers and tents are available all over the lake, and there are some excellent
boat camps available at Winchell Cove
and Temperance Flat that are accessible
only to boaters.
During the summer, Millerton attracts lots of water skiers, but they can't go past Finegold Creek, and that's good news for anglers because the best bass fishing in the summer can be found in the cool San Joaquin River channel as well as the dam area. The early summer is hot for top- water action, cast Rebel Pop-Rs, Cordells and Rapalas for blacks and stripers! The good fishing never seems to end at Millerton!
Click on a County near you to see Public Lands, Hunting Clubs, and Day Use Ranches
Also, if you want very specific county by county information on fishing and hunting clubs in California and Oregon for private fishing, hunting clubs, and exclusive network of hunting ranches found nowhere else, here is a screen shot below, click on this link to go to the site: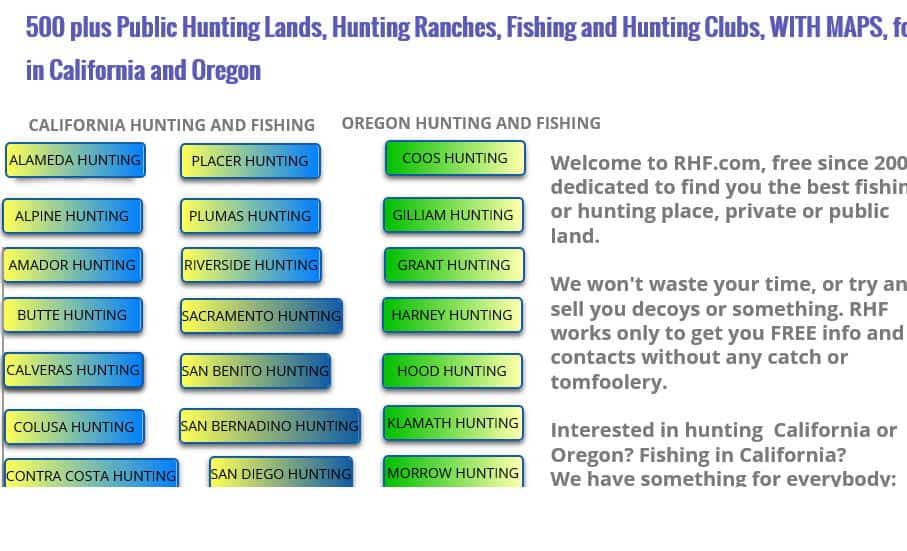 California Hunting Clubs for Turkey, deer, pig, quail, fishing with Hunting Maps.
Please click on a County for Fishing and Hunting Clubs, Ranches or the Best Public Land Areas
Please click on a County for Fishing and Hunting Clubs, Ranches or the Best Public Land Areas
Contact Me
for Newsletter
Get on our mailing list for Newsletter and to receive New Fishing and Hunting Maps and Hot Spot News in your areaIf you want FREE info on Hunting access and Fishing on over 200 Private Ranches and Hunting clubs, fill this out ! (We NEVER release your info to anyone not specific to this inquiry!)