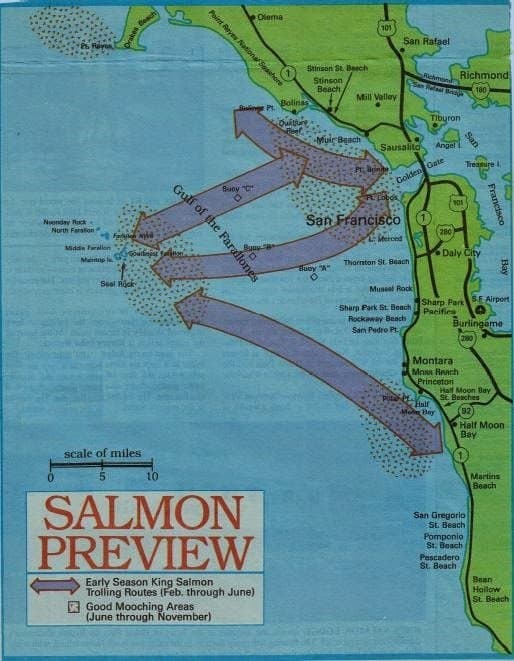 2019 Ocean Salmon Fishing Report and Fishing Map and Hunting Clubs, Ranches and Public Lands
2019 Ocean Salmon Fishing Report and Fishing Map, including, Local Hunting Clubs and Private Fishing Access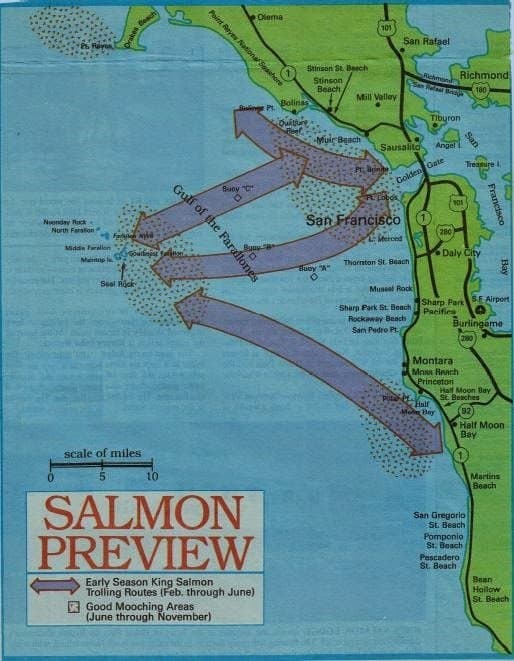 Chinook salmon
Fishing
heating up outside
Golden Gate!
Kings ready to head for Sacramento and hanging near the Gate, because big schools of ready to head up the Sacramento River where they'll spawn this fall. Big fish are being caught by trolling and according to our salmon fishing map, mooching several areas, including Duxbury Point, Buoy 1, Buoy 2 at the shipping channel and the Middle Grounds. Fish in the 20 pound plus weight class are commonplace.
Trollers are catching Salmon with hoochies
squid imitations — or more frequently frozen anchovies. Moochers are
using the
two hooks ( barbless)
rigs and
banana sinkers — 1 to 4 ounces of weight
and enjoying
decent
success.
Kings will soon
know it's time to head
through the Bay, Delta and up the Sacramento River. We have several fishing maps for the entire migration, so you can follow them all summer!
More Fishing and Hunting Maps, Hunting clubs, private fishing, and private hunting ranches in California and Oregon
If you want, check out some great maps for lakes and rivers, and contact info on over 200 private ranches or hunting clubs you and your family can explore. Our hunting and fishing maps show best areas for fishing and hunting, not just a simple map.
The below is a screen shot, to see more maps click :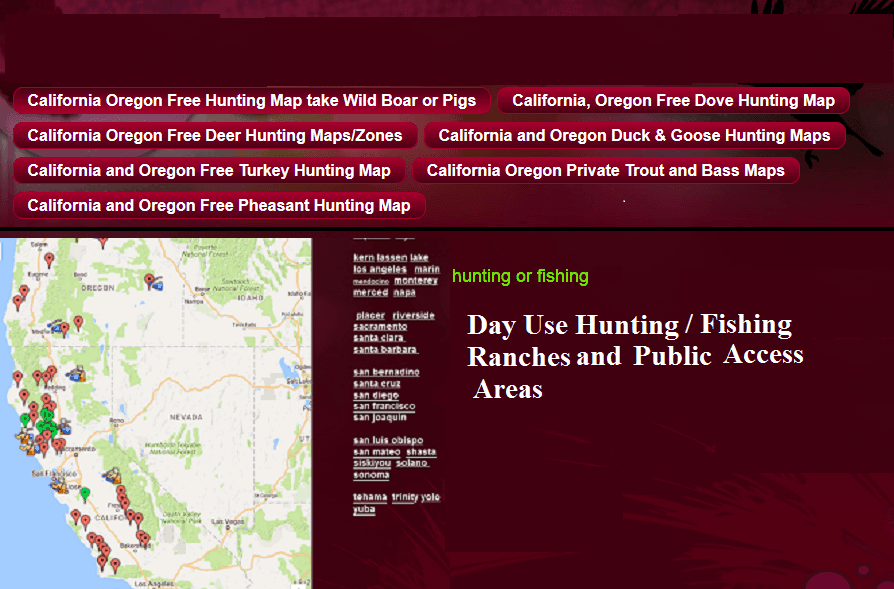 If you want more specific, county by county information for fishing and hunting in California and Oregon, with access to hunting clubs and a network of ranches available no where else, here is a screen shot below, and to go there click here:
Click on a county for Hunting Clubs & Private Ranches: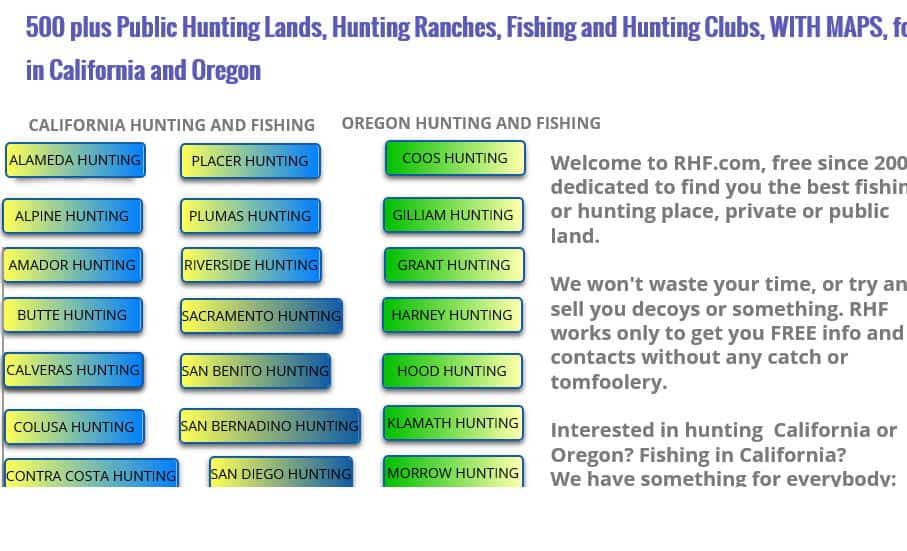 In Monterey Bay
– -Kings should continue to show in
the area for another couple of weeks, but are beginning to surge.
Please click on a County for Fishing and Hunting Clubs, Ranches or the Best Public Land Areas
Please click on a County for Fishing and Hunting Clubs, Ranches or the Best Public Land Areas
Contact Me
for Newsletter
Get on our mailing list for Newsletter and to receive New Fishing and Hunting Maps and Hot Spot News in your areaIf you want FREE info on Hunting access and Fishing on over 200 Private Ranches and Hunting clubs, fill this out ! (We NEVER release your info to anyone not specific to this inquiry!)