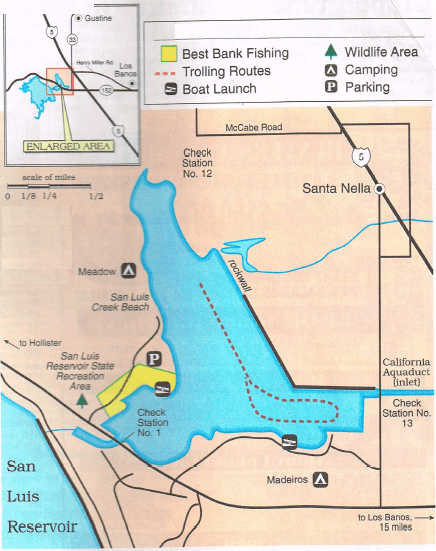 2019 O'Neill Forebay Stripers Fishing Map and Report, plus Hunting Public Lands and Clubs
2019 O'Neill Forebay Stripers Fishing Map and Report, plus Local Hunting and Fishing on Public Lands and Private Clubs
For Fish info on nearby San Luis Lake click
here
O'Neill Forebay stripers: Stripers are huge at this fishery, no other chunk of water in the state matches O'Neill for the size of its landlocked stripers 40 to 60 pounds, and this is a place where anglers can hook them from a boat or from the bank.
Most go between 3 and 8 pounds, and striped bass at 15 to 20 pounds are common. While fish even heavier are harder to come by, they are there and show once in a while. Several line class records are held by the lake, but the real attraction is the possibility for boat less anglers to lip one of the really big boys.
WEED CITY: They're a blessing and a curse. At times you would swear ONeil is half water and, it seems, half weed growth. Hydrilla, water hyacinth, whatever you choose to call it, the green stuff will foul your prop and grab your tackle even when you're extremely careful. On the upside, the nourishing crop of water plant is the perfect cover for bait-fish, and we have it to thank for the size of ONeill's bass. The aquatic trails provide easy routes for the big fish to follow, and pockets where paths merge are prime territory for live bait.
Looking at the surface of the diminutive lake reveals holes in the weed growth. These are spots to target with live minnows. You'll have to hack your way in with your prop; be prepared to spend time removing bushels of salad from your drive unit. But once near the pocket, you'll be glad you made the effort.
Rig a live jumbo minnow under a bobber and toss it into the hole. The free swimming bait has an appeal like no other, and it may be the best way to attack the potential trophy linesider. Minnows will be effective almost anywhere along the submerged highway, 22 but the small clearings are the only places you can actually work the bait.
The real problem comes when you do hook up and the fish O'Neill Forebay is known for big striped bass that thrashes through its jungle, heaping piles of leafy green on your line.
TROLLING: Another good tactic for O'Neill stripers, trolling is what you can do in places where all the weeds won't be too much of a problem. When you start dragging gear, remember that the big guys you're after prefer a meal to a snack. Foot-long plugs aren't too large pick out super-sized Rapalas,
Rebels and MaunsSuper Stretch divers. Cordell Spots with the rattle are a good choice too. The most commonly used at O'Neil are blue and chrome, chrome with a black back, and red and white.
Get a little more depth when you need it by running a spreader inline with a 1- to 2-ounce Hairaiser jig on a drop line.
JIGS: Two ounces should sufice, and if you add a live minnow on a trailer hook you've got a killer rig. Use bait scent if you don't have minnows. Yo-yo Hairaisers, Horizon Pirk Minnows or a Gibbs Minno.
BAIT: bait bags more fish at O'Neil than anything else, but also most people use it than anything else, so it does most of the catching. Cutbaits will entice the stripers into a bite whether you toss out chunked anchovy, shad parts but a live minnow is no doubt the most attractive of offerings that are
alive and kicking. When rigging to soak bait, go with a sliding sinker setup.
Use a Slido stopped by a swivel and about 3 feet of leader. Depending on where you fish the lake, you may need to make long casts. A surf rod makes a good launching platform.
At O'Neil, night anglers like to hang a bell on the rod tip for an audible signal that a strike has occurred. Other more vigilant fishermen and women use a small light on the rod tip for a visual indication that a fish is considering the bait.
HOT SPOTS: As on any given body of water, some spots just seem to produce more fish than others. Often these are places that are just easier to fish; better holes may exist but few are willing to expend the extra energy to work them over. The wise striper chaser will try the known and scout around as well, hoping to find that secret honey pot.
Of the well-known locations, you may want to try Check l and Check 13, especially the deep channel. The brickwall is a good zone for trollers and jiggers. The inlet to the Delta Mendota Canal is a decent place to toss bait. Another nice thing about the inlet to the canal is the ability to fish from your vehicle. It's kinda handy when plunking at night to sit in the warmth of the truck watching your rod and waiting for that hammer-blow strike.
Quick Facts:
Where: O'Neil Forebay is located in the foothills of the Diablo Mountain Range just west of Los Banos, near the intersection of I-5 and Highway 152.
Size: It's a teeny little thing when compared to the size of its fish — only 2000 surface acres with 14 miles of shoreline at an elevation of 540 feet.
Target fish: Striped bass, black bass, catfish and panfish.
Facilities: O'Neil has a boat launch ramp, camping, picnicking, hiking and biking trails. Other services including tackle shops are located nearby in the towns of Santa Nella and Los Banos.
Quagga boat inspections are in effect, as well as having compliant engines under the new rules this year.
Call: San Luis Reservoir and O'Neill Forebay Wind Conditions: 1 (800) 805-4805.
Please click on a County for Fishing and Hunting Clubs, Ranches or the Best Public Land Areas
Please click on a County for Fishing and Hunting Clubs, Ranches or the Best Public Land Areas
Contact Me
for Newsletter
Get on our mailing list for Newsletter and to receive New Fishing and Hunting Maps and Hot Spot News in your areaIf you want FREE info on Hunting access and Fishing on over 200 Private Ranches and Hunting clubs, fill this out ! (We NEVER release your info to anyone not specific to this inquiry!)