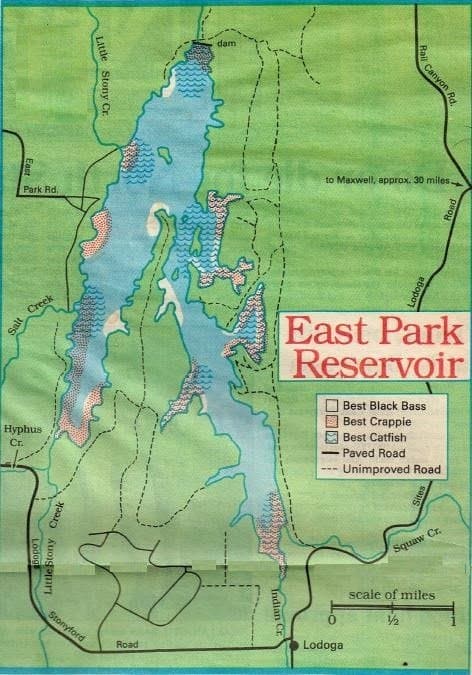 2019 East Park Reservoir Fishing Map and Fishing Report, plus California Hunting Clubs this area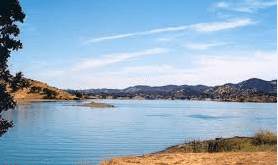 2019 East Park Reservoir Fishing Map and Fishing Report
Best Places to fish, Where to find fish at East Park
Local Fishing Hunting Clubs, and Private Hunting Ranches
Not as well reputed as Black Butte and Stony Gorge, but East Park Reservoir gets the fish! East Park tends to warm early and the
water level is definitely low this year.
As our fishing map shows, the
large number of trees, stumps and stickups at each end of the lake are even more pronounced this year.
There is decent surface bass action on Hula
Poppers or Buzz baits and crank bait. Suggest a 10- to l5-pound test line to keep big
bass fiom breaking off.
You can troll small plugs for a mix of warm-water species either.
According to our fishing report for 2015, when surface waters exceed 70 degrees, go to the deep drop off points and over the flooded creek bed.
East Park success would find you on the lake at dawn, and before dark as the big bass go deep when boat traffic comes later in the day.
Our Fishing Report concludes you should look for steep points that reach into the stump shallows to deeper water, creek mouths and seepage springs.
As our fishing map shows, the long promontory that divides has numbers of good bass, but the low water and summer heat will lower the reservoir, so find the bass in the rocks and cover.
Crappie, spotted bass and bluegills
like worms, small minnows and
jigs bounced under small bobbers and flies.
Ultralight outfitted with 2- to 4-pound test leaders in open areas, but switch to 6- to 8-pound test when around flooded timber. Have Fun!!!
Oregon and California hunting and fishing
maps of hunting clubs, hunting ranches, public and private fishing.

If you like our Fishing map and information on how to fish this lake, we have many more hunting and fishing maps, here is a screen shot, but if you want more info, click on this link:
www.freehuntfishmaps.com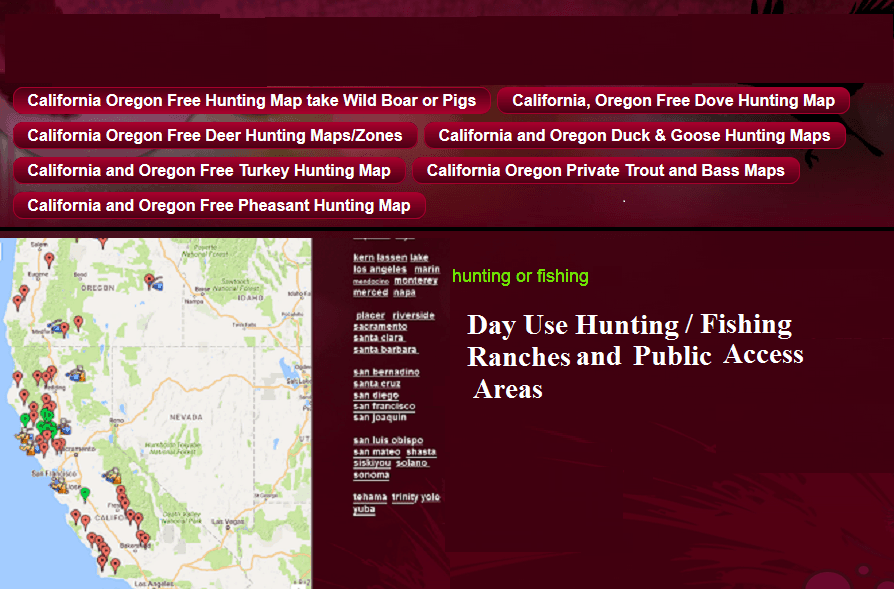 Also, if you want very specific county by county information on fishing and hunting clubs in California and Oregon for private fishing, hunting clubs, and exclusive network of hunting ranches found nowhere else, here is a screen shot below, click on this link to go to the site: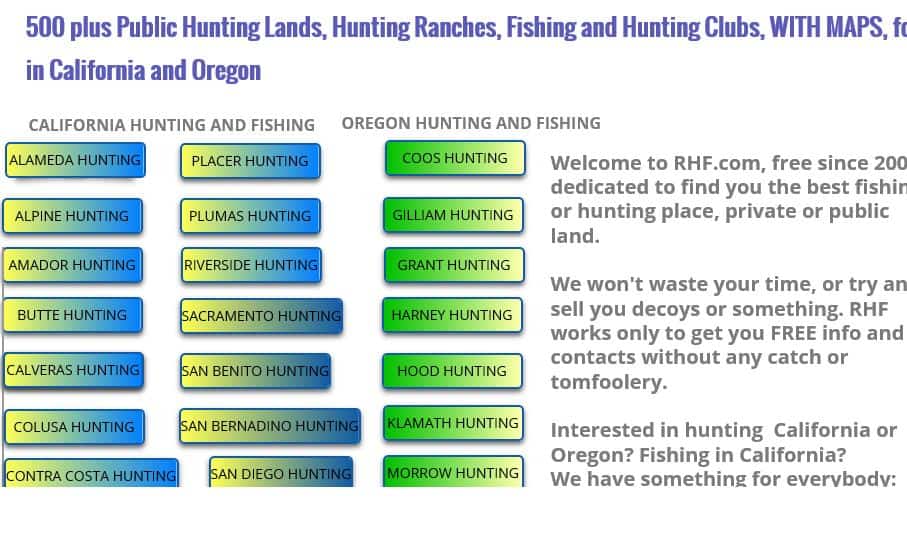 Please click on a County for Fishing and Hunting Clubs, Ranches or the Best Public Land Areas
Please click on a County for Fishing and Hunting Clubs, Ranches or the Best Public Land Areas
Contact Me
for Newsletter
Get on our mailing list for Newsletter and to receive New Fishing and Hunting Maps and Hot Spot News in your areaIf you want FREE info on Hunting access and Fishing on over 200 Private Ranches and Hunting clubs, fill this out ! (We NEVER release your info to anyone not specific to this inquiry!)