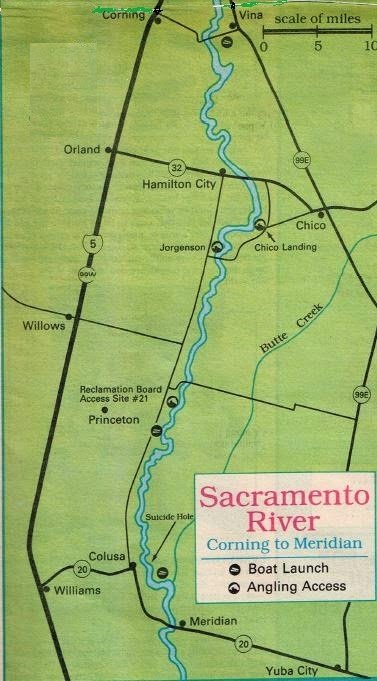 2019 SACRAMENTO RIVER STEELHEAD FISHING MAP, REPORT AND HUNTING AREAS
2019 SACRAMENTO RIVER STEELHEAD REPORT, MAP AND LOCAL HUNTING AREAS
Sacramento River Fishing Reports
January 23, 2017 – The Sacramento River cold temperatures has reduced fish activity   Try and keep moving and find where fish are feeding.
Fishing Maps of Sacramento River
For the map above, the

circular markers

are the Salmon

spots in deeper water

,

while the

arrow markers are pointing to rapids

or

shallow fast water riffle

d areas that

are the steelhead

f

ishing spots!!!!
Sacramento River  offers some of the best steelhead fishing in  the West.
Steelhead fishing in the Sacramento River starts
October,
  the
run peaks in January, but goes into March…
The finest spots are in our fishing map,Knights Landing, Grimes, Colusa and even all the way up to Chico..
But fishing is spotty as the fish are in a hurry to get to the spawning grounds upstream.
The best steelhead fishing in the Sacramento River is from Los Molinos to Anderson.
Fishing is fair at best above Anderson,
mainly because  Keswick Dam is not helpful to the fisheries. . Access starts
at Los Molinos, off Tehama-Vina road, east
of Highway 99 East.
 Steelhead line up up below the Red Bluff Diversion Dam,  for best results wait for the a time when  the river is high as this keeps the fish from trying the fish ladder.
Launch at Ball's Ferry Resort, or
at
Rooster's Landing, depending
on which side of river you come from.
 Free Fishing and Hunting Maps and access to hunting clubs and private ranches!
If you liked our information and are looking for more fishing or hunting maps, and also access to private ranches and hunting clubs, don't miss checking out 
If you want a more specific, county by county description of Oregon and California Hunting Clubs, Ranches and public areas to hunt and fish, you need to see: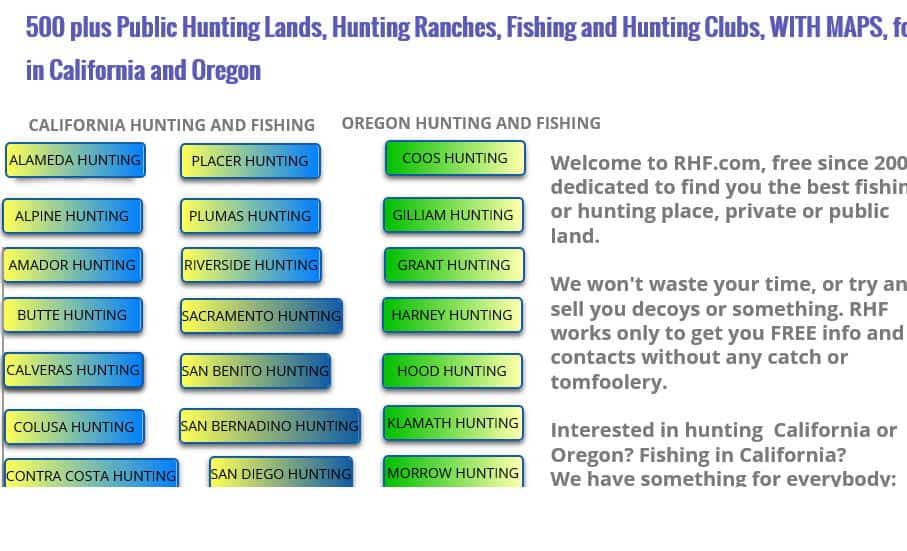 Please click on a County for Fishing and Hunting Clubs, Ranches or the Best Public Land Areas
Please click on a County for Fishing and Hunting Clubs, Ranches or the Best Public Land Areas
Contact Me
for Newsletter
Get on our mailing list for Newsletter and to receive New Fishing and Hunting Maps and Hot Spot News in your areaIf you want FREE info on Hunting access and Fishing on over 200 Private Ranches and Hunting clubs, fill this out ! (We NEVER release your info to anyone not specific to this inquiry!)