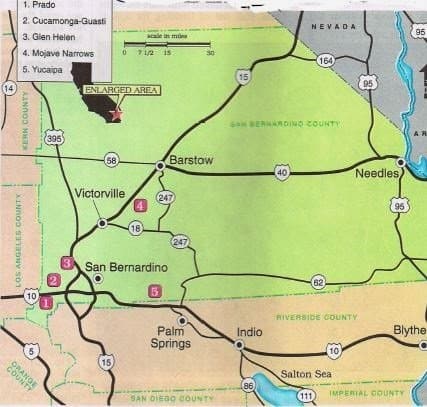 2019 San Bernardino County fishing Prado, Glen Helen, Yucaipa, Narrows, Cucamonga, hunting clubs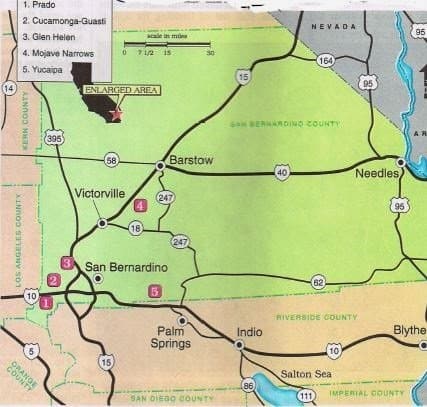 Fishing Reports and Fishing Maps to Best Areas, How to fish

Five Trout fishing Lakes San Bernardino

Where to Fish

Prado Lake

Glen Helen ParkLake

Yucaipa Lake

Narrows

Lake Cucamonga
SAN BERNARDINO COUNTY FISHING AND THIS AREAS HUNTING CLUBS
Today, California is burdened with some 36 million people, and frankly has poor recreational fishing opportunities for many of them. The Department of Fish and Game started its successful "Fishin' In The City" program to provide recreational fishing opportunities for many urban anglers and would-be anglers, and some city and county recreation departments have done the same thing. One of the best in Southern California is the chain of five winter trout fishing lakes operated by the County of San Bernardino.
URBAN SWEET SPOTS: The lakes are located in: Glen Helen Regional Park, with two lakes of 3 and 10 surface acres; Prado Regional Park, with a 56-surface acre lake, Cucamonga-Guasti Regional Park, which has two small lakes that total 11 acres; Yucaipa Regional Park, whose lakes cover some 20 surface acres; and Mojave Narrows Regional Park, with two lakes of 20 and 10 surface acres. All except Mojave Narrows are in the southwest corner of San Bernardino county, the largest county in California, bigger than some eastern states.
Mojave Narrows is located on the Mojave River drainage in the High Desert community of Victorville (see map). One or more of these popular winter trout waters is within an hour's drive of almost any city in Southern California.
TONS OF TROUT: The parks stock trout through the winter months, starting near the end of October each year and ending their trout season in mid-April, when they switch to stocking catfish. Stocking is weekly and intensive, with regular stockings of trout from private hatchery sources
by the County being matched by plants by the DFG. The exception is Mojave Narrows Park, which gets biweekly stockings by the county and the state so that one agency plants each week. According to the County, they stock almost 61 tons of trout in their lakes during the winter.
One note: you may find that the parks restrict part of the lake on the day of stocking to give the fish a chance to get used to their new home and to begin scattering out around the lake.
Hot trout action can occur almost anywhere on these small waters. Try to locate areas which feature access to slightly deeper water, or some sort of structure the fish can relate to. Of course, if you arrive there the day after the stocking takes place, the spot where the fish were put in
the lake should be your first point to check out.
The average state-stocked trout in these lakes will run 2 or 3 to the pound these days, but you may be delighted to discover that San Bernardino County purchases and stocks some very nice trout.
Locations: Glen Helen Regional Park, 2555 Glen Helen Parkway, Devom (909- 880-2522); Prado Regional Park, 16700 Euclid Ave, Chino (909-597-4260);
Cucamonga-Guasti Regional Park, 800 N. Archibald, Ontario (909481-4205); Yucaipa Regional Park, 33900 Oak Glen Road, Yucaipa (909-790-3127);
Mojave Narrows Regional Park, 18000 Yates Road, Victorville (760-245-2226).
Regulations, fees, limits: Bass, trout, channel catfish, limit five fish. Bass must be 12 inches in length. California
state fishing license required.
Information: Stocking calendars are available at the parks, and you can call the DFG information recording (562-590-5020) for state supplied trout plant
dates. For more information on the Parks, call San Bernardino County Parks (909-387-2591).
San Bernardino Hunting Clubs and Private Ranches
More San Bernardino Stuff? We know of 6 hunting ranches and 4 hunting clubs in this county, find them
www.ranchhuntandfish.com
,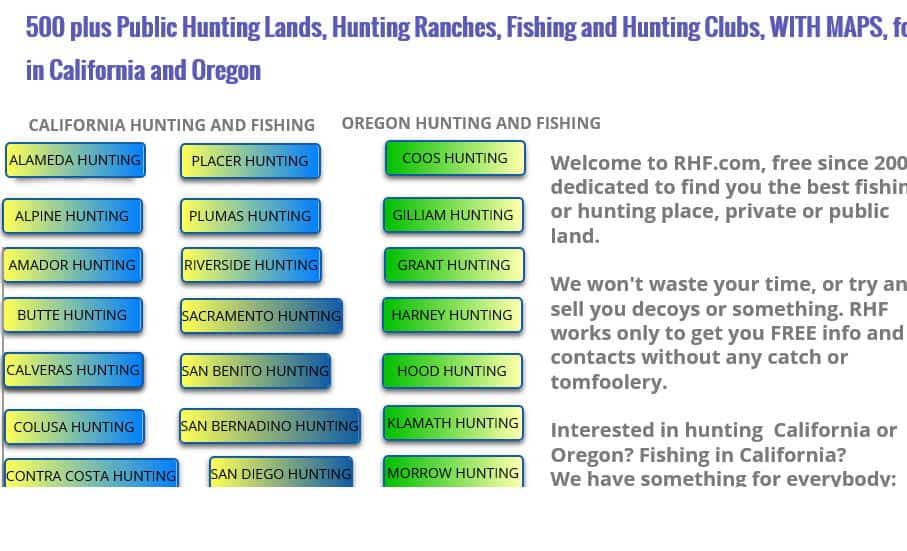 TACKLING STOCKERS: Fishing tactics and tackle for these small lakes usually centers around spinning tackle and bait. Popular "jar" baits such as Power
Bait, Zeke's, and Uncle Josh's Natura Floating Trout Bait and the most common. Other excellent baits include red worms, nightcrawlers, meal worms,
live crickets, salmon eggs, and that old stand-by, Velveeta cheese. Anglers also add such things as garlic scent or sardine oil to baits. The list of
such additions to create custom scents and flavors that anglers swear work better than the standard stuff is almost endless.
Most anglers opt for sliding sinker rigs with a small egg sinker slipped on the line above a tiny split-shot or a swivel to keep the larger weight from
running down the line to the bait. Baits are usually fished on tiny size 12 to 18 treble hooks (with the exception of salmon eggs, which use a
specifically designed egg hook) and rigs with two hooks are common.
Lures, or poons like Kastmaster, and theone of the standout lures for trout fishing in recent years wasn't designed for trout at all. The tiny tube jig, commonly called a crappie jig, is an ideal lure for hatchery trout. They come in almost any color you can think of and most have glitter of some sort so they mimic tiny bait fish very well. A pair of these fished together has a darting, twitching action that most trout find hard to pass up.
All these baits and lures are fished on very light tackle. Hatchery trout may not be wild, but they have all the instincts of their ancestors. Monofilament line of 2- to 4-pound test is most often used, and rods that are supple enough to cast fragile baits without tearing them off on the cast are most
popular. Many anglers make their own rods by fitting spinning rod handles and guides to soft-action fiberglass fly rod blanks. You can also find these kinds of bait rods in some sporting goods stores. Reels to match these light action rods are tiny and need only a good drag, lightly set, to handle most
of the hatchery trout you'll encounter.
ON THE FLY: Finally, fly anglers shouldn't feel slighted. These hatchery trout offer some good winter fishing when everything else is closed or covered with snow. Simple wet flies and "bugs" such as the Woolly Bugger, Zug Bug, and generic nymphs in olive or black often work as well as anything else. None of the lakes offer float tube fishing or boats, but you can walk the bank and fish.
If you find yourself dreaming about the opening weekend in the Sierra this winter, don't wait, try one of these San Bernardino County Park lakes. They offer some better than average winter trout angling.
Want more Fishing Maps? We have a link to a site that gives you hunting clubs, ranches and contact info for public area and all of the above: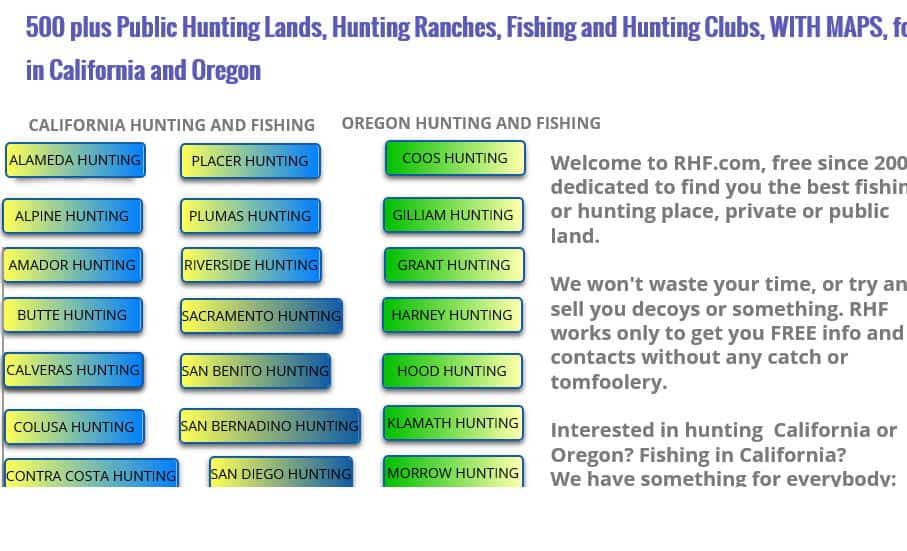 Please click on a County for Fishing and Hunting Clubs, Ranches or the Best Public Land Areas
Please click on a County for Fishing and Hunting Clubs, Ranches or the Best Public Land Areas
Contact Me
for Newsletter
Get on our mailing list for Newsletter and to receive New Fishing and Hunting Maps and Hot Spot News in your areaIf you want FREE info on Hunting access and Fishing on over 200 Private Ranches and Hunting clubs, fill this out ! (We NEVER release your info to anyone not specific to this inquiry!)