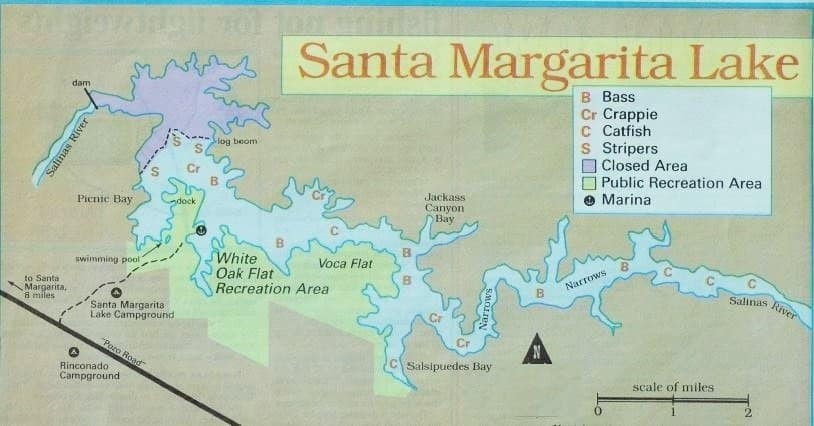 2019 Santa Margarita Fishing Map, Fishing Report, Hunting Clubs, San Luis Obispo Public land maps
2019 Santa Margarita Lake Fishing Map, Fishing Report,
Local Kern Hunting Clubs
How and Where to Fish Santa Margarita
Best Areas for fishing bass, trout,catfish and Striped Bass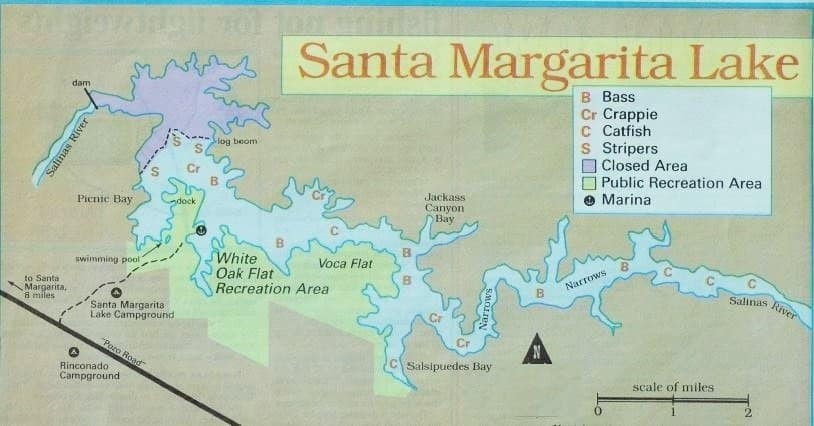 Santa Margarita Lake fishing map and fishing report
Santa Margarita Lake Quick Fishing Information:
Location: Santa Margarita Lake is located just north-east of San Luis Obispo in San Luis Obispo County.
From San Francisco, take Highway 101 south and

turn left at Santa Margarita.
Species: Largemouth bass, striped bass, channel catfish, crappie, bluegill,

Fishing hours: Summer hours are 6 a.m. to 8 p.m.

There is no night fishing allowed.

Boating: Santa Margarita is a drinking water lake and

no water skiing or swimming is allowed.
Camping: Santa Margarita Lake Campground is

located two blocks outside the gate. There are

approximately 200 sites, and about half have complete hook-ups for electrical, sewer and water. There

is also a swimming pool, bathhouses, video room,

laundry, store, small playground and hiking trails.
Santa Margarita Lake fishing map and fishing report
Santa Margarita

Lake in San Luis Obispo County where water skiers are

forbidden and fish are plentiful!
Solid sport for striped

bass, largemouth, crappie, channel catfish and bluegill.

All kinds of fish are chasing

shad in the coves, and anglers who throw shad-imitation baits

like Rapalas should connect with the fish.

The Lake has only come up one foot this winter, but still there is opportunities for a decent outing.
Catfish seem to be all over the lake, and a lot of people

are catching them from the bank,

live or fresh dead shad is the best bait on the

catfish, channel cats are also chewing up mackerel and

chicken livers.

Stripers are starting to impact the action too, with some

good 6 to 10-pounders hitting hooked shad.
Crappie fishing is also productive.

The recent warm weather has brought shad up shallow, and

gamefish are busy feeding on them. Big stripers are looming

just under the surface, and crappie and catfish are in shallow

water lunching on forage fish.
Early Summer is probably the best time of

the year to be on the lake for these species.

Bass fishermen who use boats will have the best success

as the weeds in along the shoreline make it tough to bank fish.

lt can be done. though.
Santa Margarita bass are of northern-strain. so don't

expect them to run the size of their Florida-strain cousins

found in some nearby lakes. Most will run 12 to 15 inches,

making Santa Margarita an excellent place to splitshot or use

other techniques designed specifically for light tackle fishing.

Pig-n-jigs, crankbaits and spinnerbaits are all working for

the bass. Our source4s recommend light-colored cranks.
Bassers will find most of the fish in the top 10 feet.

There is some submerged brush at Santa Margarita. And you're going

to find the bass concentrated around rocky structure. which is

plentiful. The best way to work this kind of structure is to

systematically fish the rocky points. Set your bass boat outside the coves and pitch worms or crankbaits into the bank.
Bass are most active now in the mornings and evenings,

and that's a signal that topwater fishing should be good at

dawn and dusk. Santa Margarita has traditionally been a

topwater lake, and the best areas are usually Swimming Pool

Cove, the cove by the marina, Vaca Flat and the upper end,

but hot spots change, so check at the marina before you go.
Surface plugs that gel a lot of play are Zara Spooks,

Lunker Buzzes, Devil's Horses and Rapalas.

During midday hours, plastic worms are a solid bet,

especially in black, brown and purple, on leadheads.

The bass and other

species coming out of Santa Margarita arc "fat, clean and

healthy looking," the marina source said.
Striper fishermen are wrestling fish that average 8 and 9

pounds, but a few in up to 15 pounds.

The biggest share of the boils have been down at the log

boom. They'll boil for 5 or I0 minutes at a time. Sometimes

you can throw anything out there and they'll take it_ nd

sometimes they don't want to hit anything.
Not surprisingly, live shad's the best bait for the stripers.

But linesides can also be fooled by imitators like large

rainbow colored Zara Spooks and Shad Raps.
Santa Margarita is also a good catfish lake, especially

when you figure there is no nightfishing allowed. Fishermen

working by daylight manage to manhandled some real logs.

The two hot spots are right off the swimming pool and a

spot off White Oak, although catfish will also be found up in

the Narrows, feeding at inlet points from the Salinas River.

L
A

17 pounder came in recently, but most of the

catfish average about 2 to 3 pounds The majority are channel

cats. Your best bet for bait is to net shad and fly-line it, but cut

mackerel or anchovies will work too.
Consider fishing fairly heavy line with lighter leaders, as a

lot of these eats will top 10 pounds.

Catfishing is best from a boat, but bank anglers do get their

fish, especially near the swimming pool. And there is about

seven miles of shoreline you can explore by foot.

One excellent area for bank fishing is off the floats near

White Oak. Take the road down the south side of the lake and

the dirt road that cuts off from there and look for the floats.
Hit the lake early and late for the best action.

Panfish are also plentiful at Santa Crappie are thick throughout the lake, and there are scads

of bluegill to keep the kids happy.

Bluegills re thick in all the

weedy areas of the lake. Take along some Micro Jigs or 3/64- ounce Mini-Jigs, and tip them with a piece of mealworm for

the bluegill.

The easiest way to fish jigs and worms is about 3 feet under

a bobber.
Click on a county for Hunting Clubs & Private Ranches:
Oregon and California hunting and fishing
maps of hunting clubs, hunting ranches, public and private fishing.
If you like our Fishing map and information on how to fish this lake, we have many more hunting and fishing maps, here is a screen shot, but if you want more info, click on this link:
Also, if you want very specific county by county information on fishing and hunting clubs in California and Oregon for private fishing, hunting clubs, and exclusive network of hunting ranches found nowhere else, here is a screen shot below, click on this link to go to the site:
California and Oregon for private fishing, hunting clubs, and exclusive network of hunting ranches
California Hunting Clubs for Turkey, deer, pig, quail, fishing with Hunting Maps.
Please click on a County for Fishing and Hunting Clubs, Ranches or the Best Public Land Areas
Please click on a County for Fishing and Hunting Clubs, Ranches or the Best Public Land Areas
Contact Me
for Newsletter
Get on our mailing list for Newsletter and to receive New Fishing and Hunting Maps and Hot Spot News in your areaIf you want FREE info on Hunting access and Fishing on over 200 Private Ranches and Hunting clubs, fill this out ! (We NEVER release your info to anyone not specific to this inquiry!)