2019 Season List of California Pheasant Clubs. Also private ranch and hunting club for Pheasant Hunting and Fishing
Here you get access to our giant free hunting and fishing Map site, with how to fish and where to fish or hunt these Public lands.
In addition, get access to Hunting Clubs and Private ranches for fishing and hunting. Always free with no strings attached to help preserve our Outdoor Heritage. Click on a County for California or Oregon Hunting or fishing on Public Lands, Hunting Clubs and Private Hunting Ranches.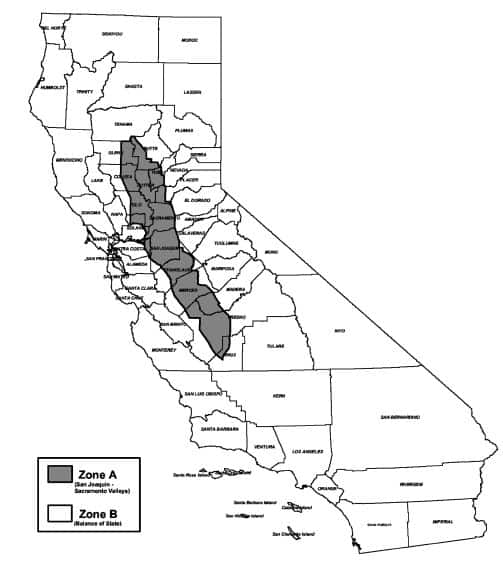 Pretty boring Map? We agree but it is just a list (below) of 2017 Pheasant (Planted) Clubs…for wild birds MAPS AND INFO and also to hunt pheasants on 10 + California refuges see (click):
Also see our featured Pheasant Map site listed to the right
Part I (list of clubs at bottom)
INTRODUCTION
Licensed Pheasant Clubs are privately hunting ranches in parts of California where domestically reared pheasants. Often chuckar, turkey, and quail game birds are also raised to in order for hunters to have an opportunity during, before, and after the regular wild bird hunting seasons .
There are currently two types of clubs and they are categorized as either a Zone A or Zone B club. Licensed Pheasant Clubs are categorized in reference to their location within California.
What distinguishes them is Zone A is an area where wild pheasants are most prolific and hunting late in the season and into the spring would interfere with the wild birds reproduction.
ZONE A Licensed Pheasant Clubs
All Licensed Pheasant Clubs located within the shaded area of this map are designated Zone A clubs. The 2016/2017 pheasant season begins on October 15, 2016 and ends on February 5, 2017. For chucker, turkey, and Quail and any other privately raised game birds, hunting begins on September 1, 2016 ends on March 31, 2017.
ZONE B Licensed Pheasant Clubs
All Licensed Pheasant Clubs in the balance of the state are designated Zone B clubs. Since these areas do not interfere with the wild population of pheasants, the season is longer.
Hunting for pheasants and all other domestically reared game birds on Zone B clubs begins on September 1, 2016 ends on May 31, 2017
BENEFITS OF HUNTING ON Licensed Pheasant Clubs
Hunting season for these kinds of birds can be up to nine months
You can take as many birds in one day as you can afford
Many clubs have their own hunting dogs and will literally rent you one
You can shoot a males or females
On select clubs, take released chukar, turkey,and bobwhite quail in addition to pheasant
Even if you don't like hunting planted birds is a good way to keep your dog trained
If you would like more information about hunting on Licensed Pheasant Clubs, please contact one of the clubs by scrolling down to Part II
Hey! Here are links to our home pages to Free Hunting and fishing Maps site and to our County by County Public Lands, Hunting Clubs, and Private Ranch fishing and hunting info.: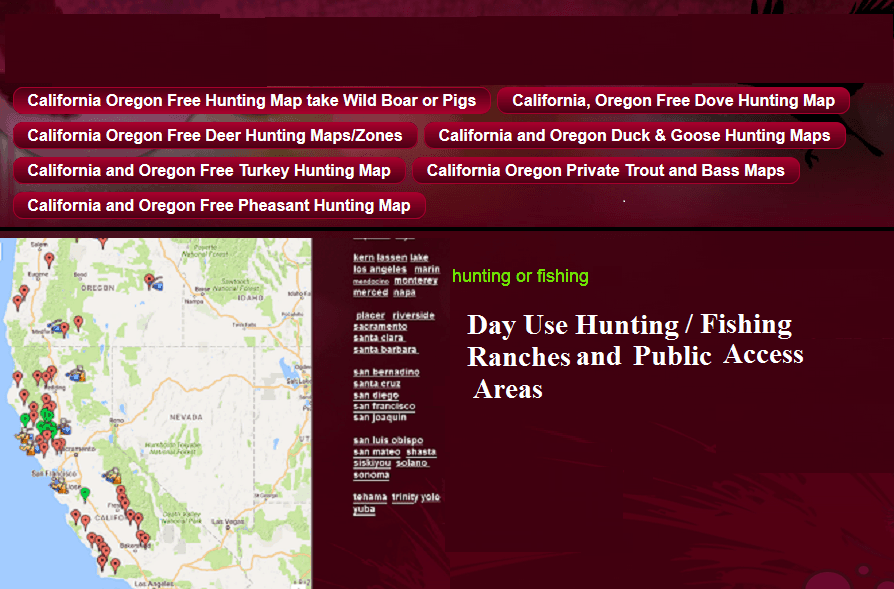 County by County look at California and Oregon Hunting and Fishing Public Lands and Private Ranches and Clubs
FOUR WINDS PHEASANT CLUB
2806 MAY AVE
REDONDO BEACH, CA, 90278
(310) 370-2238
SIERRA HUNT CLUB
10925 BROOKFIELD RD
CHATSWORTH, CA, 91311
WOODLANDS HUNT CLUB
PO BOX 686
IMPERIAL, CA, 92251
(626) 255-1422
MC DOWELL HUNTING PRESERVE
13161 GRAND ISLAND RD
WALNUT GROVE, CA, 95690
(916) 257-9613
CAMP FIVE OUTFITTERS INC.
1530 VALLEY QUAIL PLACE
PASO ROBLES, CA, 93446
(805) 610-0031
OLD PHEASANT CLUB
4896 PLEASANT GROVE ROAD
PLEASANT GROVE, CA, 95668
(530) 701-6969
STOCKTON SPORTMENS CLUB
PO BOX 1364
STOCKTON, CA, 95201
(209) 324-5341
YANKEE SLOUGH HUNT CLUB, INC.
3805 STATE HIGHWAY 65
LINCOLN, CA, 95648
(916) 645-6028
ROOSTER RANCH WINGS AND CLAY
3220 W MONTE VISTA AVE 319
TURLOCK, CA, 95380
(209) 667-0483
FIVE DOT PHEASANT CLUB
PO BOX 99
MILFORD, CA, 96121
(530) 253-3164
ELLIS GAME BIRD CLUB
10798 AVENUE 88
PIXLEY, CA, 93256
LONE PINE PHEASANT CLUB
40953 RIVEROCK LANE
PALMDALE, CA, 93551
(760) 876-4590
CAMANCHE HILLS HUNTING PRESERVE INC
2951 CURRAN ROAD
IONE, CA, 95640
(209) 763-5270
RED BANK OUTFITTERS
PO BOX 8295
RED BLUFF, CA, 96080
(530) 529-9435
STILLWATER SPORTSMAN'S CLUB
PO BOX 52
PALO CEDRO, CA, 96073
(530) 227-0662
Please click on a County for Fishing and Hunting Clubs, Ranches or the Best Public Land Areas
Please click on a County for Fishing and Hunting Clubs, Ranches or the Best Public Land Areas
Contact Me
for Newsletter
Get on our mailing list for Newsletter and to receive New Fishing and Hunting Maps and Hot Spot News in your areaIf you want FREE info on Hunting access and Fishing on over 200 Private Ranches and Hunting clubs, fill this out ! (We NEVER release your info to anyone not specific to this inquiry!)