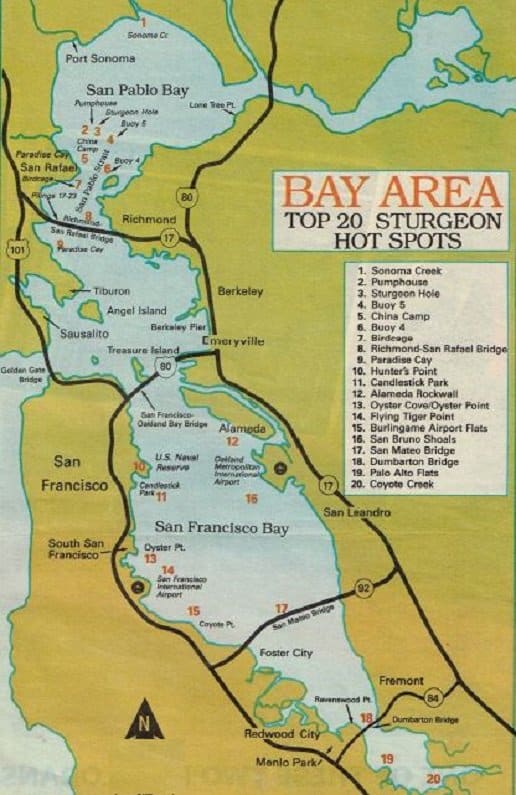 2019 SF BAY STURGEON FISHING MAP AND REPORT, PUBLIC HUNTING AREAS, CLUBS – red markers on map are buoys/Navigational Aids
2019 SF BAY STURGEON FISHING MAP AND REPORTS
SF Bay Fishing Reports
December 28, 2018 – Prospects are really good for those who make their way to San Pablo Bay and the famous "sturgeon triangle." Get your live mud shrimp from Loch Lomond Live Bait in San Rafael, otherwise stick to roe and eel. The fresh water runoff has created a soupy brown quagmire which is just right for sturgeon. The crabs, sand sharks and kingfish are gone, making way for great fishing.
Fishing Map of SF Bay
About SF Bay Fishing
Superb Winter Fishing for Sturgeon in San Francisco and San Pablo Bay
San Pablo Bay Sturgeon Fishing:
November to May fishing occurs with best times from January to March. Hit the flats during high tide Mare Island to China Camp
South Bay, San Francisco Bay:
Decent fishing from December through March from the San Bruno Shoals down to Alviso Slough (South of markers 16-20 on fishing map).
Delta Area Sturgeon Fishing:
January through March Decker Island, Sherman Island, the Antioch Bridge, False River, Frank's Tract, San Joaquin River deep spots. north to Miles Slough at entry of Sacramento River, Cache Slough, Prospect Slough and Miner Slough.
Sacramento River Sturgeon Fishing:
Surgeon spawn in the winter up here and can be caught in the Princeton, Colusa and Meridian, sections of the Lower Sacramento River
California and Oregon Private and Public Hunting and Fishing Information:
If you liked our information and are looking for more fishing or hunting maps, and also access to private ranches and hunting clubs, don't miss checking out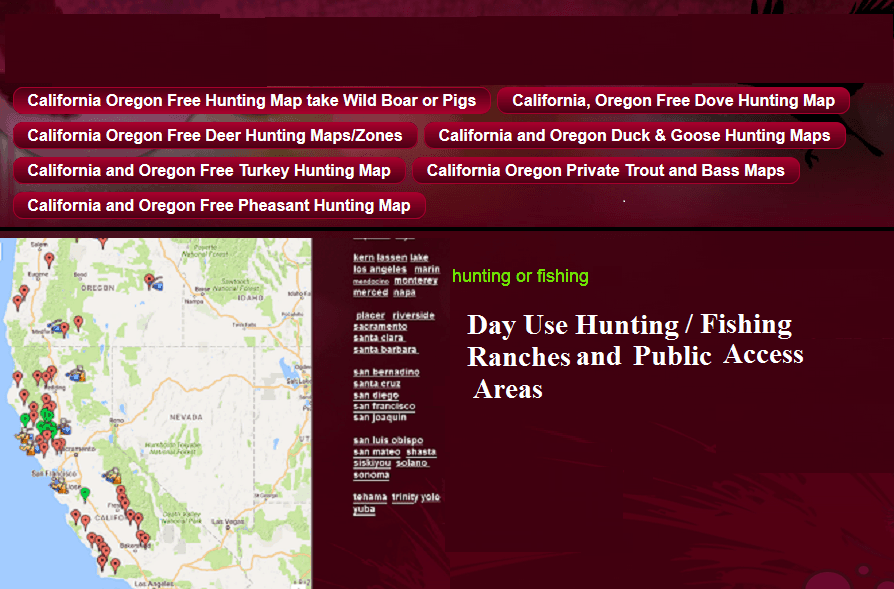 Information on Hunting and Fishing Clubs and Ranches in California and Oregon:
If you want a more specific, county by county description of Oregon and California Hunting Clubs, Ranches and public areas to hunt and fish, you need to see: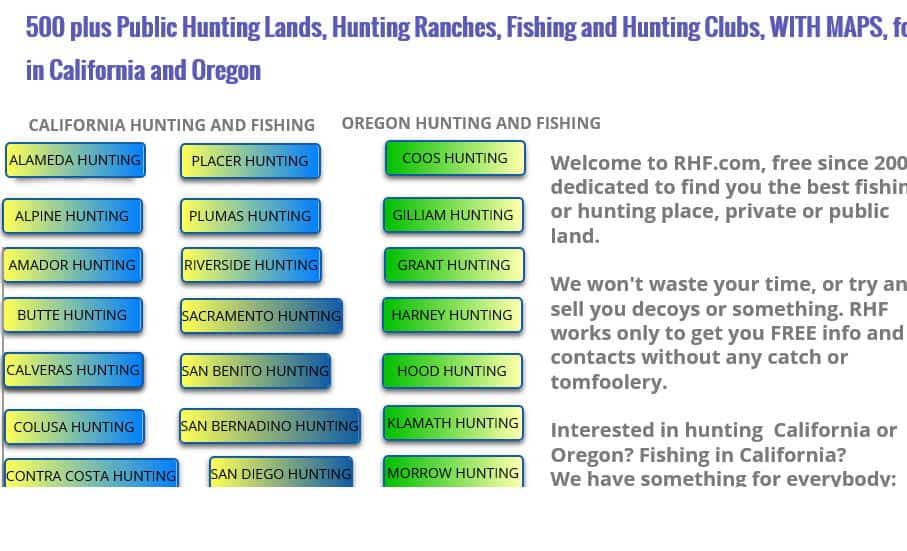 Please click on a County for Fishing and Hunting Clubs, Ranches or the Best Public Land Areas
Please click on a County for Fishing and Hunting Clubs, Ranches or the Best Public Land Areas
Contact Me
for Newsletter
Get on our mailing list for Newsletter and to receive New Fishing and Hunting Maps and Hot Spot News in your areaIf you want FREE info on Hunting access and Fishing on over 200 Private Ranches and Hunting clubs, fill this out ! (We NEVER release your info to anyone not specific to this inquiry!)