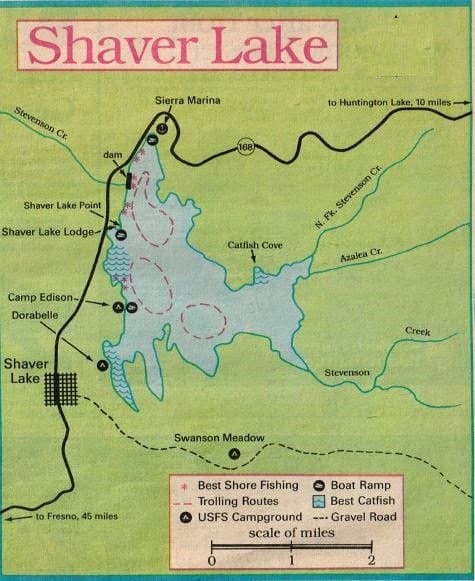 2019 Shaver Lake Fishing Map and Fishing Report, Information, for trout, bass, kokanee, hunting clubs in area
2019 Shaver Lake Fishing to Best Areas and Fishing Report, and also Fresno Private fishing and Hunting Club info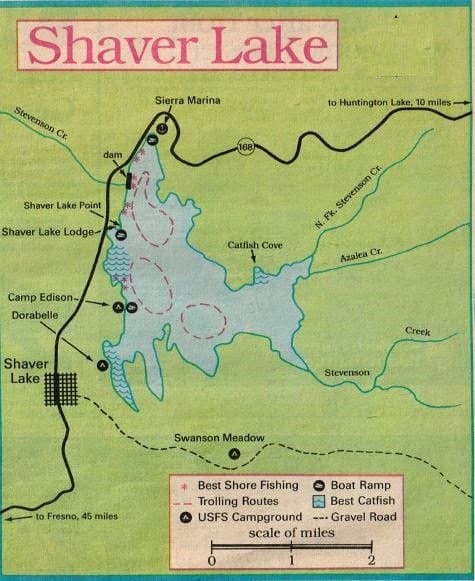 SHAVER LAKE —In the Sierras,
there are plenty of trout lakes, but Shaver has trout, kokanee, crappie, catfish and a small population of
bass and bluegill.
In the Sierra
National Forest,
45 miles north-east of Fresno below Yosemite, Shaver
o
ffers fishing in and campsites and recreational facilities in the area provided by the Forest Service and the power company.
Nearby is Huntington Lake, Lake Thomas A. Edison, and
Florence Lake, all in proximity to the John Muir Wilderness area.
Shaver is open for fishing and accessible all year, and can offer good fishing just about any time. While it seems winter is ideal for its big brown trout, spring rolls around for
crappie and summer heats up the kokanee fishing.
As or fishing report says, catfish and rainbow trout are all year species in Shaver Lake. Bank fishermen can catch trout at Shaver Lake, along the western
shore, but get there earl to avoid getting crowded.
As our fishing map shows,
Shaver Lake Lodge, the dam area and
the public launch and at the Sierra Marina,
has access areas along
the west side.
Right now, bank anglers and boats trolling are doing equally well on 7- to 20-inch rainbows this spring. Shore baits are
Nightcrawlers, crickets and salmon
eggs. The end of April starts
the shore fishing season.
As our fishing map indicates, the dam area, Camp Edison and the point by Shaver lake Lodge.
In the summer, you should try bank fishing from the
rocks around the Tunnel Creek entry
on the east side,
but you need a boat to get there.
Trolling is otherwise the only option, all summer long, a reputation for limits of rainbows between 12 to 16 inches and fat!
A flasher followed by 3 feet of leader and a Triple Teazer and the the No. 2
green frog or rainbow Needlefish is the ideal set up here , but also Rebel and Rapala-types, tow piece, or broken-backs too,
works.
You should fish
about three to five
colors deep on leaded line, from
the surface down to five colors.
According to our fish map, the dam, mouth of the coves,
but
the big fish
come out of the
middle,
down deep
There are
a lot of rocks and snags
around the edges.
According to our fish report,
a brown of 22 pounds was taken and in May or June they are near the surface, chasing rainbows, but after the spring, they go deep.
April and May are considered the crappie time at Shaver Lake. Look for the hand-sized crappie in
any of the various coves around Shaver,
and around structures such as docks.
Use a white or yellow jig about 3 or 4 feet under a
clear bobber. Reel it in slowly; avoid any jerks.
Anglers can catch bullhead catfish much of the year around the lake, usually smallish at
8
to 10 inches, with Night-crawlers, fished day or night, are what
attracts them. The best place is Catfish Cove, not surprisingly, as our fishing map shows.
Kokanee are caught May through
September on Shaver. Use the same rigs as trolls as trout and they range was between 12 and 18 inches.
There are bass in the lake, both largemouth and smallmouth, but not in huge numbers, but fish around the stumps and marsh grass found throughout the lake if they want to find them. Bluegill in the high summer are in coves .
As our fishing map shows, you can stay at the Forest Service campground at Dorabelle Cove, and the SCE grounds at Camp Edison have lots of spaces for RVs or tents, with full services. The public boat launch, and a
Marina where you can rent fishing boats, etc.
California and Oregon Private Fishing and Hunting Club, Hunting Ranches
If you like our Fishing map and information on how to fish this lake, we have many more hunting and fishing maps
Also, if you want very specific county by county information on fishing and hunting clubs in California and Oregon for private fishing, hunting clubs, and exclusive network of hunting ranches found nowhere else, here is a screen shot below, click on this link to go to the site: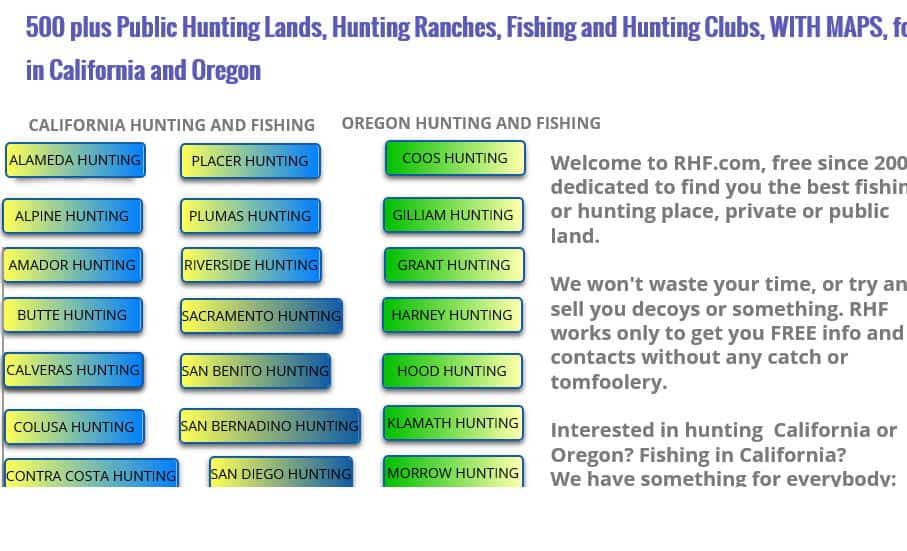 Please click on a County for Fishing and Hunting Clubs, Ranches or the Best Public Land Areas
Please click on a County for Fishing and Hunting Clubs, Ranches or the Best Public Land Areas
Contact Me
for Newsletter
Get on our mailing list for Newsletter and to receive New Fishing and Hunting Maps and Hot Spot News in your areaIf you want FREE info on Hunting access and Fishing on over 200 Private Ranches and Hunting clubs, fill this out ! (We NEVER release your info to anyone not specific to this inquiry!)