2019 Smith River Steelhead Fishing Maps, Report and Hunting Areas Public Land, Clubs
2019 Smith River Steelhead Fishing Maps, Report and Hunting Areas Public Land, and Hunting Clubs
Smith River Fishing Reports
January 23, 2019 – Three days after the Smith River reached the highest flows of the season, anglers found and caught fresh steelhead with both drift boaters and plunkers fishing from shore.
Click here for more fishing reports and maps.
Fishing Map of Smith River
About Smith River
Jedediah Smith, the expedition leader is the Smith River's namesake. It has two tributaries or forks, the Middle and the South,  25 and 20 miles long, respectively, which meet the main stem before a 20 mile run to the Pacific, near Crescent City, California.
Following a series of storms (due to the Smith's lack of Dams) the unobstructed flows allow it to be fishable before (sometimes weeks) any other rivers.
The King (aka Chinook) Salmon return starts in late Summer, into late December, November the high point. Steelhead arrive December and well into March, January being the best month.
The Smith is famed for its yearly output of the largest Steelhead and King/Chinook Salmon of all California Rivers.  Steelhead of 20 pounds are routinely caught, and  the Salmon average around 30 pounds.
Throw in returns of silver salmon, coho salmon, and even anadromous cutthroat trout and jaw dropping scenery you have a bit of paradise for everyone.
For about 8 miles, deep holes of water are between the Highway's 101 and 199 bridges, with Highway 197 that runs along the north bank between the two bridges, for salmon and steelhead.
Most of the holes have riffles that tail out from them that are conducive to fly fishing. You can start or reconnoiter at Simpson Camp or the county park.
There also is a road along the south bank (not surprisingly called South Bank Road) that turns off at the south end of the 101 bridge. This road  runs along the South side of the river… you can find lots of gravel bars taking you to all the deeper water areas holding fish.
From the south side of 101 Highway up to the  Piling Hole is one of the prime area, most productive by boat but fishing in waders is decent.  Note that Pala Road must be used to reach the river here, pull into the Park and make a short hike. Also, Moseley Hole is near here.
Moving upriver, via Sabrina Road, try Cattle Crossing and Rowdy Hole. .You'll need to get to the boat ramp off Fred Haight Drive and hike to reach Woodruff Hole , Bailey Hole, and Rooney Hole.
South of the 101 overcrossing is South Bank Road, access roads are abundant to Bennie Hole and Water Tower Hole.
Off Highway 197 is North Bank Road where you will find Henry Hole about one and one-half miles off 101 and the bar of gravel is just downstream from the parking area.
Keep going upriver on 197 to a large gravel bar at Ruby VanDeventer Park.
Also near the Park look for a parking spot area to Brundeen Hole, or go another one half mile to find a road to which goes to the Early Hole.
Walker Road off Highway 199 to Walker Hole. On the Southeast side of Hiouchi Bridge allows access to Hiouchi Hole, hike downstream to the gravel bar
On 199 (west of the Hiouchi Bridge) proceed west to a gravel road that leads north to a gravel bar. From there head by foot south to the Hiouchi Trail to Bluff Hole and Park Hole.
Past the town of  Hiouchi up 199, for about 1/2 mile, look for a Slant bridge and cross it, take a small road on your right down to the river. There is a decent riffle here, and eventually you will find the South Fork of the Smith.
Yet another cross point, George Tryon Bridge, take a right here to a trail Lophie Hole and Whitehorse Riffle.
No Fishing Allowed Upstream of Jones Creek
No Fishing allowed between George Tryon South Fork Bridge and confluence of Craigs Creek.
No Fishing Allowed East of Patrick Creek
California and Oregon Private and Public Hunting and Fishing Information:
If you liked our information and are looking for more fishing or hunting maps, and also access to private ranches and hunting clubs, don't miss checking out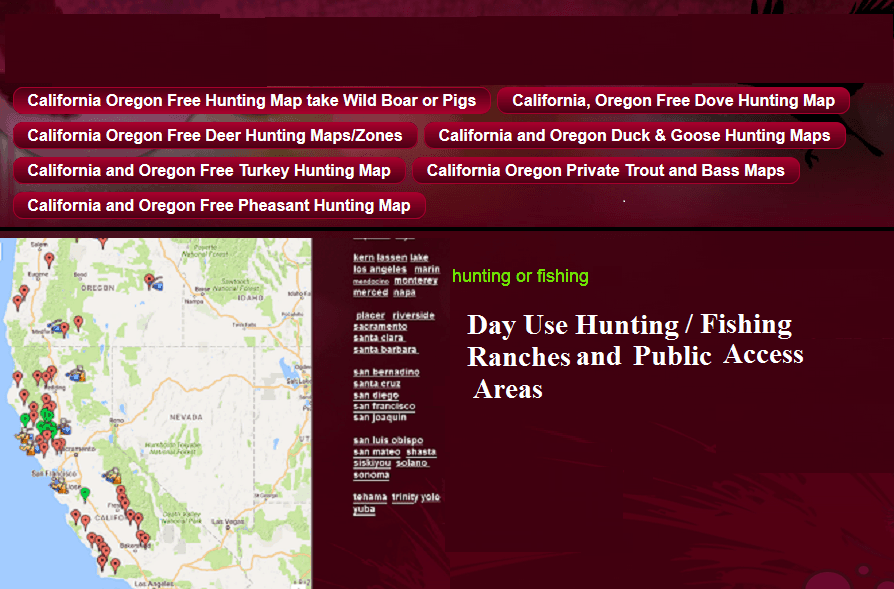 Information on Hunting and Fishing Clubs and Ranches in California and Oregon:
If you want a more specific, county by county description of Oregon and California Hunting Clubs, Ranches and public areas to hunt and fish, you need to see: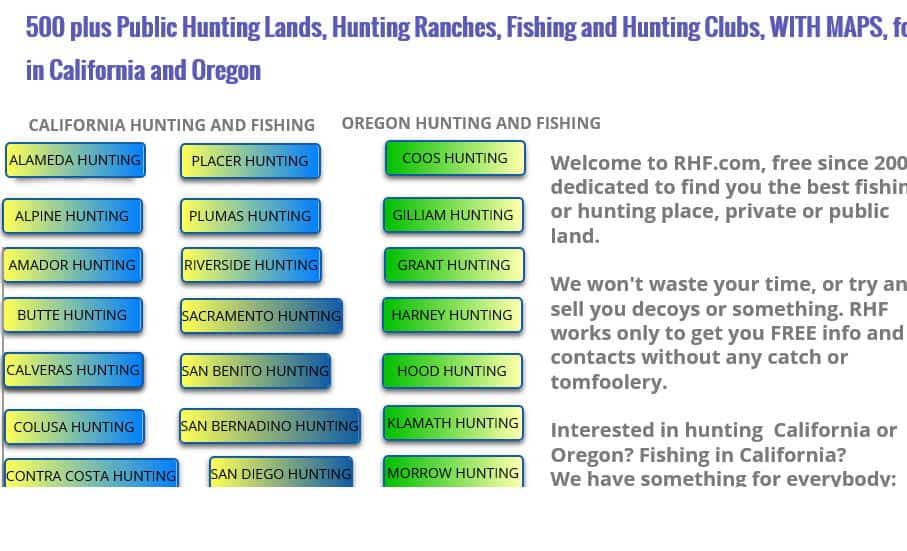 Please click on a County for Fishing and Hunting Clubs, Ranches or the Best Public Land Areas
Please click on a County for Fishing and Hunting Clubs, Ranches or the Best Public Land Areas
Contact Me
for Newsletter
Get on our mailing list for Newsletter and to receive New Fishing and Hunting Maps and Hot Spot News in your areaIf you want FREE info on Hunting access and Fishing on over 200 Private Ranches and Hunting clubs, fill this out ! (We NEVER release your info to anyone not specific to this inquiry!)