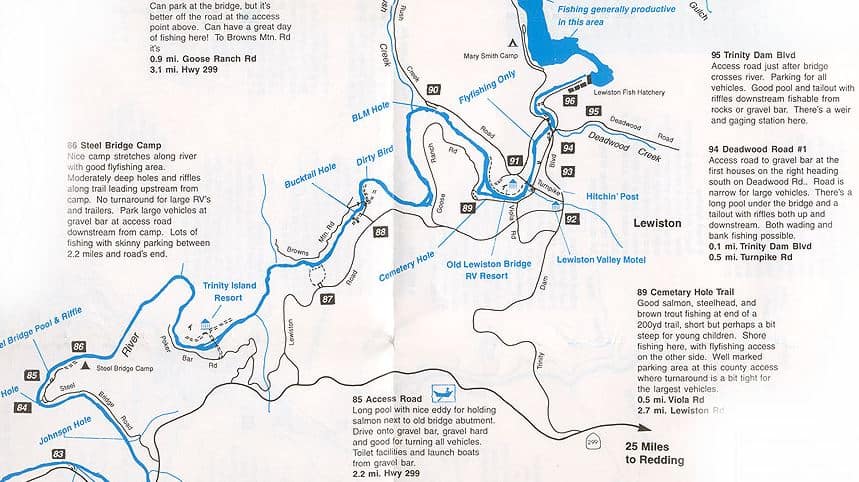 2019 Trinity River Steelhead and Salmon Fishing Report, map and Hunting Areas
2019 Trinity River Steelhead and Salmon Fishing Report, map and Hunting Areas
Fishing Reports
December 23, 2016 – Last week fresh steelhead made their way to the Trinity River just before the creeks rapidly rose and blew away most of their water due to a big winter storm. Fishing is expected to improve again next week, but might be challenged by freezing temperatures.
Fishing Maps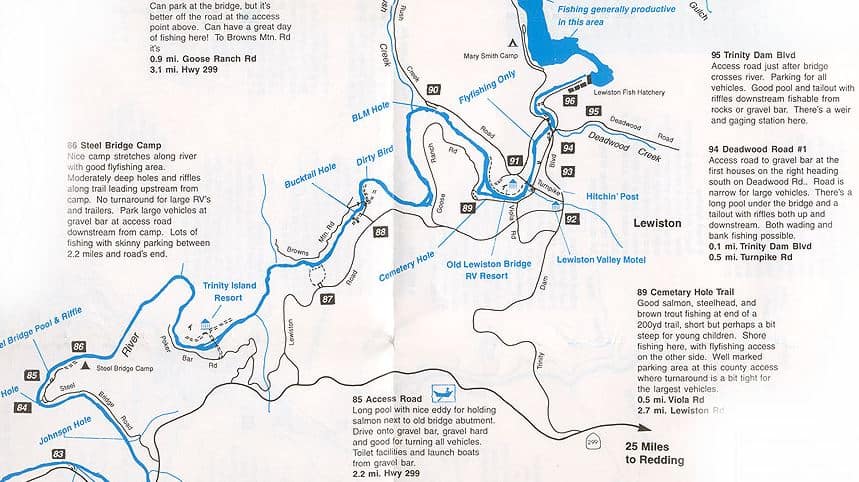 Upper Trinity Note: Picture sized to fit, Steel Bridge is in left lower corner, near the 85 marker
About Trinity River
From its source in the Trinity Alps to the Lewiston Dam, and further downstream, the Trinity meets the Klamath River. In total it flows some 170 miles before reaching the Pacific Ocean.
There are amazing numbers of trout in this river, and it is not unusual to hook and land 5 to 10 adult steelhead of 5 to 8 lbs in a weekend.
The Trinity River produces an decent return of steelhead every year in the 6 to 10 pound range.
It is fly fishing catch and release only in the waters below the dam to the old Lewiston bridge.
Chinook (King) and Coho Salmon show up towards the end of the the late summer and fall. The steelhead follow the salmon from early October through November, through February and sometimes into March.
It follows logic to fish early in the season in the lower stretches of the Trinity.
We recommend the middle section late in the season, around the Steel Bridge past Del Loma, Willow Creek and Hoopa. ,
Standard fly fish technique is nymphing with a floating line and an indicator .
Bring a 6 to 8 weight rod with WF (weight forward) floating line, some waders and dress for the conditions..
Favorite nymphs include Prince nymphs, Golden Stones Hare's Ear. Recommended wet flies from size 6 to 8 would be: Assassins Moss Backs Silver Hilton , Burlap and Brindle Bug.
Click on a county for a listing of public land and contact info for Hunting Clubs/Ranches, and many more Maps! :
If you liked our information and are looking for more fishing or hunting maps, and also access to private ranches and hunting clubs, don't miss checking out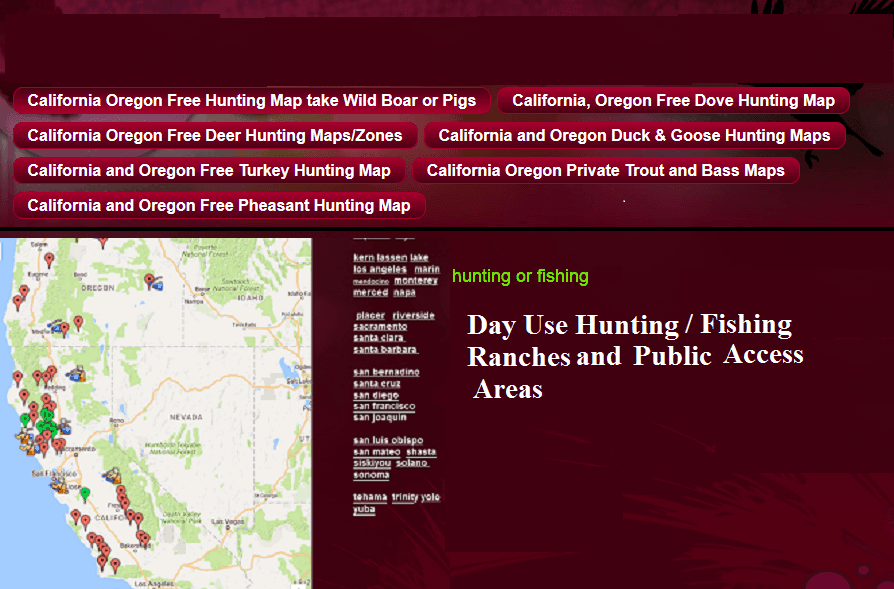 Information on Hunting and Fishing Clubs and Ranches in California and Oregon:
If you want a more specific, county by county description of Oregon and California Hunting Clubs, Ranches and public areas to hunt and fish, you need to see: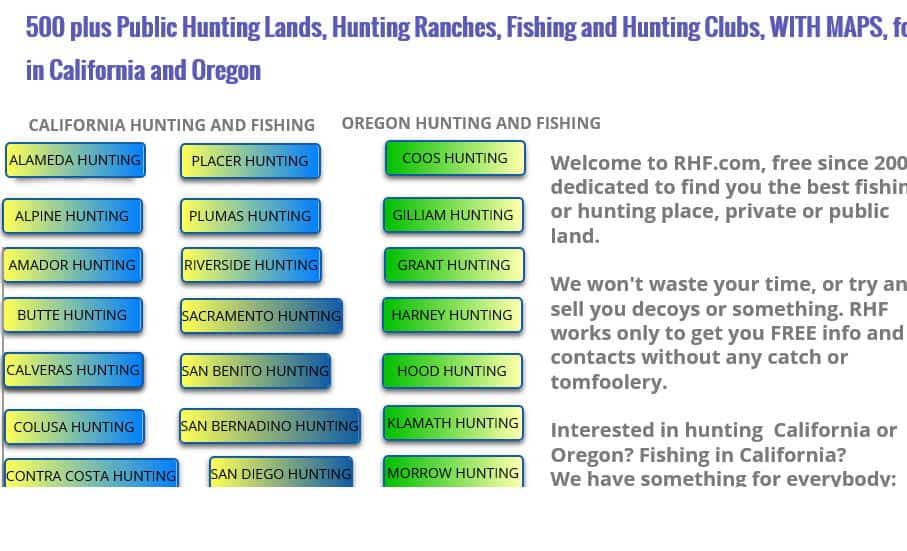 www.freehuntfishmaps.com
www.ranchhuntandfish.com
Please click on a County for Fishing and Hunting Clubs, Ranches or the Best Public Land Areas
Please click on a County for Fishing and Hunting Clubs, Ranches or the Best Public Land Areas
Contact Me
for Newsletter
Get on our mailing list for Newsletter and to receive New Fishing and Hunting Maps and Hot Spot News in your areaIf you want FREE info on Hunting access and Fishing on over 200 Private Ranches and Hunting clubs, fill this out ! (We NEVER release your info to anyone not specific to this inquiry!)