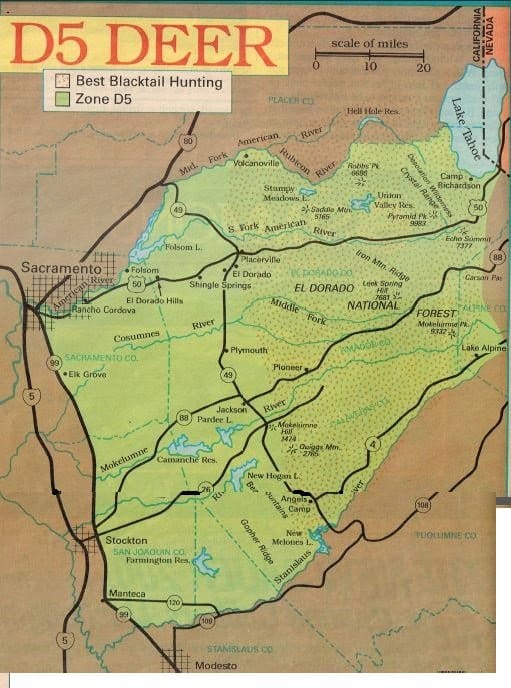 2019 Zone D5 Deer Hunting Maps and California Hunting Report
Zone D5 California Deer Hunting Map

Best Areas to find Deer, How to hunt D5

Local Hunting Clubs and California Hunting Report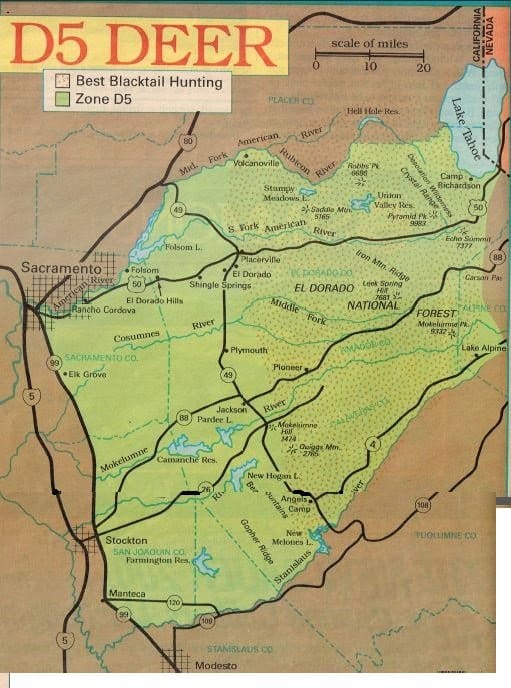 D5 Zone Deer Hunting Information, Local Hunting Ranches and Hunting Clubs
D5 is one of the largest deer hunting zones in Northern California; but successful hunters expect only 15 percent to kill a buck this season. If you want to increase your chances you should buy a detailed map of map of El Dorado National Forest. We've outlined some general areas in the zone, but you will need to get more details, the roads into the forest, and the small lakes, drainages, canyons and elevations.
Zone D5 is actually a huge zone with lots of public access, a wide variety of terrain, and plenty of bucks! But you will find those bucks far away from roads, noisy camps if you're willing to put in the time.
The terrain varies from gradual, sloping foothills to steep, rocky canyons, Deer are abundant in lower elevations in the Sierra Foothills, but access will be limited because of private property. However, there is excellent public access above the 4,000—foot range in El Dorado National Forest.
Zone D5 takes in parts of eight counties, but only half of the zone is worth hunting and that's the western slope of the Sierra from the northeast tip of El Dorado County down to Bear Valley in Alpine County. This high country ranges in elevation from 5,000 to 9,000 feet and is considered the blacktail deer's summer range.
Deer can be found scattered throughout this region from spring through November, or until the first heavy snows hit and send them moving down the hill into their winter range in the Sierra Foothills. But for now, you can count on finding those deer on the north-facing slopes where there are plenty of trees, legumes and water.
The Wrights Lake area is one of the most productive in Zone D5. Located in the Crystal Range, by taking Highway 50 east to Placerville. Follow 50
to Kyburz, then turn left on a Forest Service road leading
to the lake
Another spot where you'll find bucks is the Desolation Wilderness Area, where you can count on seeing more
than hunters. Motorized equipment is prohibited, you will have to pack in, and the area is speckled with high-mountain lakes, streams and wildlife. And hike.
Lots of deer are in the section northeast of Union Valley Reservoir that extends to Loon Lake. There's a good paved road that leads to both lakes. Iron Mountain Road, located south of Highway 50, is another excellent bet for opening weekend hunters
Season: Usually mid September through beginning of November.
Oregon and California hunting and fishing
maps of hunting clubs, hunting ranches, public and private fishing.

We have many maps or go to our county by county site for more specific info :

Click on a county for Hunting Clubs & Private Ranches:

If you like our Fishing map and information on how to fish this lake, we have many more hunting and fishing maps, here is a screen shot, but if you want more info, click on this link:
www.freehuntfishmaps.com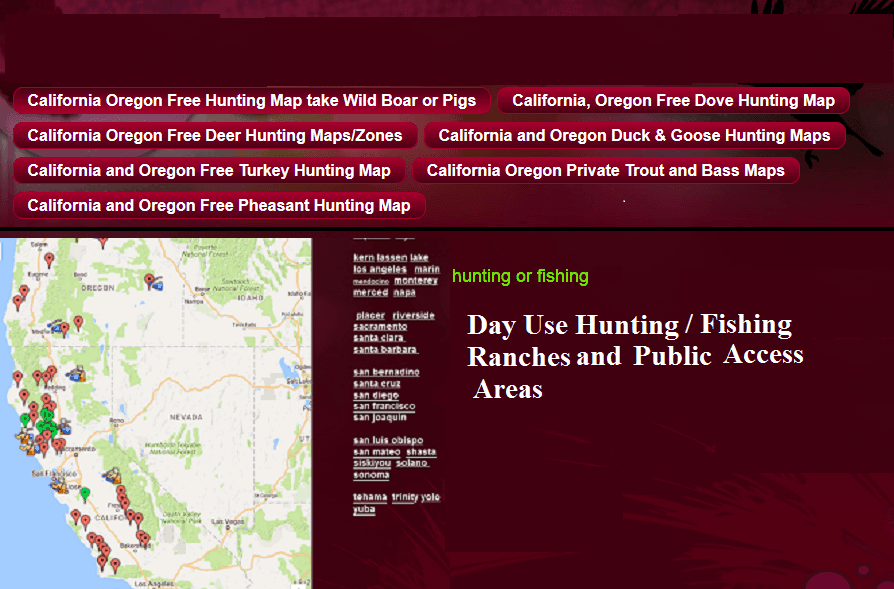 Also, if you want very specific county by county information on fishing and hunting clubs in California and Oregon for private fishing, hunting clubs, and exclusive network of hunting ranches found nowhere else, here is a screen shot below, click on this link to go to the site: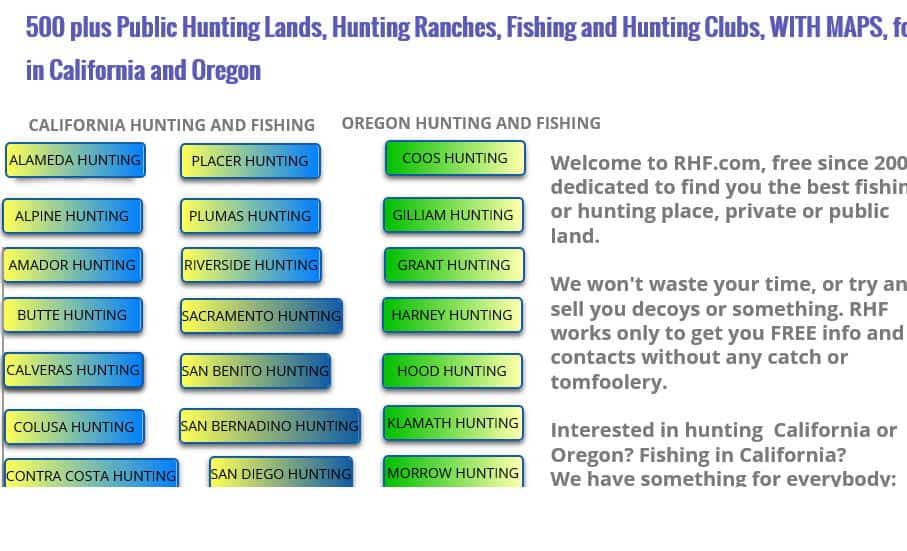 www.ranchhuntandfish.com
California and Oregon for private fishing, hunting clubs, and exclusive network of hunting ranches
we have many more fishing maps and hunting maps at www.freehuntfishmaps.com
California Hunting Clubs for Turkey, deer, pig, quail, fishing with Hunting Maps.
Please click on a County for Fishing and Hunting Clubs, Ranches or the Best Public Land Areas
Please click on a County for Fishing and Hunting Clubs, Ranches or the Best Public Land Areas
Contact Me
for Newsletter
Get on our mailing list for Newsletter and to receive New Fishing and Hunting Maps and Hot Spot News in your areaIf you want FREE info on Hunting access and Fishing on over 200 Private Ranches and Hunting clubs, fill this out ! (We NEVER release your info to anyone not specific to this inquiry!)