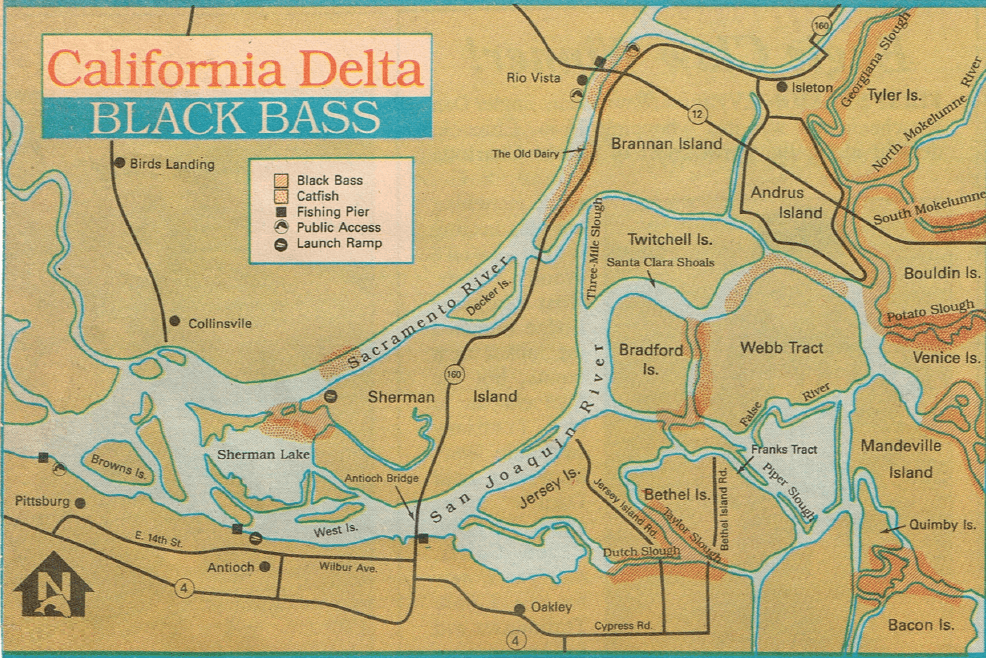 DELTA BASS FISHING MAP WHERE LARGEMOUTH BEST AREAS TO FIND BASS
DELTA FISHING MAP WHERE LARGE MOUTH BASS BEST AREAS TO FIND BASS ALSO ACCESS TO 120 HUNTING RANCHES AND CLUBS (FISHING ON FARM PONDS) FILL OUT FORM BELOW OR SEE OUR OTHER MAPS
Many people think the best black bass fishing in California is in foothill farm ponds. (see our other pages for free maps and access to many Hunting Ranches with fishing or fill out form below).  This makes sense if you can fish within a couple of hours of home. However, if you live in the Bay Area and own a boat you have decent black bass fishing closer to home than that.
In fact, there are a number of spots in the Delta where you can take nice 1- to 3-pound black bass, decent numbers of crappie and all the catfish you need! You w0n't, except for zippy water skiers on warm days, have to share prime spots with a flotilla of other boaters either. W1th more than 3 ,000 miles of shoreline, there's a private bass spot for every- one!
The Delta most often is popular  for stripers, salmon and shad. However. fishing the Delta south of Frank's Tract for bass is good to excellent! It may offer its best fishinz during the winter "off season" . The river channels and the lower sections of tributary streams shoudl get your attention.
SOUTH DELTA
If you live in the South Bay, drive out Highway 580 toward Tracy and concentrate on the Old River, Paradise Cut, Middle River and Trapper Slough. Don't spend too much time at any one spot Have a batch of rods rigged and fine a plug, spinnerbait or plastic bait into likely cover a few times. '
If you have a small skiff or canoe, slide into the many smaller canals or even roadside waters that bass-boat boys overlook. Don't overlook even the smallest opening. Some spots near Frank's Tract that are only accessible by canoe. Ditches 3 feet wide lead back into an elbow lake that has wonderful bass fishing in the fall and considerable numbers of pheasants and ducks in season. Ponds inside levees produce too. If you can get permission to fish private ponds and the drains along Union or Victor islands, you can do well.
Please click on a County for Fishing and Hunting Clubs, Ranches or the Best Public Land Areas
Please click on a County for Fishing and Hunting Clubs, Ranches or the Best Public Land Areas
Contact Me
for Newsletter
Get on our mailing list for Newsletter and to receive New Fishing and Hunting Maps and Hot Spot News in your areaIf you want FREE info on Hunting access and Fishing on over 200 Private Ranches and Hunting clubs, fill this out ! (We NEVER release your info to anyone not specific to this inquiry!)