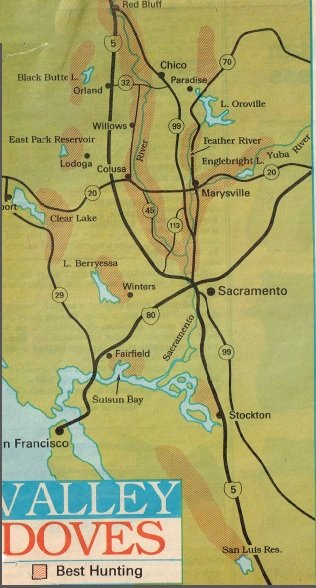 Dove hunting California where to hunt doves, public lands, hunting clubs and ranches
Dove hunting California

Hunting Maps, Hunting reports and How to hunt Doves

Where to hunt doves, public lands, hunting clubs and ranches

How to succeed at dove hunting! Use our hunting map to find some general location, then find water and grainfields and add a generous dose of scouting! As usual, this year's dove season starts Sept. l ends Sept. l5. Then there's a two month closure before the second years season opens Nov. 12 and runs Dec. ll. .
Scouting is the key to success! Try and combine dove, quail, pheasant while bass pond scouting in the foothills of California or join up with our network of hunting ranches and hunting clubs, most of which have good to great dove hunting.
Look for dove habitat, grain fields like millet, corn, safflower and sunflower. Permission is, of course, easier to get during off-season too. Sandbars on the Feather and Sacramento rivers collect doves early and late in the day. Boat access dove hunting hunters away from most pressure. It you hunt along waterways that have doves in great numbers. And it lets you harvest doves that fly to from otherwise posted land!
Water is another key to success, especially in the northeast part of the state, in Lassen and Modoc counties, because water is limited up there." He said water is not as important in the Central Valley because there are a lot more rivers, aqueducts and reservoirs. Therefore, doves won't be as concentrated as they will in other drought-riddled regions.
So where you find doves, you'll find water nearby, and in the Sacramento Valley, there are some key spots along the Feather River. The Orovillc Wildlife Area to Gridley Bridge, the Bridge to Live Oak, Live Oak to Shanghai Bend, Shanghai Bend to Boyd's Pump and Boyd's Pump to Verona drifts all produce birds if you gel out early.
Sacramento River doves from Red Bluff downstream are available early or late — easy levee road access in many areas means you can shoot in the evening. Then haul your boat up the bank instead of making a long run to a ramp after dark.
In the Delta, birds around Sherman Island and Georgiana Slough,and Bay Area residents might look in for access behind Castro Valley, towards Briones Valley, and, with considerable effort, in the Sobrante Ridge area. All of the spots near urban areas are, of course, crowded and permission to hunt may be difficult! So check at the county courthouse and regional Fish and Game offices and you can find smaller public areas that permit hunting.
If you haven't scouted, and want to hunt the Central Valley, try levee roads along valley rivers at the first and last two hours of the day. These areas will crowd, but there are usually enough birds for a Saturday and Sunday shoot. If you want to hunt more days, pay close attention to the feeder creeks, sloughs and ditches that run into the Sacramento, Feather or San Joaquin rivers. Check all direct access roads that leave levee access, and get out of the car to look for last year's shells. Tip: always pick up your empty shells, no point in tipping off a good spot! Spots inside bypasses and on flood plains inside the main levees can be
The second season Nov. 12-Dec. ll, when most people are hunting ducks in rain, sleet and snow! The only doves you'll see in the North State are ones from Washington and Oregon that are migrating south, and 90 percent of them will already be in Southern California's Imperial Valley or in Mexico where limits are liberal. Why the split season? To give doves in Washington and Oregon a chance to migrate south without giving hunters a shot at them.
The northern birds migrate the middle of September and are usually down south by mid—November. Doves pack their bags and head to warmer weather at the first rain or cold snap. Game managers in Oregon and Washington don't want Californians shooting their birds, so to speak, so we must suffer through the closure. N
Nonetheless, there are still plenty of California birds to shoot.
California hunting clubs, hunting ranches, public and even private fishing
Hunting private lands in California has several advantages over the public areas. Chief among these are much less hunting pressure, better forage and water supplies and easier vehicle access. It's a fact of life, and hunting on private ranches is almost a sure thing.
We use a hunting map site that has over 200 private ranches, with or without guides www.ranchhuntfish.com
It's free, and get you access to our free map site too. Here is a copy of the home page: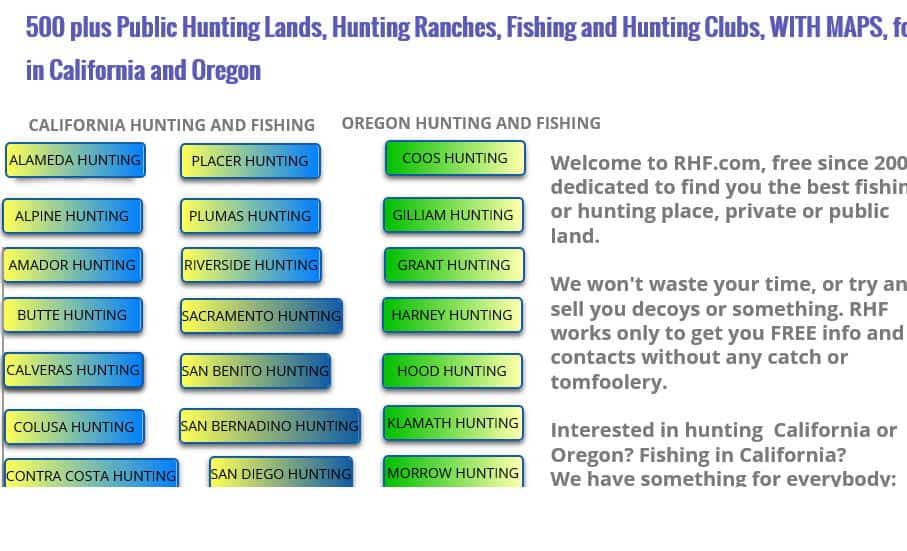 We have many more hunting and fishing maps, here is a screen shot, but if you want more info, click on this link: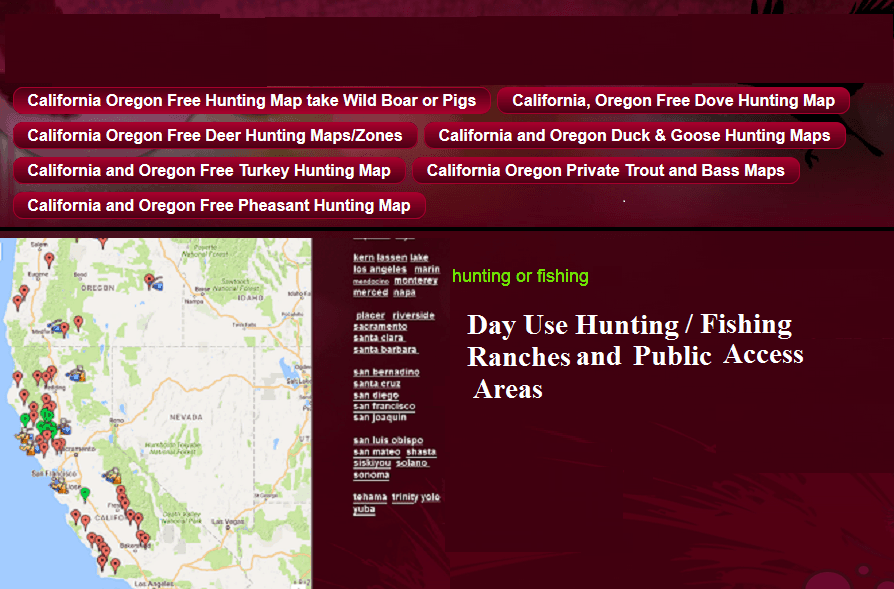 Subscribe to our HotSpot newsletter, get weekly reports and new maps!
Please click on a County for Fishing and Hunting Clubs, Ranches or the Best Public Land Areas
Please click on a County for Fishing and Hunting Clubs, Ranches or the Best Public Land Areas
Contact Me
for Newsletter
Get on our mailing list for Newsletter and to receive New Fishing and Hunting Maps and Hot Spot News in your areaIf you want FREE info on Hunting access and Fishing on over 200 Private Ranches and Hunting clubs, fill this out ! (We NEVER release your info to anyone not specific to this inquiry!)