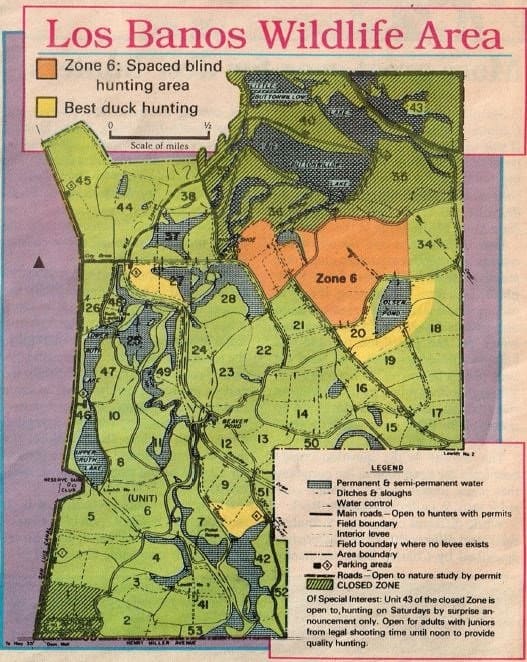 2019 Duck hunting California Los Banos Refuge hunting report and how to hunt Los Banos refuge
Duck hunting California Los Banos Refuge
– hunting report and how to hunt Los Banos refuge
– Los Banos Refuge Maps and information
– local duck hunting clubs and blind leases
-Access to 80 Hunting Ranches and Hunting Clubs for one monthly fee
Los Banos— It's plenty of tight-fisted, jaw-set grit and determination to get clean water into the Grasslands Refuge region for ducks and duck hunters this year. And the battle has just begun. The payoff is right now, however, for water- MALLARDS and pintails are two of the major targets at Los Banos, but Refuge hunters should also get a shot at gadwall, teal and shovelers now and geese later in the season, stay tuned with our Refuge Hunting Reports as season progresses.
Zone 6 shapes up as one of best bet for prime California Duck Hunting on the opener and after at Los Banos Refuge. It offers 14 spaced blind areas on the high-yield northern end of the zone and last year produced limit shooting for many hunters opening day. This year's users should again see first-class early season action.
There are ways to boost the odds wherever you're hunting on Los Banos Refuge, lots of decoys. Bring at least a dozen magnums, Mallards will do best early in the season. Later on, hunters should pack pintails. Besides mallards and pins. Los Banos hunters will take home some gadwalls, greenwing teal, shovelers and cinnamom teal on opening day, so plan your dekes accordingly. Sportsmen usually average three birds apiece or better on the opener. Camouflage, the more the better, will increase your chance at a limit in the permanent blinds of Zone 6, and in other areas, (Refer to our Refuge Hunting maps) where duck hunters have to build their own concealment.
Tules and tumbleweed provides good blind materials. Hunters often pack the camo-type tarps and covering for extra cover, Hip waders are useful most of the season, but if the first weeks are extra warm, you may enjoy the hunt more in short boots or tennis shoes. stay tuned with our Refuge Hunting Reports as season progresses.
Those who show up early get the best shot at hunting areas not already reserved by the standard application procedure. Refer to our Refuge Hunting maps, and Depending on how close to the front of the line you are, there's a good chance you'll get in to hunt the popular zones 3 and 4, where a 1/2-mile hike will take you into the highly productive Area 14 and Field 2l. Another spot where shotguns usually smoke is the northeastern edges of Olsen Pond near Zone 6. Take along an I-shaped tule seat to keep up off the water.
With all this talk about ducks, Los Banos Refuge hunters should keep in mind the good goose hunting that's expected this year. Unlike ducks, nesting and breeding for Pacific Flyway snow geese was considerably more productive last year, and hunters should see more targets. Don't forget the
closure on dark geese, and plan on making a mid-November trip, when goose action really starts to gain momentum. Stay tuned for our Refuge Hunting reports as the season progresses.
Los Banos has three hunting areas. Refer to our Refuge Hunting maps..There is a free-roam that when fully flooded will accommodate 80 to 100. Hunters can set up their own blinds, and hunt anywhere they choose within the free-roam area. In addition, there are two zones with assigned blinds. Zone 14 blinds, each one can hold up to three hunters. Zone 7 four blinds. This zone is designed to provide junior hunters with an exceptional hunting experience. It will only happen a limited number of Saturdays, and each hunter must accompanied by a junior licensed hunter. You will need hip boots, but the doesn't get much deeper than 16 inches.
Reservations are. recommended for all five areas, particularly if you are interested in hunting from an established blind. Reservations at free-roam areas are also recommended since they guarantee you access There is hunting on a first-come, first-served basis -the sweat line -which forms at the check in station prior to the hunting timer Hunters are allowed in if there are spaces available or no-shows 1n addition, hunters are let in as people leave. The cost for adults is $20 per day.
California hunting clubs, hunting ranches, public and even private fishing
NEW Program:
Access to ALL 80 Hunting Ranches and California Duck Hunting Clubs for one monthly fee
Hunting private lands in California has several advantages over the public areas. Chief among these are much less hunting pressure, better forage and water supplies and easier vehicle access.
We use a hunting map site that has over 200 private ranches, with or without guides www.ranchhuntfish.com
Click on a county for Hunting Clubs & Private Ranches:
It's free, and get you access to our free map site too. Here is a copy of the home page:
www.ranchhuntfish.com
We have many more hunting and fishing maps, here is a screen shot, but if you want more info, click on this link:
Please click on a County for Fishing and Hunting Clubs, Ranches or the Best Public Land Areas
Please click on a County for Fishing and Hunting Clubs, Ranches or the Best Public Land Areas
Contact Me
for Newsletter
Get on our mailing list for Newsletter and to receive New Fishing and Hunting Maps and Hot Spot News in your areaIf you want FREE info on Hunting access and Fishing on over 200 Private Ranches and Hunting clubs, fill this out ! (We NEVER release your info to anyone not specific to this inquiry!)