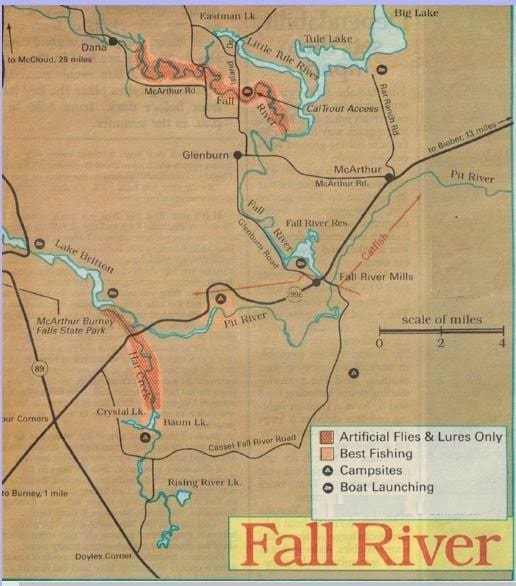 Fall River 2019 Trout Fishing REPORT and Fishing Map with Private Fishing Access, local Hunting Clubs
Fall River Trout Fishing – Where to Fish


Fishing REPORT and Fishing Map to Best Areas


Private Fishing Access and Local Hunting Clubs and Ranches

for private fishing access and camping on the river (not shown on map) go to
www.ranchhuntandfish.com
and click on County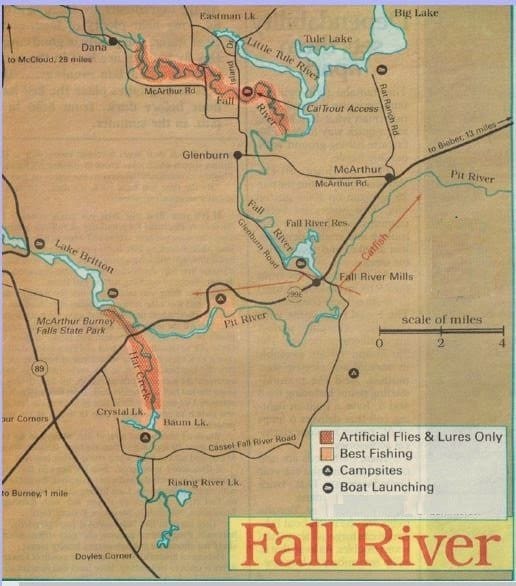 FALL RIVER MILLS, CALIFORNIA
Fall River is home of
native rainbow and brown trout and is famous as one of Northern California's most beautiful waterways.
The Fall River starts
high in
National Forest at Thousand Springs eventually running
through the town of Dana. Here, the next few miles of the
are reserved for fly fishermen,
except single barbless
lures may also be used.
lt is one of California's top native trout fisheries, certified
at 2,000 trout per river
mile.
If you want a chance
at native rainbow trout, it can be frustrating,
particularly in
the crystal-clear waters. The best months to fish Fall River are May, June and
early July.
Dry fly fishing is amazing following the huge Spinner Fall hatches happens
every morning, so try olive and rust colors, size 16 and 18, but as
summer moves on,
try smaller sizes, 20 to 22.
The Fall River trout can be picky, you are competing with so much natural feed, so matching the Fall River hatch is tricky, but those who get it right will be rewarded.
Bait plunking fishermen can
get some excellent fishing in the lower Fall river where limits are
more liberal and trout fishing's still great!
MORE ABOUT HOW TO FISH THE FALL RIVER "MATCHING THE HATCH"
The spinner hatch
through June and early July, every day at 7 a.m,
until
11 a.m. But then pale, yellow mayfiies, size l6, start hatching until 12 or as late as 2 p. m.
If wet flys are your preference
nymphs are Zug Bugs, Hares ear,
Pheasant Tail Nymphs and black or olive,size 10 to 12
work best early in the season and smaller sizes, l6 to 20, are most effectivet in late June and July.
Caddis flies are almost always present so
cast Elk Hair Caddis, dark or olive Caddis or black Caddis.
Fall River is wide and deep, and bank access is very
limited because of private ranches, therefore, so anglers are relegated to boat or kayaks.
Private access on Fall River at Ranchhuntandfish.com
We have several private ranch access points on this river for you if want further information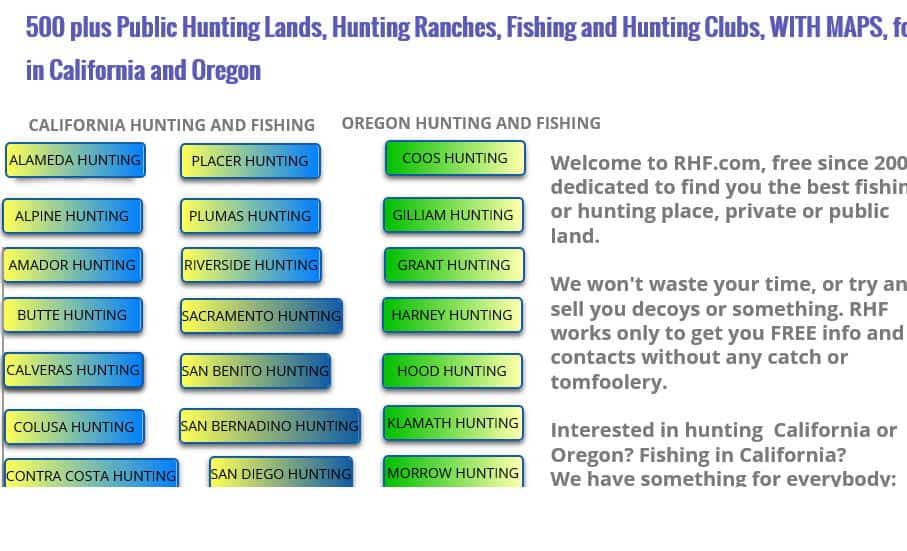 No gas powered
motors are allowed in the upper
river, but
are OK in the lower
river.
The upper,
it's oars or electric motors
only.
You owe it to yourself to check out this great California Trout fishery.
Want more Fishing and Hunting Maps with fishing reports? Also shows Hunting Clubs and Private Hunting Ranches in this area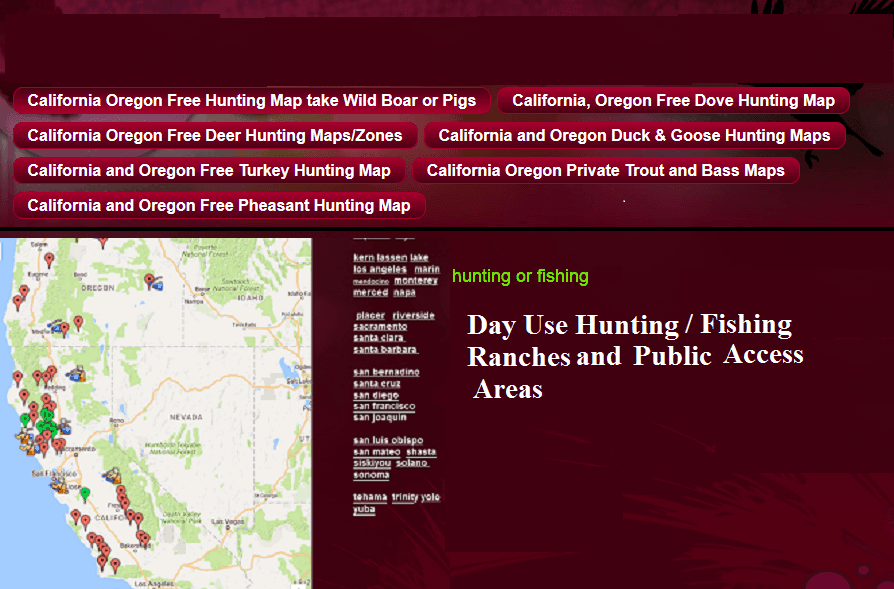 Please click on a County for Fishing and Hunting Clubs, Ranches or the Best Public Land Areas
Please click on a County for Fishing and Hunting Clubs, Ranches or the Best Public Land Areas
Contact Me
for Newsletter
Get on our mailing list for Newsletter and to receive New Fishing and Hunting Maps and Hot Spot News in your areaIf you want FREE info on Hunting access and Fishing on over 200 Private Ranches and Hunting clubs, fill this out ! (We NEVER release your info to anyone not specific to this inquiry!)