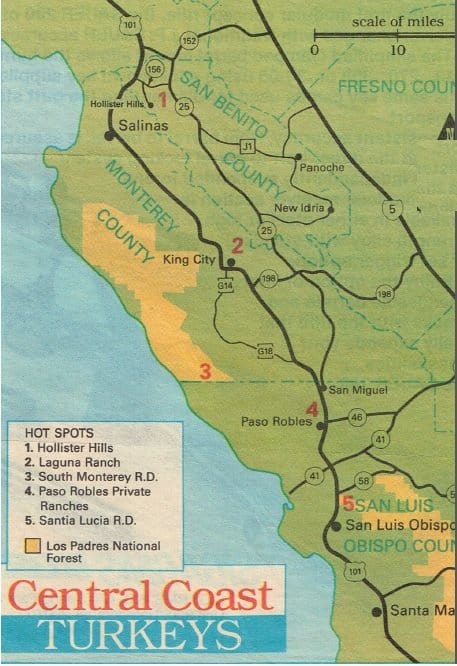 Free 2019 Turkey hunting info and MAPS Monterey, San Luis Obispo, Santa Barbara, Hunting Clubs and Ranches
Monterey, San Luis Obispo, San Benito, Turkey Hunting info

California Turkey Hunting Public Land MAPS to Best Areas

500 plus Hunting Clubs and Ranches California and Oregon
One of our Maps for Central Coast Turkey Hunting is listed here, with inside tips of where to go. We have FREE with zero strings attached hunting maps with over 500 Hunting Clubs and Ranches in California and Oregon. All have Contact info for Turkey Hunting as well as Boar, Pheasants and Fly Fishing. We also list Public Land and BLM areas for Hunting in California and Oregon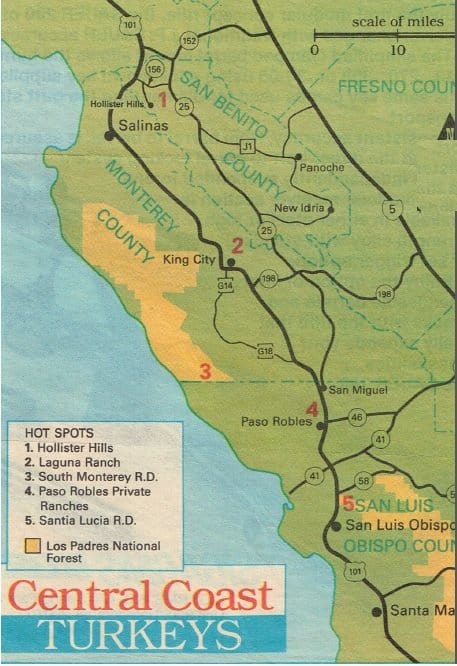 Turkeys roam Los Padres forest and more- there's some Merriam turkey hunting available south of the Bay Area, particularly in Monterey, San Luis Obispo and San Benito counties. Turkeys are doing quite well in this region, where birds have been transplanted by the Department of Fish and Game. The emphasis of the program has been to move birds directly to public land or to areas of private land where it is reasonably confident the plant can expand in numbers.
We have 15 Hunting Ranches in the Central Coast region to 8800 acres, click on the information below to get more information. They are affordable and family camping friendly.
Some of the best hunting can be found on public land in the Los Padres National Forest, but private property in the region is worth hunting too. Some of the best turkey hunting -and pig hunting for that matter – can be found in the Los Padres forest, particularly in the southern one-third of the area south of Plaskett Ridge.
Prewitt Ridge is another productive area. Both are located between Highway l and Fort Hunter Liggett. Campgrounds are located at Plaskett Ridge and the gravel roads and trails that branch out from these campgrounds are good places to hunt turkeys
Hunt the border of the Fort Hunter Liggett around Alder Ridge. Look for birds around Alder Creek and Villa Creek, or head out of the Willow Creek Campground. Look for fresh droppings under roost trees and you can quickly determine if turkeys are using the area.
Acorns will be a key, but water will be even more important. Once you spot turkeys, you can bust them up with the help of a dog. Once they flush, take a well-camouflaged stand and try some "peep" calls. Yearling turkeys will be quick to call and hens will often respond. It will be difficult to fool a big, old gobbler, so shoot anything bearded that comes within range.
Private Ranches and Hunting Clubs for Hunting in California and Oregon
Always
free and even devoid of advertising, nor do we try and sell you anything, our sites will help keep the outdoor world we love preserved for generations. Here is one of our sites for Hunting in California and Oregon,
www.ranchhuntandfish.com
go there and your're in business!

Our sites include maps for access for Turkey Hunting, as well as 100's of Pig Hunting ranches, clubs, and Public lands. Deer Hunting zones and areas in addition to Hunting ranches, Duck Hunting Clubs, Duck Hunting refuges, maps. List of Pheasant Hunting clubs for planted and wild upland birds with phone numbers. Here is another of our sites with maps and other info for you, Good Hunting!
www.freehuntfishmaps.com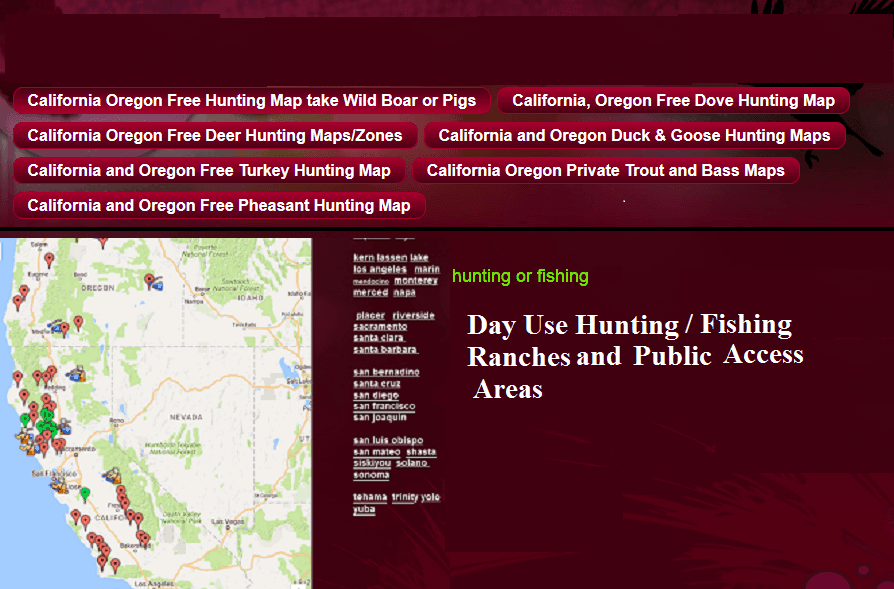 Please click on a County for Fishing and Hunting Clubs, Ranches or the Best Public Land Areas
Please click on a County for Fishing and Hunting Clubs, Ranches or the Best Public Land Areas
Contact Me
for Newsletter
Get on our mailing list for Newsletter and to receive New Fishing and Hunting Maps and Hot Spot News in your areaIf you want FREE info on Hunting access and Fishing on over 200 Private Ranches and Hunting clubs, fill this out ! (We NEVER release your info to anyone not specific to this inquiry!)