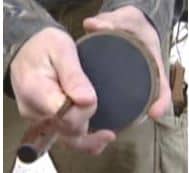 How to Call Turkeys and Best Type of Turkey Calls to Use for Beginners, plus Hunting Clubs and Ranches
Here you get access to our giant free hunting and fishing Map site, with how to fish and where to fish or hunt these Public lands. Get access to Hunting Clubs and Private ranches for fishing and hunting. Always free with no strings attached to help preserve our Outdoor Heritage. Click on a County for California or Oregon Hunting or fishing on Public Lands, Hunting Clubs and Private Hunting Ranches
How to Call Turkeys and Best Type of Turkey Calls to Use For Beginners
Here we discuss first the different types of calls and their attributes. We then discuss how to use and what we consider the best type of call for the beginning turkey hunter
So what are the types of calls ?
So which of these should you use?
Well that depends, each has advantages. Our criteria rates: ease of use first, quality and variability of sound next, and functionality last.
Similar to a dental retainer, only softer, more pliable to adjust with tongue

Makes sound by blowing air through the space between it and the roof of your mouth.

You can make 3 different sounds Yelp, Cutt, Cluck .
Yelp- mimics a Hen yelp (no gobble sound) just a quick noise
Use: Literally say the word "yelp" into the call, as you want an abrupt end to the sound
Cutt- excited clucking of Hen
Use: Sharply saying "tick", vary between one, two, or three notes at a time, never lots of ticks without a break..
Cluck – Single cluck of Hen
Use: Say "puhht" using your lips to make a soft, short pop sound.
Functionality: Best of all calls since no movement of hands to give you away
Sound: Probably the best sound, but you need a lot of practice to get there
Ease of use: Hardest of all three but most versatile leaving your hands free
Striker or Pot Calls– use friction of striker to mimic a hen
Operation: Keep striker in between edge and middle of the plate, never in the middle or on the edge
Use: make circles with the striker gets a "wow" or make a hook shape for the the more natural sounding "yeeow"
Use: Pull the striker towards you from middle like you were lighting a match
Use: Clucks are strung together and more louder, defined or sharp sounding
Functionality: Has two parts and is not hidden from view so least functional of the three, requires visual attention
Sound: Best sound realism
Ease of use: Second of three in terms of ease of use
Operation: Rub a piece of chalk into lip of both sides box. Scrape lid across lip of box.
Hold the call in one hand a scrape the lid with the other and run the lid. You want a high and low note (two notes) in one motion

Note how spring allows you to angle the lid

Angle it as you begin scape, get the high note, then relax angle as you continue scrape to get low note
Keep lid in contact with call to avoid a rapping sound, and pull across lip of box.

Move or allow handle to drop down to start position by gravity.Repeat call.
Fucntionality: Only one piece, can use it withour looking at it, so second best of all calls
Sound: Second best of all calls
Ease of use: Best of all calls
Overall the Box Call seems the most desirable for the new Turkey hunter. We like how the mouth call frees your hands and hides them from the turkeys telescopic vision. But harder to learn than the others.
The Striker/Pot call requires two pieces, so getting it out of you bag or vest quickly and quietly is more of a problem. Plus, until you become well practiced, you have to take your eyes away from a target to look at where you are striking. A box call can be used while your eyes are scanning for movement.
So in our opinion the box call is the best for the beginning turkey hunter. One note of warning: it can be noisy in your pocket as you move through the woods. Have fun and we hope this helps you get a Turkey. See our other blogs for maps , best guns, locating a turkey and how to decoy. And below is areas to hunt near where you live.
Click on a county for OREGON or CALIFORNIA Hunting Clubs & Private Ranches:
Hey! Here are links to our home pages to Free Hunting and fishing Maps site and to our County by County Public Lands, Hunting Clubs, and Private Ranch fishing and hunting info.:
County by County look at California and Oregon Hunting and Fishing Public Lands and Private Ranches and Clubs
Please click on a County for Fishing and Hunting Clubs, Ranches or the Best Public Land Areas
Please click on a County for Fishing and Hunting Clubs, Ranches or the Best Public Land Areas
Contact Me
for Newsletter
Get on our mailing list for Newsletter and to receive New Fishing and Hunting Maps and Hot Spot News in your areaIf you want FREE info on Hunting access and Fishing on over 200 Private Ranches and Hunting clubs, fill this out ! (We NEVER release your info to anyone not specific to this inquiry!)