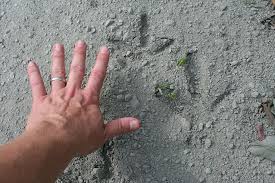 How to Find Turkeys by Calling, Tracking and Understanding Signs
Please note our other blogs with Hunting Maps, Fishing Maps and about decoying and calling turkeys and also places to hunt turkeys on public lands private ranches and hunting clubs in California and Oregon.
Five Methods to Read Turkey Clues or Signs and How they Help You Hunting Turkeys
Dragging Wings
You'll have to look closely but a strutting Tom interested in mating often drags his wingtips through the dust and mud.
Look for the tracks first and if you find them you'll see the wing drag marks and this is a clear indication that this Tom is in mating mode and might respond to calling
Observing Tracks
Measure from the back of of the rear toe to the tip of the longest front middle toe
Tracks around 4 inches are generally a hen and are more narrow than male Jake or Tom
A mature morningmale or Tom claw is 5 inches or longer
If you observe tracks moving in a straight line with no dragging of the wings or indications of feeding is probably a traveling Tom
What's the Poop? or Observing and Analyzing Droppings
Not surprisingly a hand droppings are often smaller
Male turkeys droppings are often in the shape of a large J
Hen's droppings are more circular like a dog pile or in clump
Depending on the diet I hands droppings are often more whitish and colors
Interpreting Feathers
A male turkey breast feathers have an edge in black
A hen's breast feathers are lighter in color a tannish or sometimes white
If only hen feathers are located and no tracks or other indications of a Tom the hens are moving or there is a nest somewhere close
A Tom is generally not interested in a TRULY (see "Eggs" ) nesting hen so look elsewhere
Sometimes the Tom returns to a particular area for strutting so look for tracks lots of feathers
Dust Bathing is Cool, don't knock it until you try it
Just like pheasants and quail turkeys like to give themselves dust baths
It is theorized it helps them keep cool and controls parasites
Look for indentations in the ground around trees,, stumps, and logs
They often return to these areas in the spring
The Egg and the Nesting Areas and be thankful this is not like an "Alien" movie
The average size of the nest is 11 to 12 eggs
Turkeys breeding season generally runs from the middle of March to the middle of April unless higher elevations or severe weather – in which case it will be be delayed
She lays an egg every 24 hours on average
She only starts to sit on the nest after the last egg is laid and before that moves around a lot
The problem is when she's moving back and forth, a Tom my hook up with her and be hard to call him away
You have to wait till she finally sits on a nest to get him to come
Scouting for Turkeys:
Since it is almost impossible to approach a WILD turkey on foot we recommend you do most of your hunting after scouting and selecting a spot to call them in.
As the mating season starts to conclude, lustful gobblers begin searching out any remaining non-nesting hens or those hens whose lost their eggs to a Coyote or Skunk (both shoot able year round by the way), omelet seekers or the weather. Or, maybe they are just ugly.
Anyway, during the last two weeks of the spring season, toms might travel as many as 12 miles a day looking for a breed able hen. This is when calling a lone tom into a decoy becomes more effective. I know because I am a lone tom also and I have travelled many miles a lot of times. So keep calling in areas previously that were previously unproductive.
Get some Maps:
Here you get access to our giant free hunting and fishing Map site, with how to fish and where to fish or hunt these Public lands. Get access to Hunting Clubs and Private ranches for fishing and hunting. Always free with no strings attached to help preserve our Outdoor Heritage. Click on a County for California or Oregon Hunting or fishing on Public Lands, Hunting Clubs and Private Hunting Ranches
Click on a county for OREGON or CALIFORNIA Hunting Clubs & Private Ranches:
Hey! Here are links to our home pages to Free Hunting and fishing Maps site and to our County by County Public Lands, Hunting Clubs, and Private Ranch fishing and hunting info.:
County by County look at California and Oregon Hunting and Fishing Public Lands and Private Ranches and Clubs
Please click on a County for Fishing and Hunting Clubs, Ranches or the Best Public Land Areas
Please click on a County for Fishing and Hunting Clubs, Ranches or the Best Public Land Areas
Contact Me
for Newsletter
Get on our mailing list for Newsletter and to receive New Fishing and Hunting Maps and Hot Spot News in your areaIf you want FREE info on Hunting access and Fishing on over 200 Private Ranches and Hunting clubs, fill this out ! (We NEVER release your info to anyone not specific to this inquiry!)