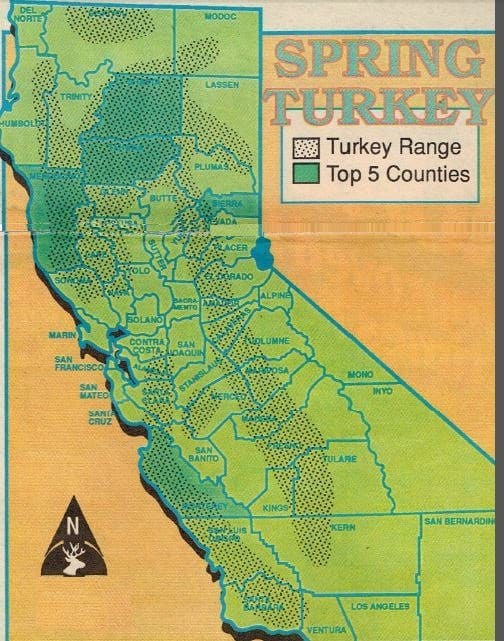 How to Hunt Turkeys: Decoy, Call and Understand Turkey Behavior in California, Oregon
How to Hunt Turkeys: Decoy, Call and Understand Turkey Behavior for Hunting in California, Oregon
Here you get access to our giant free hunting and fishing Map site, with how to fish and where to fish or hunt these Public lands. Get access to Hunting Clubs and Private ranches for fishing and hunting. Always free with no strings attached to help preserve our Outdoor Heritage. Click on a County for California or Oregon Hunting or fishing on Public Lands, Hunting Clubs and Private Hunting Ranches
everything……see "Archived
Blogs" to the right to see more
Talk about your Angry Bird!
How to Hunt Turkeys: Decoy, Call and Understand Turkey Behavior in California and Oregon…
First, a couple interesting Maps (we are a little map crazy around here)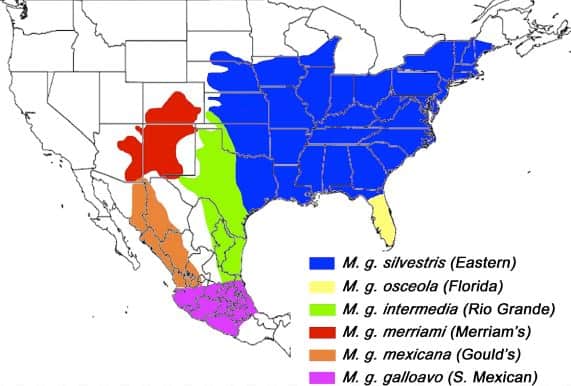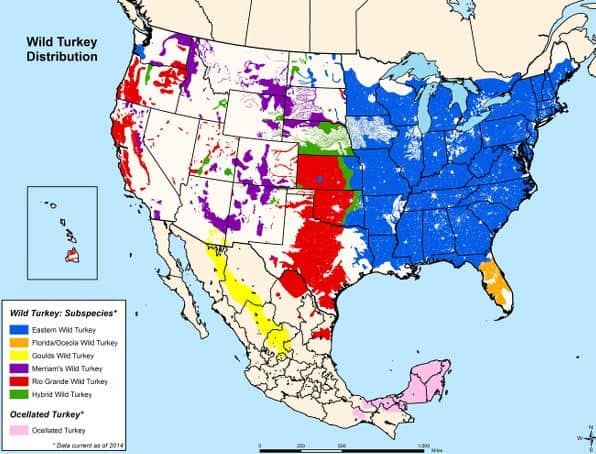 Current Turkey Range (2014)
Wild Turkeys were almost extinct in the USA (down to 500 birds) at one time…talk about a come back!
When stalking and calling turkeys it's wise to note their behavior. There are tell-tale signs they display in their body movements and physiological changes.
If you notice these you'll have a more successful hunt
Does a grossly exaggerated walk "the strut"
He has heard your call or seen your decoy and
Means he is very interested in mating or finding a mate
He comes straight in, no problem keep clucking
IF he suddenly stops just out of range- he is suspicious- DESIST your calling, he senses you're so excited, he decided to wait for you
He will then approach closer, so stay quiet, literally don't even blink
HEAD AND NECK SKIN DISCOLORATION
No kidding it goes from bluish-white (calm) to deep red (he's worried or mad) depending on his mood
If if he stops and his head turns red he is suspicious
If you see this you better take your shot
INFLATION OF THE SNOOD (turkey's nose area fleshy droopy tissue is the "snood")
Contracts and expands depending on whether he is calm or confused
Starts to contract better start worry hew sees you
Contracts all the way up past his beak take your shot
HEN'S BEHAVIOR TO DOMINANT MALES, HUMANS CAN ONLY WISH
Upon encountering a male, Hens will lay down and submissively face away
Human Males appreciate this behavior in females, saying, in part, "I only wish…."
PART II Calling and Decoys (see below):
Scroll down after viewing our access to 100+ ranches, and our Map site with hundreds of Maps…
Hey! Here are links to our home pages to Free Hunting and fishing Maps site and to our County by County Public Lands, Hunting Clubs, and Private Ranch fishing and hunting info.: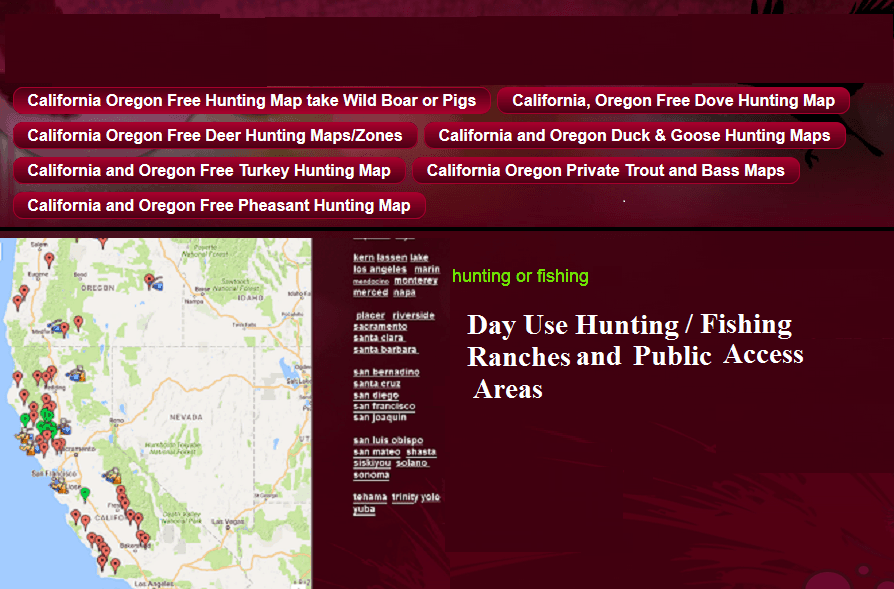 County by County look at California and Oregon Hunting and Fishing Public Lands and Private Ranches and Clubs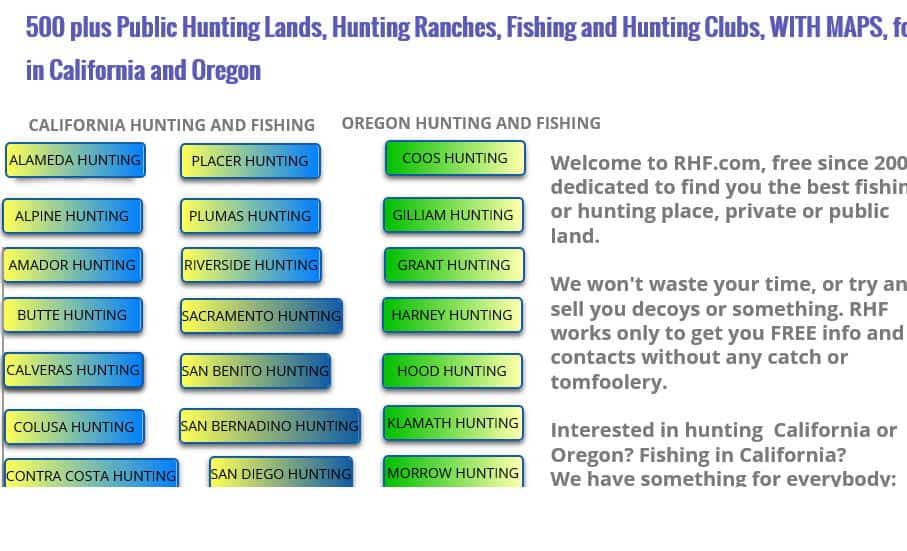 PART II Turkey Calling and Using Turkey Decoys
HOW TO DECOY TURKEYS
Spring gobblers have supernatural vision. They don't have eyes, they have dual 400-power spotting scopes Turkeys also seem to know your human form better than your own mother knows it, and can pick you out of indecently heavy cover. What's needed is something to divert the gobbler's attention from your position while he approaches the sound of your call. Decoys are about the greatest boon to spring tur- key hunting since the box call.
Decoys preform two important functions They are atractors: once you have called a gobbler into view of that decoy, he will fall instantly in obsessive, possessive love with that decoy. The decoy really brings in the toms close.
With a decoy, gobblers frequently hang up and get reluctant at 50 to 100 yards out After all, they are used to having the hens come to them. Decoys bring them in close — close enough to get right on top of that deke! Decoys also divert attention away from the hunters; when he's looking at the decoy, he can't be looking at you. That really takes a lot of the pressure off.
Here are a few tips from turkey guides on decoying spring gobblers in the North State:
1. Place the deke in a clearing, with good brush cover for the hunters behind it
Make sure there is a good clear field of vision of 100 yards or so along the avenue from which the gobblers are most likely to approach. The sooner they spot your decoy, the better.
2. Place the caller a bit off to the side from the decoy, not directly behind
3. Place the hunter on the flanks of the caller, so they don't have to move much to get a likely shot.
Start calling when you are set up in your blind — but stop calling once that tom sees that lane. He'll take it from there. Only if he loses interest should you use a soft coaxer. I The best dekes have their necks down, not up. Down necks on a hen communicate a kind of submissive, come-hither sex message. Heads up mean danger – look out.
Make sure hunters wear full camo, keep still and sit in position with shotguns resting roughly in the direction you expect the birds to be coming from. Plot a shot grid around the deke so you know your range. It's easy to get excited about a 70-yard shot that looks like 40 yards Pace off some distances so you know your shot grid. Use these decoying tactics in your favorite turkey hunting area and you'l1 score! Try Shasta, Tehama, Butte, Yuba, Nevada, Placer, El Dorado, Mendocino and Monterey counties!
Please click on a County for Fishing and Hunting Clubs, Ranches or the Best Public Land Areas
Please click on a County for Fishing and Hunting Clubs, Ranches or the Best Public Land Areas
Contact Me
for Newsletter
Get on our mailing list for Newsletter and to receive New Fishing and Hunting Maps and Hot Spot News in your areaIf you want FREE info on Hunting access and Fishing on over 200 Private Ranches and Hunting clubs, fill this out ! (We NEVER release your info to anyone not specific to this inquiry!)