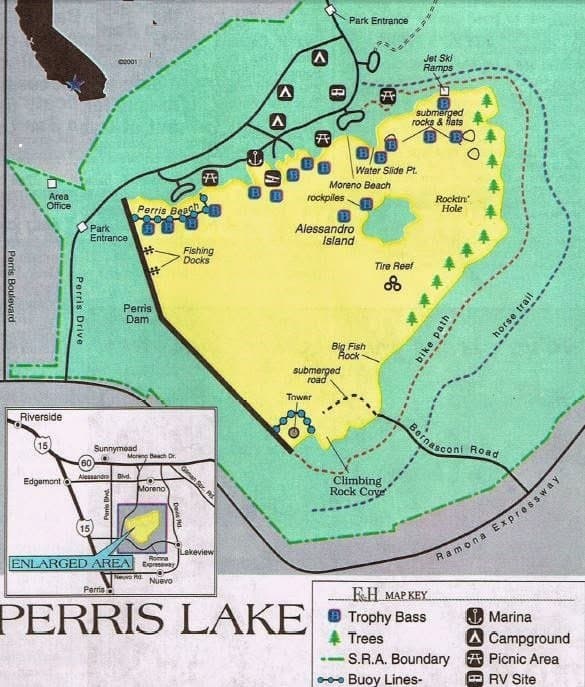 Lake Perris 2019 Fishing map and fishing report, how to fish this lake, also Riverside Hunting area.
Lake Perris 2019 Fishing MAP and Fishing Report AND Riverside Hunting Clubs/Ranches
RIVERSIDE COUNTY
Trophy time for Lake Perris largemouth bass!
Most people don't think of January as a hot month for bass angling. Most people, however, haven't thought about the mix of giant Florida-strain largemouth bass and hatchery trout present in many Southern California reservoirs. Lake Perris, in Moreno Valley east of the City of Riverside, is one such reservoir, and it is a reputation as good as Lake Castaic.
Every winter a number of trophy bass specialists gather at Lake Perris when the trout plant start in November, hoping to land that big fish of a lifetime.
AN EXPERIMENT: Lake Perris is a State Water Project reservoir, like Castaic, and is a hot fishery for largemouth bass, bringing a case of deja vu. Perris was selected by the DFG for an experiment in establishing a fishery for spotted bass, a sub-species which shares some physical features of both largemouth and smallmouth bass.
The experiment worked. Spotted bass spawned quickly, and in a few years anglers were getting good results on spots from 3 to 5 pounds. By the late '70s, big spotted bass were being caught close to record weights. In the early 1980s, a spurt of IGFA line-class and world record spotted bass were taken from the lake, including a double world record for the species at 9 pounds, 4 ounces, co-held by Gil Rowe and Steve West, two southern California anglers.
WORLD-CLASS BASS: The spotted bass fishery collapsed completely in the early 1990s. What happened? The illegal stocking of Florida-strain largemouth bass by persons unknown is the most likely cause. The largemouth found Perris even more to their liking than did the spotted bass, and the fishery changed quickly. The first clue that Lake Perris was capable of creating trophy-caliber largemouth came on August 24, 1990
A number of other anglers have caught bass well over the 10-pound mark. The lake record is a 19-pound, 1-ounce fish caught in 2012.
TRICKS & TREATS: The trick to all of this is imitating the trout. Two classes of lures – the big wood or plastic lures and the soft plastic swimbaits – do the trick. These all look much like a rainbow trout, and that's the key to these big fish . Trout are routinely stocked from November through March at Lake Perris, and this is the time of year the biggest bass in the lake develop a sweet tooth for fresh rainbows.
The primary tactic is to hit the lake within a few days of the plants. The day of the plant is good, and the day following can be even better. Weather plays a definite role; when it's overcast or rainy, your chances of catching a big bass go up. They like the low light levels.
The primary ambush points where bass intercept terrified schools of trout are right at the main launch ramp where the trout are stocked, and on each of the riprap-covered points along the northwest shore.
Waterslide Point is a good spot to check, as is the buoy line across Moreno Beach.
INDUSTRIAL STRENGTH TACKLE:
Line strengths should be at least 14-pound test, and several anglers use 20-pound
line to make sure they can handle one of these potbellied monsters
Flex Baits and large Rapala Magnums and the Bomber Long-A work well, especially when used as trolling baits, and alot of anglers include the Cordell Redfin as a premium winter largemouth lure. Many trophy bass (and striped bass, too) anglers repaint all their hard lures to be more trout-like.
January and the rest of the winter is a prime time for trophy Lake Perris bass. Give this aspect of the bass fishing sport a try, and chances are good you'll get hooked too.
Quick Fishing Information
Location: Lake Perris is a California State Park in Moreno Valley, near Riverside. It's about 70 miles east of Los Angeles and 80 miles north of San Diego. The lake has three entrances. The North and South gates, and there's gate on the east side of the lake.
From Los Angeles, take the Pomona Freeway (Highway 60) to Moreno Beach Drive, then south to the North entrance gate, or turn south on 215E to the Ramona Expressway. It's about 3 miles to the southern entrance from there.
Hours: The lake is open year-round, with park hours running from 6 a.m.-8 p.m. in the winter and 6 a.m.-10 p.m. during the summer.
Regulations: Bass regulations for Perris are a two-bass limit, with a minimum size of 15 inches. In addition to the excellent bass fishery, Lake Perils is also known as a fantastic bluegill lake. Florida-strain bluegill were stocked several years ago, and the lake regularly produces 2- to 2
-pound bluegill, with a few over the 3-pound mark, as well as some very large redear sunfish.
Trout are stocked in the winter months, and the lake has a good population of channel catfish, with some 15- to 20-pound cats caught every year. The lake record cat is 35 pounds.
Information Sources: The Lake Perris Marina is a good source for information on current fishing conditions.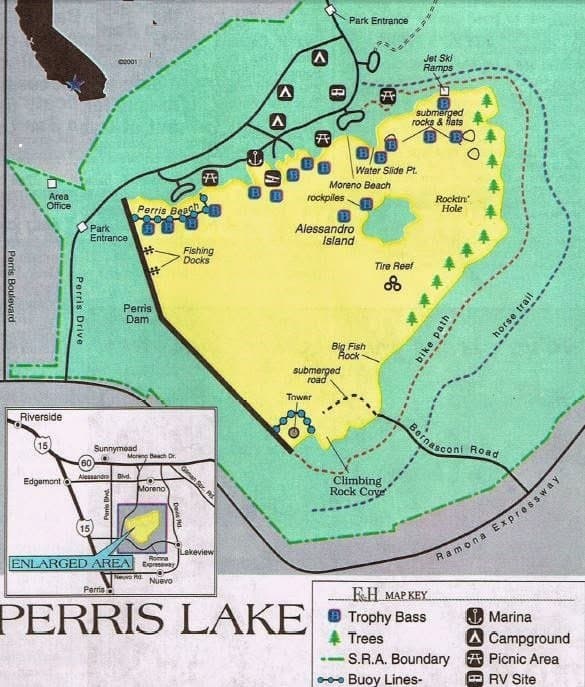 California hunting and fishing
maps of hunting clubs, hunting ranches, public and private fishing: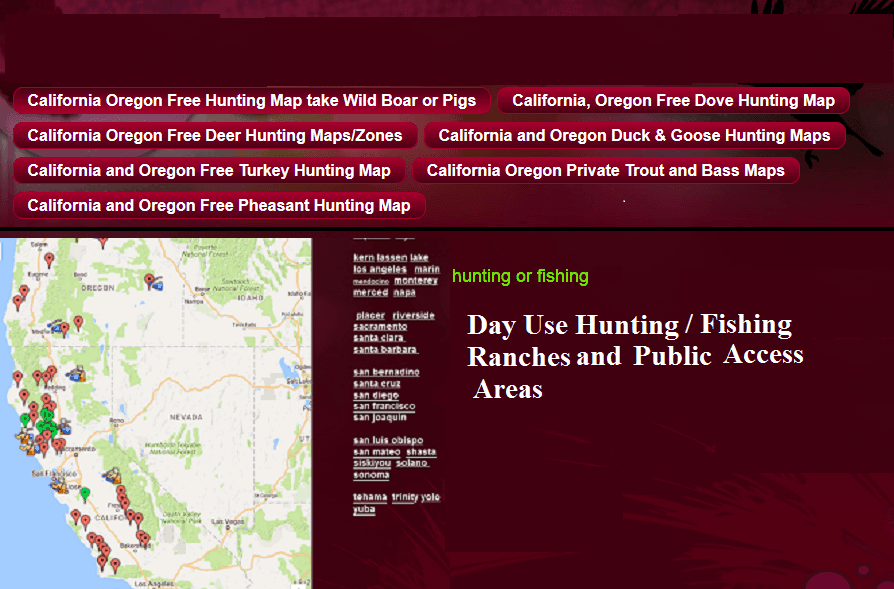 Also, if you want very specific county by county information on fishing and hunting clubs in California and Oregon for private fishing, hunting clubs, and exclusive network of hunting ranches found nowhere else, here is a screen shot below, click on this link to go to the site:
Powered by

EMF
Online Survey
Please click on a County for Fishing and Hunting Clubs, Ranches or the Best Public Land Areas
Please click on a County for Fishing and Hunting Clubs, Ranches or the Best Public Land Areas
Contact Me
for Newsletter
Get on our mailing list for Newsletter and to receive New Fishing and Hunting Maps and Hot Spot News in your areaIf you want FREE info on Hunting access and Fishing on over 200 Private Ranches and Hunting clubs, fill this out ! (We NEVER release your info to anyone not specific to this inquiry!)