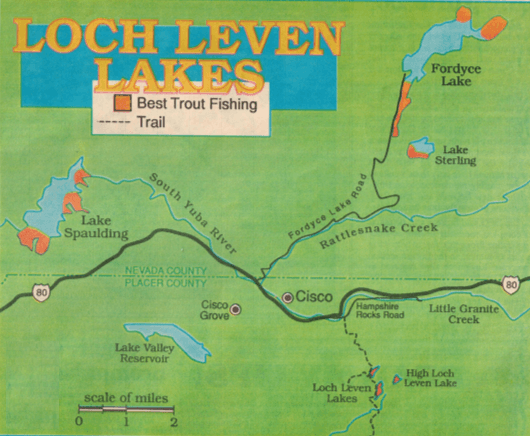 Loch Levin Lake Fishing Map, Fishing Report , Hunting Clubs, 2019 private fishing nearby
Loch Levin Lakes Fishing Map, Fishing Report, and Placer Hunting Clubs
 We have many maps or go to our county by county site for more specific info :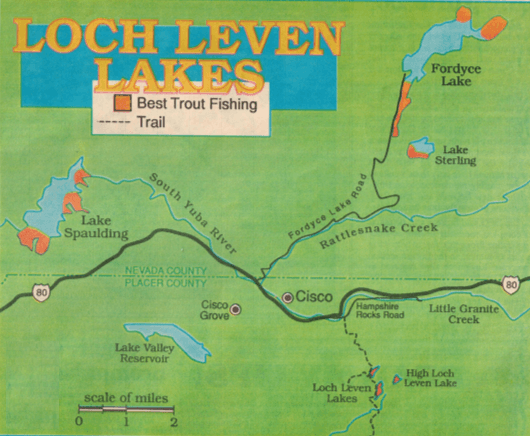 How to Fish Loch Leven Lakes, Spaulding, Sterling, Fordyce Lakes
Fishing Reports
Fishing Maps to Best Areas
Where to Fish and Hunt nearby (see list of counties below)
   Trout addicts willing to walk catch more fish than those who don't leave pavement. However, there's  no reason to hike in for miles. Some spots are close enough to pavement to be an easy "in and out" day trip. 
Loch Leven Lakes is such a spot for those willing to grind up the very steep trail from Hampshire Rocks Campground  on the South Fork of the Yuba River just off Interstate 80. On midweeks there is nobody there, weekends are light pressure – only on big holiday weekends do you find crowds. 
Loch Leven Lakes are rather strange, in that they're isolated on the ridge the Emigrants followed on their name-sake  trail in Placer County
You can see the lights of the Southern  Pacific and Interstate 80 from the crest. Several decent camp sites near the water offer choices. The site at High Lock Leven Lakes just east of the two more popular lakes on  the main trail is good. 
This trail, for those who are total masochists, traverses the  ridge past Cherry Point and then dives down into the North  Fork of the American River along Little Granite Creek. If you  like to fish potholes in alpine creeks, you'll love the lower end  of Little Granite!
There is some very fine rainbow trout action  upstream on American up into the Royal Gorge section. You  can also walk out to the south up Sailor Canyon to Sailor Flat  to a pickup on Foresthill Road, a decent dirt road. 
Loch Leven Lakes always seems to produce enough trout  to eat for dinner. Methods didn't seem to matter much most  years. Kids do well with salmon eggs or worms under bobbers.  I use 2-pound test and my usual 1/16 nth ounce gold Kastmaster  during the day and a No. 16 Adams or Mosquito dry fly or a  No. l4 Rio Grande King wet fly in the evenings.
But that's not  the real appeal.  I view my trips to Loch Leven Lakes as a chance to get  away from the mob scenes on the Pacific Crest, John Muir and  Desolation Wilderness Trails. Once you grind up out of the  canyon, you have a wonderful assortment of half-day hikes.  Most are compass and map jobs. For example, you can hike  directly east to a decent unnamed lake west of Devils Peak or  orienteer to Huntley Mill Lake toward Snow Mountain.
These  options and the trail loops mentioned below offer hideaway  campsites unless you find a pack of Boy Scouts, as happened  to me two years ago.  An assortment of trail loops connect with Pelham and  Four Horse Flats to the south. Big Valley Creek and other  creeks toward Monumental Ridge offer more options if you  like to dunk bait or fish tiny spinners in creeks. 
Best of all, Loch Leven, like a number of shorter hike-in,  or easy overnight backpacker's spots, offers a great chance to  weekend in comfort. You can hike in an hour or so, set up   camp and catch dinner fish before dark if you take off from  the Bay Area at 4 p.m. on Friday. Then you have Saturday to  explore and relax, and Sunday to contemplate a return before  you ease down the hill for the return trip.  This means you can leave the freeze-dry food home and  pack in a couple of nice T-Bones, a bottle of wine, some fresh  French bread and even fresh vegetables, salad, eggs and all  sorts of other goodies. 
 However, don't complain if you arrive at Hampshire Rocks Campground and the trail head and discover there's too much snow on the trail. You should have called the Tahoe National  Forest (916) 265-453l to check trail conditions.
 Even so, you  have other nifty options in the area. For example, you might  drive into Sterling Lake from Cisco Grove a few miles east on  I-80. This dirt road also goes to Fordyce Reservoir. Sterling  has a decent six-site campground and bank launching. The  best shore fishing is in the arm near the dam. Brook trout in  the 9- to 14-inch range are easy to catch here. Fordyce mixes  rainbows and browns. If it's full, try the south arm. Later in the  year try the inlet of North Creek at the east end of the lake. Sounds good!   
Oregon and California hunting and fishing
maps of hunting clubs, hunting ranches, public and private fishing.
If you like our Fishing map and information on how to fish this lake, we have many more hunting and fishing maps, here is a screen shot, but if you want more info, click on this link:
www.freehuntfishmaps.com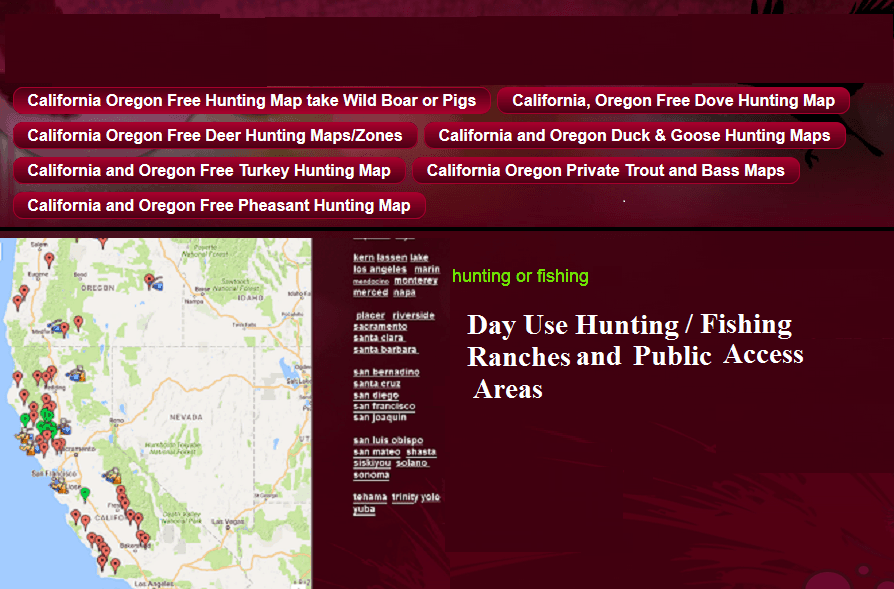 Add caption
Also, if you want very specific county by county information on fishing and hunting clubs in California and Oregon for private fishing, hunting clubs, and exclusive network of hunting ranches found nowhere else, here is a screen shot below, click on this link to go to the site: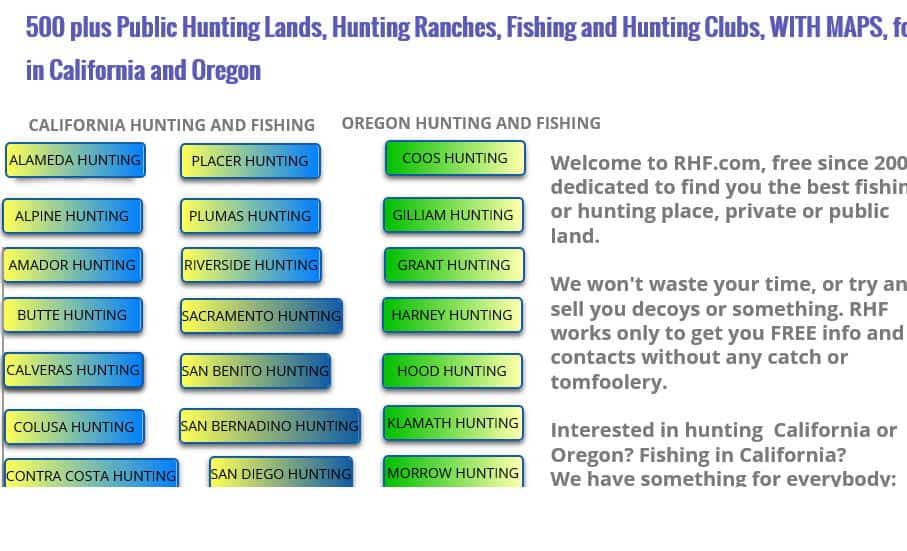 www.ranchhuntandfish.com
California and Oregon for private fishing, hunting clubs, and exclusive network of hunting ranches
we have many more fishing maps and hunting maps at www.freehuntfishmaps.com
California Hunting Clubs for Turkey, deer, pig, quail, fishing with Hunting Maps.
Please click on a County for Fishing and Hunting Clubs, Ranches or the Best Public Land Areas
Please click on a County for Fishing and Hunting Clubs, Ranches or the Best Public Land Areas
Contact Me
for Newsletter
Get on our mailing list for Newsletter and to receive New Fishing and Hunting Maps and Hot Spot News in your areaIf you want FREE info on Hunting access and Fishing on over 200 Private Ranches and Hunting clubs, fill this out ! (We NEVER release your info to anyone not specific to this inquiry!)